The Crucified Gets the Band Back Together for Humanity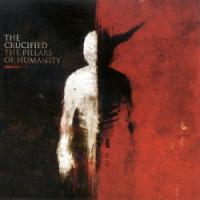 Artist: The Crucified
Title: The Pillars of Humanity
Label: Tooth & Nail Records
A blast from the past …
Twenty-five years ago, teenagers Mark Salomon, Greg Minier, Jeff Bellew, and Jim Chaffin came together to form The Crucified. The band blasted onto the scene, ripping and shredding with abandon but, just as quickly as they'd risen, they disappeared. Now, the band is back together for the second time, having ground their teeth in other venues, and to kick off this grand reappearing is the remastered release of their classic album, The Pillars of Humanity.
One listen will show how far ahead of their time that this foursome really was musically and lyrically. The remastering process has truly enhanced the sonic backdrop, allowing the musicianship to shine. Minier's guitar work breaks through that much more while Chaffin's percussion hammers home the notes. Additionally, the process was wise to not overproduce the tracks, rendering them honest and approachable as opposed to studio sanitized. At times, the musical palette does become a bit numbing but, overall, it stands in solid support.
Likewise, analyzing this album lyrically is like returning to a great work you've not read in some time. Mark Salomon's songwriting was unashamedly "Christian" at this point but tacitly avoided any and all clichés, instead offering up honest and poignant images throughout this "flesh vs. the spirit" themed record. Consider this bleak snapshot from "So Called Living 1991": "3 A.M. shots ring again/Goodbye to another night's rest/Pusher in the trade-winds been cold two days/Found dead by the manager's kid." Yet hope is found as Salomon pleads, "Can't you see that there's more to this … A hand extended there's life at the cross."
Time has been kind to The Crucified and a second listen to this record shows the impact that they clearly had on the bands to come in the future. The legends that would become P.O.D. and Living Sacrifice would never have been save for the sincere influence of The Crucified and The Pillars of Humanity. Fans of rousing, intelligent hardcore need to add this to their collection.
© 2009 CMCentral.com. All rights reserved. Used with permission.




Visit CMCentral.com now and join the single largest online community of Christian music fans on the internet. CMCentral features daily music news, exclusive interviews, album reviews, weekly devotions and feature articles written by some of your favorite Christian artists, and much more. CMCentral is also the home of the most popular Forum for Christian music fans that you'll find anywhere on the Internet. Come see what all the buzz is about!

**This review first published on December 22, 2009.