The Rocket Summer's Life Delights
Ed Cardinal

Crosswalk.com Contributing Writer

2012

5 Jun

COMMENTS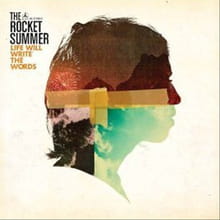 Artist: The Rocket Summer
Title: Life Will Write the Words
Label: Aviate Records/Fuel Music
Plenty of niche artists deserve more attention. Although The Rocket Summer's previous album hit No. 1 on the iTunes chart for a brief moment thanks to a loyal fan base, this band comprised solely of passionate singer and multi-instrumentalist Bryce Avary remains relatively obscure despite cranking out some of the catchiest indie pop in recent memory. Its upbeat fifth effort, Life Will Write the Words, is a rock-out road trip delight, a fantastic mix of youthful exuberance and ever-maturing songwriter sensibility.
Openers "Run and Don't Stop" and "Revival" seem to burst with start-living-right-now optimism as well as punchy melodies and happy riffs that suggest Jeff Buckley and David Crowder Band influences. "It's so good," Avery sings on the latter cut. And it really is.
There are killer piano/guitar power pop hooks in "Prove It" (calling out someone who talks behind another's back) and the especially creative "Circa '46" where Bryce admits his own faults: "There's dirt that my soul keeps / If there's any good in me it comes from the grace of my Father."

The strongest cuts may be "Old Love," a tribute to his devoted grandparents and a statement about today's crumbling standards of commitment, and the extra fun "200,000" (with flashes of songwriting brilliance you'd expect from Ben Folds or Five for Fighting) which suggests Avary has learned a thing or two about love from his ancestors.

For all its energy and cultural credibility, The Rocket Summer is often mentioned in the same breath as Switchfoot and Relient K, but you might be surprised how the band seems even more outspoken about its faith at times. "Just for a Moment Forget Who You Are" reminds the listener, "It's about loving and serving and being who you are / you were made in the image of greatness."

Likewise, the acoustic "Soldiers" is a strikingly transparent take on spiritual warfare: "The Lord made me a soldier / if I said it was easy always I'd be lying / Today behind the doors of my heart I am crying."
Other themes include humility ("Underrated"), faithfulness (piano ballad "Scrapbook"), and the importance of praising God even in tough times. "Shook up and beaten down / Hallelujah," declares The Rocket Summer on the closing "Ashes Made of Spades."
Somebody say amen. A rocking summer soundtrack awaits on Life Will Write the Words.