Wright Takes Inventive Approach on Kingdom Come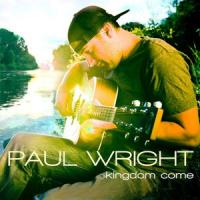 Artist: Paul Wright
Title: Kingdom Come
Label: Independent
I've always wondered why the prolific, hard-working Paul Wright wasn't blowing up. Wright or Wrong These Songs Are Paul's had me at hello, with those quick-witted instrumental segues, tongue-twisting discourses, and breezy rhythms. I love his inventiveness, his quirky individuality, and now, with Kingdom Come, I love his approach to worship. The new album continues his unique style of genre-melding musicality, and adds a more vertical focus lyrically. Wright's lyrics have always been God-centered, but he takes a much more overt approach to Kingdom Come.
Acoustic song of surrender, "Lost," lays it right on the line from the beginning with its stark declarative opening. Launching into the lush and melodic chorus, Wright openly proclaims his utter dependency on Christ, finally quoting John 14:6 in case there's the slightest question. "Bring Me Back" overflows with those signature tongue-tripping riffs over easy-going acoustic beats, the chorus amping up into shimmering folk-pop moves. The bouncy alt-pop worship track "Sing Your Name" is performed both electrically and as an acoustic bonus track at disc's end. The quiet acoustic stunner "Sorry" speaks compellingly of heartfelt repentance, its hugely melodic chorus breaking it down with simple honesty: "You say I'm holy/if only I could see myself like You see me."
Percolating song of freedom "Judgment Comes" has a gentle, mellow vibe, but packs another solid wallop of revealing truth: "I was born into a world of black and white/thought livin' in the grey was just not right/but when I step into the light/I see more colors than in the ocean." "Don't Walk by Her Door" may hit some listeners hard, too, with its wise warnings against sexual temptations. Others will enjoy the candid look at life on the road and this performer's motivations in the lyrical dexterity of "All About You."
Quietly adoring, the beautifully arranged title track is supported by tender strings, the echoing BGV effects warmly effective. Don Chaffer's always sterling production touches are all over this gorgeous track, bringing Kingdom Come to an end all too soon. I really can't say enough about this intelligent, fresh worship album, but when Paul Wright brings it all together as he has on Kingdom Come, it makes for an album well worth your time.

© 2007 CMCentral.com. All rights reserved. Used with permission.



Visit CMCentral.com now and join the single largest online community of Christian music fans on the internet. CMCentral features daily music news, exclusive interviews, album reviews, weekly devotions and feature articles written by some of your favorite Christian artists, and much more. CMCentral is also the home of the most popular Forum for Christian music fans that you'll find anywhere on the Internet. Come see what all the buzz is about!