Rock-Tinged "Dying for a Heart" Reminds Us to Love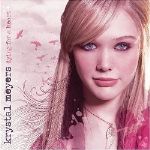 Artist: Krystal Meyers
Title: "Dying for a Heart"
Label: Essential Records
It didn't take too long after God created Adam in the Garden. God realized that Adam needed a partner. Someone with whom Adam could relate. Someone to share the human experience with.
We were created in such a way that we need this type of interaction. However, our society continually encourages us to be self-sufficient, to avoid other people, to pretend we don't need help, to pretend that we're fine on our own. Perhaps this is why we've become a people who seem unfulfilled and discontent with everything life has to offer.
Returning with her brash sense of rock-tinged pop music, Krystal Meyers reminds her audience of our collective need for community - the need to love and be loved by others - with her sophomore effort "Dying for a Heart." Borrowing a metaphor from the classic story of the Wizard of Oz, Meyers explains in "Love Is on the Run" that we've all but abandoned life by ignoring our heart's natural desires.
Other songs, such as the remarkable ballad, "Beauty of Grace" point out some of the reasons that we hide from the experiences of real love, in this case shame and guilt. "Together" focuses on the community and how to live together despite our insecurities, "Shake It Off" teaches us to rely on God's strength to make it through difficult times, and "Only You Make Me Happy" states that nothing in this world will satisfy us like God can.
"Dying for a Heart" finds Meyers teamed up once again with producers Wizardz of Oz as well as the ever-busy songwriter, Ian Eskelin. However, despite these "safe" surroundings, she still managed to step things up for her part, contributing to the writing process on all but one of the cuts. Certainly, Krystal Meyers will draw comparisons to the usual pop standards, but such is the nature of the genre. Perhaps most similar in sound and content to Superchic[k], you may also find a likeness to Jessie Daniels or Kelly Clarkson. These comparisons can work to help and hinder her in the long run, but Meyers proves her vocal strength and growing talent for songwriting on ten tracks that are very well produced and comprise an extremely enjoyable album.
The bar has been set pretty high for young female pop artists and it's safe to say that Krystal Meyers is getting there. With some great rocky anthems ("Collide", "Stand and Scream"), some charming ballads ("Beauty of Grace", "Hallelujah") and some lighthearted poppy tunes ("Only You Make Me Happy"), "Dying for a Heart" is certainly one of the year's better guilty pleasures if nothing else. Though it's quite short at only ten tracks and just over a half hour, the album is a whole lot of fun while it lasts.


© 2006 CMCentral.com. All rights reserved. Used with permission.

Visit CMCentral.com now and join the single largest online community of Christian music fans on the internet. CMCentral features daily music news, exclusive interviews, album reviews, weekly devotions and feature articles written by some of your favorite Christian artists, and much more. CMCentral is also the home of the most popular Forum for Christian music fans that you'll find anywhere on the Internet. Come see what all the buzz is about!



View the latest Krystal Meyer music videos at Godtube.com!