Selah: What You See Isn't Always What You Get
David McCreary

CCM Magazine

2004

20 Sep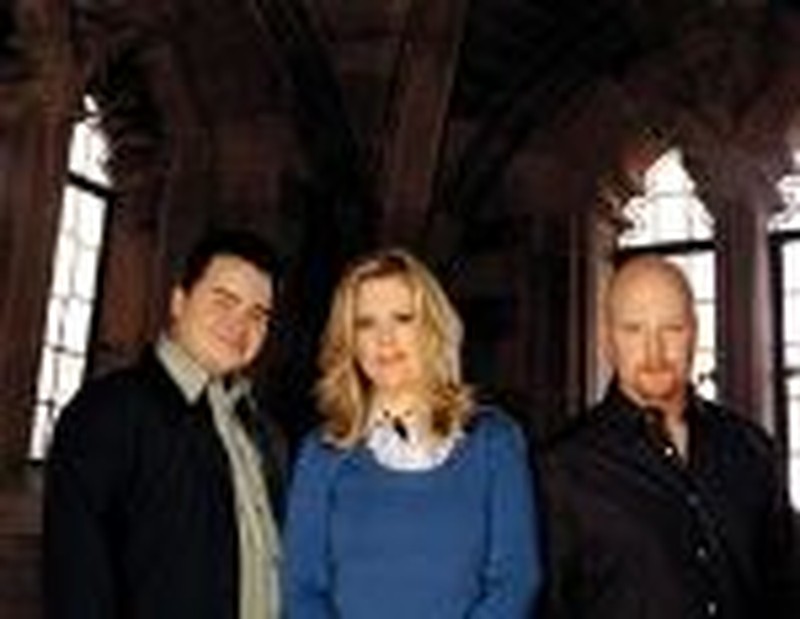 Consider this:  a blonde-haired, blue-eyed woman with a soulful, husky voice; a young father of twins, who loves to rock out; and a piano prodigy, who also happens to love bluegrass and Dolly Parton. When you put the three together, for a group that sings mainly classic hymns and holds the lion's share of its concerts in traditional churches, the individual members of Selah are quite different from what one might think.
But that's the beauty of this Dove Award-winning trio, previously listed among the "25 Most Important Artists Shaping Christian Music Today" by CCM Magazine. Each inimitable member contributes distinctive life experiences and diverse musical styles to the mix. Nicol (Smith) Sponberg is the pop/R&B songstress, her brother, Todd Smith, represents the 1980s-style rocker, and Allan Hall comprises the acoustic bluegrass/country lover. "Selah is its own little musical gumbo," Allan quips.
Todd and Nicol, along with two other siblings, were raised as missionary kids in the Democratic Republic of the Congo, Africa. They grew up in an outpost home, where they ate mangos and coconuts, learned the native Kituba language and grew to love African tribal music.
Meanwhile, back in the American environs of Knoxville, Tenn., Allan took up piano playing at the ripe age of 7. He learned to read music from church hymnals; and then, some 10 years later, he enrolled in formal lessons. At his first competition in Nashville, he took first prize. Allan vividly remembers one judge's comments, which read: "I've been dazzled a lot by technique today, but no one's playing made me feel anything until you came to play. I can hear your heart." And with those comments to boost his self-esteem, he continued honing his talent beyond high school.
These three artists forged similar paths that would eventually cross in the early '90s. Allan and Todd met in 1992 at a mutual friend's Nashville recording session. Nicol, meanwhile, had moved to Music City, where she worked as a waitress at the popular Green Hills Grille and began landing studio gigs, singing background vocals for the likes of Margaret Becker, Michael Bolton, Twila Paris, CeCe Winans and Cindy Morgan, among many others.
Nicol first met Allan in 1994, when he and Todd performed at a Belmont University concert. Todd, thinking it wise to bolster their sound, had invited his sister to lend her voice. Later, when Nicol was offered a chance to perform at a youth-oriented event, she requested that her brother and Allan accompany her onstage.
While the three quickly realized a special chemistry was developing, Nicol's solo career seemed on the verge of taking off. By 1995, Mike Curb, the influential founder of Curb Records, discovered that one of his family's favorite waitresses had pipes like nobody's business; and Nicol soon entered an artist development relationship with Curb's label.
When the release of Nicol's self-titled debut was delayed for a few years, she, Todd and Allan eventually found themselves on an unexpected career path. These talented performers had grown up singing classic hymns and seemed to share common threads musically and spiritually. "My mom had just inherited some money, and she gave us, like, $2,000 to record some songs," says Todd.
That custom recording ultimately landed at Curb Records, where the label decided to add strings, guitar and percussion to the mixes and then released the revised version as Selah's 1999 debut, "Be Still My Soul." The disc went on to sell more than 130,000 copies, according to SoundScan and earned Selah its first Dove Award in 2000 for "Inspirational Album of the Year." Riding that momentum, the group captured a second consecutive Dove in 2001 for its sophomore project, "Press On" (Curb), which surpassed 200,000 units in sales and also generated a pair of No. 1 inspirational singles with the title track and "Wonderful, Merciful Savior." Then in 2002, Selah released "Rose of Bethlehem," a Christmas album that struck a chord with the trio's core audience.
With the past two years bringing such life-changing transition, it's any wonder the group was able to record a fourth album, "Hiding Place" (Curb), which hit stores in May and at press time held the No. 1 spot on SoundScan's Top Christian Albums chart in its third week of release. Easily Selah's fastest-selling album to date, it's taken less than a month for "Hiding Place" to eclipse 50,000 copies sold, never mind that each member has also embarked on a solo project. And the group has continued to tour every other weekend.
So, how have they done it?
"It's tough because you are trying to do what you love; but, at the same time, you have a wife and kids who are supposed to be your priority," says Todd of his wife and 19 month-old twin daughters. "I remember Christmastime on this last tour we did. My daughter Ellie didn't recognize me when I came home," he shares somberly. "That was so hard. We do have to tour, not just to pay the bills but to share with people what we believe. But my wife and kids pay for that, to some degree."
Nicol also weighs in on the demands of touring and the logistics of traveling from Chicago, where she now lives with her husband, Greg, of one year (a seminary student at Moody Bible Institute), to Nashville to record a new album. "During our first year of marriage, Greg thought it was really important for us to be together as much as possible," she says. "He'd come out on the weekends [while Selah toured]. Seeing the same concert 100 times over isn't necessarily fun, plus he had an incredible community of friends at Moody that he missed. But he believed we needed time together, and he stuck to it."
On "Hiding Place," Selah remains true to its trademark of offering traditional hymns, fresh arrangements of modern choruses and several upbeat African songs, albeit with a slightly edgier tone overall. The album's highlights include Irish chorus and radio hit "You Raise Me Up" (which, at press time, hit No. 1 on the AC charts, a first for the group in that format), a cover of Andraé Crouch's "Through It All" and a soul-stirring rendition of "O the Deep, Deep Love of Jesus."
One cut in particular, "By and By," stands out for Todd, mainly due to the family ties involved. "The song begins with a recording of my grandfather baptizing hundreds of Congolese people who came to Christ," he says. In addition, Todd had the privilege of performing the song as a duet with his father, Jim, in Kituba.
For Nicol, it's not the recording process that's most rewarding but rather performing live. "It's such a tremendous release to sing the type of songs we do," she says. "You get to cry out to God right up there onstage. Some days you don't feel like doing it, but there's something freeing about singing, 'Precious Lord, take my hand/ Lead me on, let me stand/ I'm tired, I'm weak, I'm worn/ Through the storm, through the night/ Lead me on to the light/ Take my hand precious Lord, lead me home.'"*
With lyrics like these, it's obvious that even in the most hectic times, this group knows when it's appropriate to pause.
*Lyrics from "Precious Lord, Take My Hand'  by Thomas A. Dorsey. The song appears on Selah's debut release," Be Still My Soul."

In addition to Selah's continuing musical ministry, each member released a Curb solo project on August 10.
Nicol Sponberg
Unlike her counterparts in Selah, Nicol Sponberg has previously recorded a solo album, a self-titled Curb project released in 2000. Unfortunately, the effort yielded disappointing sales numbers; but Nicol is happy for a second chance. Behold her sophomore disc, aptly titled "Resurrection" and produced by Mark Heimermann (Stacie Orrico, dc talk).
"I think the new album title is really symbolic because my first solo record completely 'tanked,'" she reveals. "Just when you think something is over and dead, it's like God says, 'Wait a minute, I can make something happen,' and the things we think are lifeless He resurrects."
Nicol, whose musical influences include Aretha Franklin and Karen Carpenter, previously sang backup for artists as diverse as Amy Grant, Wynonna Judd, Dallas Holm and 4HIM. She says she's especially grateful to Mike Curb, founder and chairman of Curb Records, for affording her the opportunity to record another solo project. "He's one of the few people left who believes in giving time to developing artists," she says of Curb. "It was his idea for me to do this record."
With "Resurrection," Nicol delivers a groove-filled selection of pop/R&B tracks in the vein of Ashley Cleveland and Joni Mitchell. Throaty vocals and spirited rhythms abound, including the silky balladry of "Safe" and the piano-driven intonations of "All That I Believe In." Not surprisingly, an unyielding message of hope and redemption prevails throughout.
Todd Smith
Become a rock star. That was singer Todd Smith's "dream" back in the 1980s, a time when he enjoyed listening to bands such as Boston, Journey and Kansas. And yet, he has long been influenced vocally by Christian artists such as Russ Taff, Michael English and Bob Carlisle, "especially when he was with the group Allies," he says.
"If you had told me back then that I would end up in a trio with my sister, singing hymns, I would have said, 'What in the world are you talking about?'" On his debut solo release, "Alive," Todd unleashes his inner rock star with an energetic set he says is mainly geared toward male listeners. Todd produced a portion of the project, along with the capable assistance of Matt Bronleewe (Michael W. Smith, Natalie Imbruglia) and Jimmy Collins (Selah, Plumb).
Todd explains that he read the book "Wild at Heart" (Thomas Nelson) by John Eldredge, and that its theme of living passionately for Christ inspired him to record a solo project. "The whole album conceptually encompasses a conversation I'm having with men," he says.
Driving tracks like "Lukewarm" speak to the importance of being accountable to others, while the title track addresses going beyond the comfort zone of faith. "On one of the verses, I talk about jumping off a cliff and bringing the death of my old self," Todd shares. "I want to get to the point where I can say, 'OK, God, I don't know what plans You have for me; but whatever door You open, I'm going to take that step.'"
Allan Hall
Sporting a distinct, East-Tennessee flavor, Allan Hall's solo disc, "House of a Thousand Dreams," teems with the bluegrass and country influences he loves most. "I've made the album I really wanted to record," he says with fervor. "It's great that Curb has given me the creative freedom to do something like this."
Allan's supple tenor voice and expressive keyboarding are well-suited for the relaxed offerings found on Dreams, produced by the artist himself along with Jason Kyle (Selah). Whether it's the much-too-brief rendition of "Down in the River to Pray" (Think "O, Brother Where Art Thou?") or the peaceful minimalism of "Nearer My God to Thee," he delivers an album filled with serene melodies and memorable refrains.
For someone who enjoys a wide variety of music, it's interesting that Allan's solo project gravitates more toward country than any other genre. "I can go directly from listening to Beethoven to a Journey song and then go to Patsy Cline," he says, before adding, "But Emmylou Harris is my favorite."
Allan also is quick to mention that one of his career highlights happened just a few years ago when he had the opportunity to sing with country sensation Dolly Parton. "She recorded a duet with me on our [Selah] Christmas album, and that was such a privilege," he says. "She was so gracious and kind, and she even told me how proud she was that I had moved away from home and was able to make a living playing music in Nashville."
As it turns out, both musicians hail from East Tennessee and each left home at age 18 to set out for Music City. "I'm out here living my dream," Allan says.

© 2004 CCM Magazine.  All rights reserved.  Used with permission.  Click here to subscribe.