Still Genuine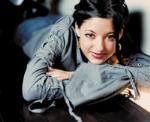 Stacie Orrico's schedule may be chaotic these days, but you'd never guess by talking to her. Chatting calmly as if she wasn't doing the interview in a noisy airport, the 17-year-old artist is confidently weathering another crazy day on the promo tour circuit.

Rushing to catch a plane from Ohio to New York and back to Tennessee, her day's activities begin with interviews at local Christian radio stations. Afterward, she'll meet with MTV and VH1 and complete last-minute songwriting and recording for her self-titled second album, her first project marking a dual partnership with ForeFront in the Christian market and Virgin Records in the general market.

And with her first pop single, "Stuck," already making its mark at Top 40 stations, there's plenty of buzz surrounding her new effort. But like many Christian artists who've made the crossover journey before, Orrico expects objections to the song's "non-spiritual" subject matter. And the debate is already beginning on Christian music message boards on the Internet as fans beg the age-old question: Is she selling out?

 "No matter what you do, whether you're a doctor or an artist, there are always going to be people who don't like the way you do things," Orrico asserts. "There are people who thought the fact that I had dancers on the road [for performances] was inappropriate. There were people who didn't like the song 'Don't Look at Me.' I can't make everyone happy."

Her new look, unveiled in press photos on her official Web site at stacieorrico.com, is another interesting point of contention among her fanbase. In the mainstream industry –– where image is just as important as the music –– fans are wondering: Will Orrico's look undergo a radical change to fit in?

"Overall, everyone has been respectful of my boundaries and my morals as a Christian and an artist," Orrico comments. "Sometimes I'll go to photo shoots, and they'll pull out some stuff that I'm not comfortable wearing, and I just tell them ['no']. I'm very glad God made me a person who's not afraid to say what I think. I can just go, 'No, I'm not going to wear that!'"

Continuing the conversation, Orrico says, "I [wouldn't] feel pretty or feel I looked attractive if I were to dress sleazy. But it hasn't been a huge struggle for me. I'd rather be funky and different. I also feel dressing [sleazy] says you can't hold your own with your music. You shouldn't need that to sell your music. I want people to know I'm a real artist. I write my music, I care about it, and I'm not there to be a Playboy model."

With wisdom that seems to exceed her 17 years, Orrico candidly comments on a Christian woman's approach to sexuality. "I think you can be a Christian and still be sexy in a good sort of way," Orrico says. "You can be that way without dressing scantily, talking dirty and all those things. There are so many levels to being sexy. I don't think that showing your cleavage and revealing your stomach really comes with being a godly woman. But you can totally be a Christian girl and be attractive and desirable. I think of what my dad always told me: 'Stacie,' he said, 'guys like a little mystery; don't be all out there for everyone to see.'"


Used by permission.  CCM Magazine © 2003  Click here to subscribe.