The Making of a Duo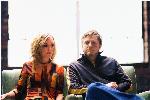 Marc Byrd

Marc Byrd's story divides easily into two distinct eras. The first happened in El Dorado, the small Arkansas town where he grew up, watched his parents split, fell into drugs, cleaned up, devoted his life to Christ and formed the critically acclaimed rock band Common Children. The second surrounds a certain worship song you may have heard of: "God of Wonders."

The journey from one to the other — via a Nashville burger joint called Cheeseburger Charleys — involves more than distance and time. It's the story of one man's move from darkness into light.

"I'm living out my redemption and reconciliation," says Byrd, 33, just before heading out on the road with his new band, GlassByrd, a duo with his wife, Christine Glass. "I'm stepping into it with open arms."

But let's back up. As a boy in El Dorado, Byrd was weaned on rock 'n' roll classics: U2, The Cure, Pink Floyd. He attended church but grew bitter when what seemed like spiritual renewal in his parents' lives led to divorce. "That really put a seed of doubt in me," he says.

Anger and depression led to drugs. He hit bottom when a close friend died after a night of partying — an episode Byrd chronicles in the companion book to the first "City on a Hill" (Essential) worship album. "That really turned me around," he says. "I swayed away from the drug use and got involved in a ministry and basically began to really hunger for knowledge [about God]."

Leading worship led to Common Children, a hard-rocking outfit with songs veering from lush dreamscapes to chest-pounding bursts of aggression. The band moved to Nashville, recorded two albums and promptly ran out of money.

"It's not fun making your second record while you're sleeping on the floor of a studio with all your belongings in the van," Byrd says. "It was a dark time."

Yet, it was then — with Byrd working occasionally at Cheeseburger Charleys to pay the bills — that friend and producer Steve Hindalong stopped by one day to say he'd landed a worship project and wondered if Byrd had any songs. Why, yes, he did. One was the skeleton of "God of Wonders," which Byrd had written while reading Psalms. The two finished the song on Hindalong's porch, and it went on to fuel "City on a Hill" and become one of the most popular modern worship songs in recent history.

Even more valuable, the time spent recording the first "City on a Hill" album helped cement his reconnection with the body of Christ.

"Meeting [these] artists … putting faces on them, realizing their hearts were really pure and writing these songs, spiritually, for me, was very, very healthy," he says. "I regained a sense of why I do what I do and why I chose to do Christian music."

Christine Glass

The way Glass tells her story, few of her co-workers at Word Records in Nashville had any idea she wrote songs or — better yet — could sing them so well. Boy, were they in for a surprise.

Glass had moved to Nashville in the early '90s after earning a vocal performance degree at Louisiana Tech University. At the invitation of a friend, she took a job as a receptionist at Word, staying for five years and rising through the ranks to the position of art director.

Music resonated most with her, but she resisted the urge to self-promote. "I didn't want to go in and just get a job at a record company and start passing out demos to everybody who worked there," says Glass, 32. "I wanted to feel the place out and get to know people and figure out in which direction I wanted to go."

But talent couldn't stay hidden for long. Glass sang on demos and did backup vocals on projects. She also struck up a friendship with musician Tommy Greer, who, with financial help from Word, helped her produce a four-song demo.

In a scene that would make a good movie script, a Word staffer secretly arranged for a photo shoot and showcase where Glass could sing in front of her colleagues.

 "She had all these photos put together on a videotape and played the video for a crowd of Word people, including the president of Word," Glass remembers. "They're watching these photos go by, and they're listening to this demo, and they have no idea it's me. At the end, I walk in and sing one live song. I think they were pretty surprised."

Glass' breathy, alternative style wasn't a fit for Word at the time, but it was for startup Tattoo Records, whose roster included The Choir and Common Children. In 1997, Tattoo released her debut, "Human," but her career promptly hit a wall when the label began cutbacks and released her nine months later.

"The day I found out I got dropped, I sobbed. I was so distraught," she says. "I just felt that it was completely unfair, but that's life. This stuff happens every day."

Even though she went on to record the well-received "Love & Poverty" for Rustproof in 1999, Glass says she learned that success and accolades aren't important. These days, when she reads reviews of her work, it doesn't affect her like it used to. "I care more about my marriage, my friendships and about my relationship with Christ," says Glass. "All that other stuff is just background noise."

GlassByrd

Given their artistic temperaments and wealth of life lessons, there's little surprise that a Marc Byrd-Christine Glass collaboration would yield nothing less than one of the year's most compelling albums, "Open Wide This Window" (Word).

As GlassByrd, it's the first full-length melding of their distinct voices — Byrd's melodic rasp and Glass' ethereal chime. But it's not the first time they've worked together.

The two met in the late 1990s during a writing session for Glass' "Human" album. They kept in touch, began dating and married in 2000.

"I remember just feeling a connection with him," Glass says. "We talked about spiritual things — obviously writing lyrics together — and I remember thinking, 'Wow, this is a really cool guy.'"

"I would say there was an immediate attraction," Byrd adds. "She's beautiful, intelligent, creative, talented and not shallow. And, more than anything, she takes her faith very seriously, wrestles with it and is very honest with it. From a spiritual perspective, that means more to me than anything."

Their first collaboration resulted in "Whisper," which Byrd recorded for Common Children's second album, "Delicate Fade" (Benson). Glass contributed background vocals and, listening to the song today, it carries the blueprints for GlassByrd.

"A lot of these [songs] came out of our own private times of worship. And we were also being aware of the audience that bought "City on a Hill" and enjoyed 'God of Wonders,'" Byrd explains. The new album, he says, "is, in a sense, saying, 'Thanks, God, and thanks, all you guys out there. Here's a record that I hope touches you and is, for me, still beautiful and artistic yet at the same time lyrically more accessible, too.'"

"Open Wide This Window" comprises songs the pair worked on over the years. "Tonight (I Want to Live in Your World")" stretches back to a demo Byrd was shopping to labels around the time of the first "City on a Hill" album. Another, ("Everywhere I Turn"), relates to the sense of God's presence Glass had during a retreat. "It was one of those rare experiences when you really see God everywhere," she says.

They write frequently. Their home in a Nashville suburb is a creative place, with a studio, lots of art and a cat named Baghera who keeps a watchful eye. Byrd likes to write outdoors (Glass kiddingly calls him "nature boy"), and so she got him a hammock that hangs on their back porch. Life, for both, seems quite blessed — and tempered by reality.

"I think this is a record of hope," Byrd says. "We are being worshipful, but we're also saying that we're not naïve. We're not just putting on a happy face and going, 'Oh, isn't it great when we worship Jesus?' No, we live in a fallen world. There's tension living in the light of redemption."


Used by permission.  CCM Magazine © 2003  Click here to subscribe.