'Wade In The Water' Bluegrass Performance From The Petersens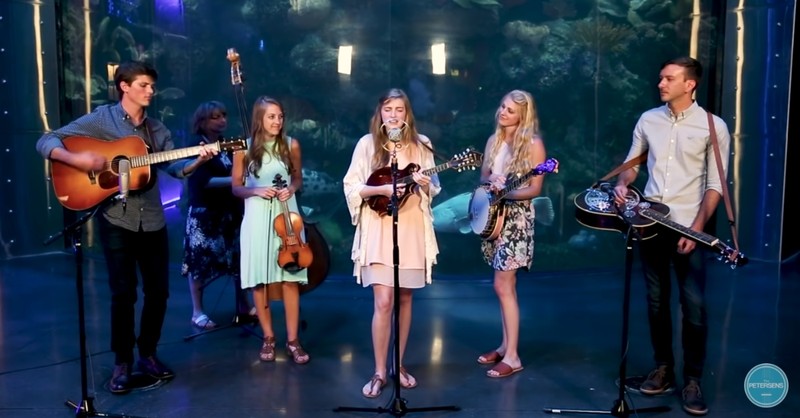 While we don't know the author of this hymn, it was first published in the 1901 book New Jubilee Songs as Sung by the Fisk Jubilee Singers. The hymn has many biblical references including John 5:4 and how the Israelites escaped from Egypt.
"Wade in the water, wade in the water children
Wade in the water,
God's gonna trouble the water"
The Petersens are a family band from Branson, Missouri. This bluegrass ensemble has traveled all around the world sharing their musical talents, but you can normally find them at home in Branson.
For ten seasons, The Petersens have performed at the Little Opry Theatre in the Branson IMAX Entertainment Complex. Today, they're sharing a special live performance of 'Wade In The Water.'
Set against the backdrop of the Wonders of Wildlife aquarium, this beautiful hymn is the perfect reminder of God's love and forgiveness.
"Who's that young girl dressed in blue
Wade in the water
Must be the children that's coming through,
God's gonna trouble the water, yeah"
Through the good times and the bad, God will always stand by our side. Hand over your burdens and put your trust in the arms of the Lord. Amen.
Acts 2:38 "And Peter said to them, "Repent and be baptized every one of you in the name of Jesus Christ for the forgiveness of your sins, and you will receive the gift of the Holy Spirit."
Credit: Godtube