Watermark: Coming Full Circle
Beau Black

CCM Magazine

2004

24 Sep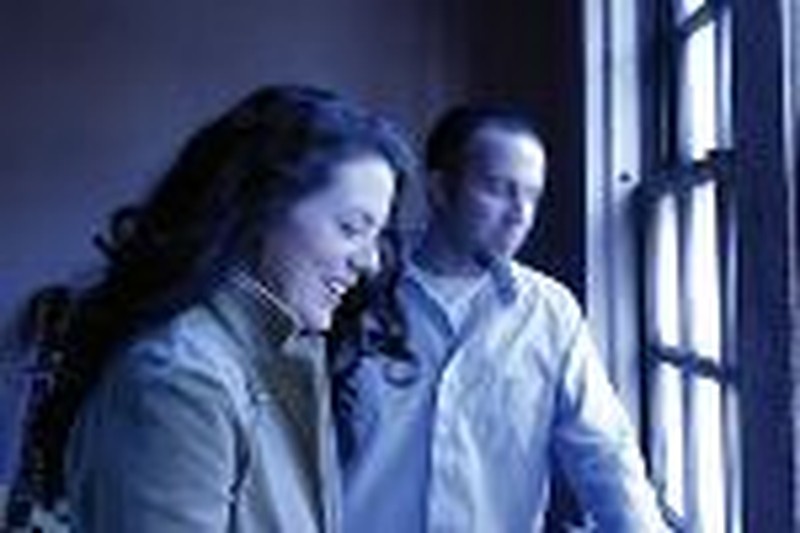 It's a busy day at the Nockels house, and it doesn't sound like that's much different from any other day, given that it's home to two young kids (Noah, 4, and Elliana, 1 and a half) and their parents, who double as producer, singers, songwriters, worship leaders and recording duo.
While Nathan talks briefly about his brimming-over production schedule, Christy is the storyteller of the two. After he's gone back down to the studio to record some vocals for the Phillips, Craig & Dean album he's working on, she talks about the rest of what's going on in the life of Watermark, much of which seems to have come out in her and Nathan's new batch of worship songs.
Their newest release, "The Purest Place," is an attempt to merge what they do — perform as singer/songwriters and lead worship at "Passion" events, the latter of which they've been involved in since 1997.
"The title really just came from conversations we've had over the past two years," Christy says. "As an artist, you can really quickly get caught up in what's 'working' in our industry and what isn't and let that make you feel a certain way about what you're doing. There's a danger we've found in letting that injure what we're doing in order to appeal to the masses. It's been a 10-year process of learning that there can't be anything or anyone else validating what you do; you can only let God validate what you are."
She goes on to explain that a friend was talking about a word study of the term 'anointed' and that one of its more obscure meanings is "to paint." "When people are attracted to what you do — your writing or musicianship or whatever — it's God's presence that people are attracted to. The first line [of "Purest Place"] says 'Paint me with your purity.' All these songs are coming from that place of exploring that thought. We're always asking God to keep us in that [mindset]."
This time out, that meant a conscious shift from writing about God or about earthly relationships to focusing intentionally on singing to Him. Listeners may remember "Knees to the Earth" from the "Passion Sacred Revolution" CD, which Nathan produced. It was actually written the day they performed it at "OneDay 2003."
"We'd been given this little slot at 'OneDay' last May. Both of us feared that the moment was going to bring a new song," she laughs. Christy says she had the beginnings of the words in her journal. "Matt Redman just had his guitar sitting out, this really cool guitar; and we picked it up. I didn't have that [first] line yet."
The pair continued to work on it the next morning — right up to the time they went on before 20,000-plus college students. She says she went back and forth about whether to go with what she had of the song.
"And right before we went on that first line came … 'Knees to the earth.' We walked out, and everyone was kneeling on the field. We hadn't seen them from down behind the stage. It was just one of those moments." Their performance was so overpowering that they felt compelled to re-do much of the track in the studio "because I was so weepy when we sang it," Christy says.
Another milestone is a new version of a tune with a history that stretches back to pre-Watermark days. "We wrote 'Holy Roar' almost 10 years ago, and that song was significant in our writing together and beginning to walk together spiritually. The words are talking about something we were beginning to see but had not yet seen. When we wrote that, I had a vision in my head of masses of people worshiping God. But, at that point, there wasn't a 'Passion' or 'OneDay'; and worship was just coming to the fore."
The song was written when the Nockels were still called Sons & Daughters, a group they formed with Charlie Hall and his wife, Kimber. The young couples were given some heavy responsibilities at their church in Oklahoma City, Christy recalls, leading worship and traveling at the age of 21. Some misplaced expectations within the group led to "some comparison issues and jealousy" between her and Kimber, she says, that ultimately caused a rift in the foursome. After a year of tension, the Nockels moved on to lead worship at Houston's Metro Bible study. Two years ago, Christy and Kimber reconciled, and Nathan and Charlie have worked together, both at Passion events and most recently on Hall's "On the Road to Beautiful," which Nathan produced.
"I think we kind of limped away from the ministry we had in Oklahoma City, and a lot of the wounding was related to leading worship," she says. Turn the page to the pair getting signed to Rocketown Records and the ensuing warm radio reception to new versions of their last independent songs. Those two events combined worked to shift their artistic focus away from worship. "'Holy Roar'," she concludes, "is a way to say we've come full circle — we still come to [God] and want to see this in our lives. We're thanking Him for what we're able to see."
The worshipful bent of this project, then, is nothing new: "I think this record is still very true to what Watermark is," says Christy. "It's not for any other reason than to say we've got to make these two worlds connect. You would never see us do "More Than You'll Ever Know" at a 'Passion' conference. We wanted to write songs that were more 'singable.'" She says that at "Passion" events, "People go, 'Oh, that's y'all'," not making the connection between their radio hits as Watermark and its role as lead worshipers. "We sat down with Rocketown [Records] and said, 'If you can't help us connect these dots, we don't know if we should make another record.' We didn't want to make another one [just] for radio. They realized we were willing to make some sacrifices to make that happen."
Some of those sacrifices are made for their family, which has grown since Watermark's last record. "It seems like, lately, nothing is easy." Christy says reflectively. "The purest place is not the popular place. It's sometimes the painful place. But you've got to release it and say, 'God, we want Your best.' We don't want to go through life forcing things for Watermark. There's so much good when we look around. … We look at Tim's [Hughes] new record and ours and Matt's [Redman] — that's such fruit."
Uniting the Kingdom
Though he's not yet achieved the high profile of Brown Bannister or Monroe Jones, Nathan Nockels has kept busy producing some of the most popular worship recordings of the last five years, including albums from Point of Grace, Phillips, Craig & Dean, Chris Tomlin and the "Passion" events. Up next:  summer releases from Brits Tim Hughes and Matt Redman. Both have had huge worship songs ("Here I Am to Worship" and "Heart of Worship," respectively, among others), but neither has found sales success in the United States. Redman just shifted to the Passion-oriented sixsteps label, where his first projects are a live album of 12 new songs and an accompanying DVD, recorded at a worship conference in Atlanta. "They're really wanting this record to help break him big. It sounds more like a 'Passion' record — more intense and driving," says Nathan.
His work with Hughes took him to London. "They don't just jump onboard with whoever. They flew me over, and I spent a week with him and his family. He's really involved with his pastor — he writes these songs and runs them by his pastor, and then they try them out at church." "Church" is Soul Survivor, where Delirious came together and where many of Redman's own songs were first heard. "His songs are just so great, and coming out of that and launching into ours put such a fire under us. It raised the bar on our writing," Nathan says. 

© 2004 CCM Magazine.  All rights reserved.  Used with permission.  Click here to subscribe.