With Their "Smile," Hawk Nelson Progresses Thru Music Ranks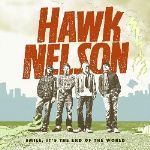 Artist:  Hawk Nelson
Title:  "Smile, It's the End of the World"
Label:  Tooth & Nail Records
Suicide is still one of the leading causes of death these days. Many people assume that the only people prone to suicidal thoughts and tenancies are those who suffer from severe depression or mental instability. However, many suicide victims have lived remarkable lives - they just find themselves needing something more. Whether it's a twisted sense of control in their lives or simply a way out, these victims are looking for something outside of life that they couldn't attain during life. And the truth of the matter is that every suicide leaves far more than one victim. Everyone around that individual is impacted significantly with the sudden and untimely loss of someone near to them.
Though it may seem hard to believe, Hawk Nelson, the fun-loving, often lighthearted, pop-punk outfit that has been cropping up everywhere from television to movies to magazine covers has dealt a lot with the affects of suicide as they've toured throughout the country. The song "Zero" from their sophomore release, "Smile, It's the End of the World" deals with the effects of suicide head on as the group tackles a more serious tone. In fact, the overall content of the album proves to be a bit more mature than "Letters to the President" with lyrics that address a lot of the problems and issues that we often face as members of today's society. "The One Thing I Have Left" offers a blunt look at the pervasive attitude of blaming others, "Everything You Ever Wanted" discusses our inability to please everyone, and "Is Forever Enough" deals with our need to be reconciled for our sins.
Musically, the album shows a more mature side to the band as well. Sure, it's still pop and punk rock combined for a exhilarating candy-coated musical experience. But there are a bit more twists and turns added in to the equation to push the envelope a little further than they have in the past. Rather than simply focusing on the one sound that works, each song seems catered to the themes discussed therein. This extra care gives each track its own identity and offers a texture to the album likening it to some of MxPx's early catalog. Some of the album's highlights include "Zero," "Something On My Mind," "The Show" and "Head on Collision."
"Smile, It's the End of the World" proves to be a very enjoyable record to listen to that entertains listeners with a fun musical soundscape. Below the surface, the lyrics are also quite challenging and worth paying attention to. The combination of lyrics and music give more strength to Hawk Nelson's progression through the ranks of Christian music and make listening to this album a great way to spend 45 minutes of your day.


© 2006 CMCentral.com.  All rights reserved.  Used with permission. 

Visit CMCentral.com now and join the single largest online community of Christian music fans on the internet.  CMCentral features  daily music news, exclusive interviews, album reviews, weekly devotions and feature articles written by some of your favorite Christian artists, and much more.  CMCentral is also the home of the most popular Forum for Christian music fans that you'll find anywhere on the Internet.  Come see what all the buzz is about!