5 Current Popular Shows Christians Might Want to Avoid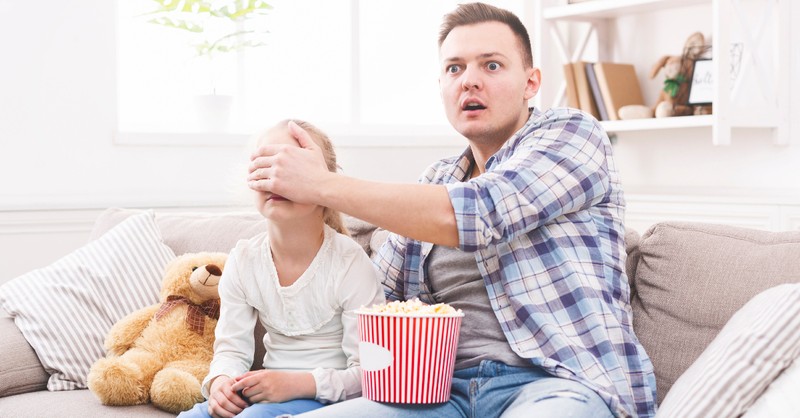 Nowadays, finding a good television show to watch isn't necessarily a stretch with the litany of streaming services available, cable, satellite, and worst case, the old-fashioned DVD set of bygone shows. But discovering a bad television show seems to be even easier, and if you have a set of standards by which you weigh them by, then the list can be remarkably long, remarkably fast.
I distinctly recall when I was a teenager, NYPD Blue made its debut and was nothing short of stunning to the Christian circles I ran in. Pushing the envelope seemed to be this show's mission when it graced the screen starting in 1993, and my parents would leap over the couch to shut it off, (the days before remote controls), and to spare my eyes and ears the horrors.
Fast forward to today, NYPD Blue's shocking content is hardly blink-worthy, and many of us might even wonder what the fuss was all about. Still, the entertainment industry has not ceased the mission to push those boundaries and it really is up to each viewer to be educated as to what they deem or don't deem as appropriate viewing for their household.
Here is a list of some television shows from various outlets, and in no particular order, that you may want to avoid and why:
1. Outlander (Starz Network)
Set in Scotland, this time travel story tells the tale of a British World War II nurse who is transported back to 1743 into the world of clansmen and their own set of historical problems. The concept is no doubt intriguing.
When Claire meets Jamie, the viewer is instantly aware of the chemistry between this 1940's beauty and 1700's warrior. The viewer is also very aware that Claire is very much married in her time period, and she's almost instantly thrown into a moral dilemma. Can it truly be an affair if one can never return to the life they once knew?
Aside of from the angst of love affairs, The Outlander is a period drama lover's dream. But as a Christian? You'll need to check your morals at the door.
The Outlander is laced with love-making, and is even known for some very graphic sexual scenes that set it at the top of the sexiest shows out there. Not much is left for the imagination for both the human body and the sex act itself. Add to this, numerous situations throughout the seasons that include abuse, molestation, and rape that make it violent and in a grotesque way, a bit glamorous.
Tempting to watch for the story itself, if you have scruples regarding sexual content, run away very fast from this one.
2. Bridgerton (Netflix)
Bridgerton has taken the pandemic, lockdown world by storm! Facebook newsfeeds are buzzing, women are swooning, and anyone who is anyone in the love of period film will know about Bridgerton.
Based on Julia Quinn's popular Regency novels, Bridgerton takes the viewers deep into the courtship world of aristocracy. Featuring a diverse cast, it also knocks down some walls in regards to racial inequality in cinema, and brings to the fore a very dashing, handsome, Simon Basset whose reticence to marry and sire children make him even more desirable.
And, frankly, you will see every square inch of Simon Basset minus just a few. While romance is most definitely the focal point, there is nothing Regency-chaste about Bridgerton. From the first episode, you will see more than you perhaps wanted to of one actor, watch a graphic sexual scene in broad daylight against a tree in the British countryside, and by the time you make it more episodes in, you'll discover that one episode in particular, is at least thirty to forty minutes of lovemaking.
Literally. I stopped timing as I was attempting to determine whether or not people could really act that realistically. Bridgerton is oddly wildly popular even within the Christian realms. One may argue it is because it does such a fabulous job with cinematic colors, musical scores, witty banter, and actors and actresses that are diverse and relatable. All of that is well and fabulous!
And while the hero is for all sakes and purposes, swoon-worthy, you will definitely have nothing left to the imagination.
3. Mindhunter (Netflix)
For anyone with interest in criminal psychology, you will more than likely find yourself gravitating to this two-season, third yet-to-be-announced, tv show. However, if you're hoping to find another version of Criminal Minds, be forewarned.
This makes the BAU and David Rossi seem like a walk in the park when it comes to crime. Opening in episode one, you will witness a suicide from beginning to end, including the full violence of the deed.
There is no shortage of nudity and sexual interaction, however, it is not the focal point, so kudos to Mindhunter for not devoting entire episodes to sexual escapades. However, considering the show is literally a fictional retelling of how the FBI's Behavioral Science Unit came into being in the '70's, there is no shortage of content both sexual, deviant, and violent.
With the main characters almost episodically interviewing known serial killers, analyzing their techniques, motives, and mindsets, as well as trying to uncover unsolved murders, the viewer will be saturated with unfiltered criminal psychology.
While the show is a slow-burning story, you do become quite invested in its characters and quite enthralled with the process and development of the BSU. But the content is raw, gritty, and as crimes go, graphic and blatant.
The faint of heart will most assuredly faint, and even the most desensitized will find themselves wincing in the face of realistic, violent crimes.
4. The Bachelor (ABC)
What's a review without the inclusion of a reality TV show? All in all, The Bachelor is mostly made up of what appears to be extremely beautiful people who, for some reason, cannot find love. Which immediately will leave the average single adult feeling even more disadvantaged than before.
Since the show is on prime time, it does fall under the stricter rules and adherences of government guidelines, but there are thematic elements that will possibly get under a Christian's skin quite quickly.
Outside of the emphasis on beauty and outward appearance, there is an unending litany of back-biting, lying, cheating, and all-out unkindness between the contestants. Picture a room of middle school girls fighting over the one popular boy, and you have pretty well summed up the show, but in adult fashion.
While the ultimate goal is for the bachelor to pick a wife, the adage "try the shoe on before you buy it", seems to ring true more often than not. The bachelor is consistently making out with multiple women, pledging affections and toying with hearts, and while one can make a strong argument the women signed up for it, there is still the underlying thread of disrespect toward a woman's honor that cannot be ignored.
Leading up to one of the final episodes and the "fantasy suites", we find that our beloved bachelor is also willing to spend the night with his top three before determining who he wants to spend his life with. While all in all, the viewer's imagination needs to fill in the blanks, a show like this can do insurmountable damage in laying any foundation—entertainment or realistic—for relationships.
Have Bachelor couples successfully come from this franchise? Yes, they have. But a Christian viewer must question whether this is lending toward some destructive expectations, even subliminally, when it comes to relationships.
5. A Discovery of Witches (Sundance)
Some herald this show as Twilight for adults. Based on a trilogy by Deborah Harkness, the show takes us on a wild ride as a historian uncovers a magical manuscript and is sucked into a world filled with vampires and witchery.
While a few review sites state the content as appropriate for viewers 14+, others maintain it is geared toward a mature audience, with sexual content most definitely bordering on the overt according to many standards.
Apart from that, one must review their beliefs on witchcraft, Catholicism, the history of witches, the concepts of demonology and vampirism, and one must be content to view these through the eyes of entertainment only, if they are to tolerate this show. Not unlike the much more childlike Harry Potter, the entire premise of the story surrounds magic and craft. While many will debate whether entertainment skirts real occultism, or visa versa, it is something to be considered before watching the show.
One will find many mixed reviews within varying circles as to the acceptability of this popular show. This is one to watch with caution, without little ears and eyes, and with your own measuring tool of tolerance for all things spiritual/magical.
As with any television show, what affects one person may have a much lesser impact on another. It's important to approach entertainment with a Biblical filter and also one of sensitivity to those around us.
In the end, if you want to avoid potential compromise to areas you find pivotal to your faith, you'll probably find it easier and less controversial to just avoid these shows altogether.
Photo Credit: ©GettyImages/Prostock-Studio
Jaime Jo Wright is the winner of the Carol, Daphne du Maurier, and INSPY Awards. She's also the Publishers Weekly and ECPA bestselling author of three novellas. The Christy Award-Winning author of "The House on Foster Hill", Jaime Jo Wright resides in the hills of Wisconsin writing suspenseful mysteries stained with history's secrets. Jaime lives in dreamland, exists in reality, and invites you to join her adventures at jaimewrightbooks.com!