The Remnant
Today, I want you to read Romans 11:2-5,
God has not cast away His people whom He foreknew.  Or do you not know what the Scripture says of Elijah, how he pleads with God against Israel, saying, "LORD, they have killed Your prophets and torn down Your altars, and I alone am left, and they seek my life"?  But what does the divine response say to him?  "I have reserved for Myself seven thousand men who have not bowed the knee to Baal."  Even so then, at this present time there is a remnant according to the election of grace.
When Elijah pleads with God, he is physically, mentally, and spiritually exhausted.  Jezebel is after his head and he has run into the wilderness.  He is sitting down under a tree, and he is crying to God, "I'm the only one.  Nobody else is serving You."
But God says, "Hey, wait a minute, Tiger.  I have seven thousand more who haven't bowed their knee to the false idol.  You're not the only one."
God is saying, "I have a remnant."  And then Paul brings it right into present day, and says, "Just like God had a remnant then, God has a remnant today."
A remnant is a small group that has remained.  That is where the word remnant comes from.  It comes from the root "to remain."  God always has a remnant.  A remnant that remains faithful, committed, on course, obedient to God.  That does not get discouraged, quit, or give up because of life's many turns.
Life has its share of setbacks and unexpected turns, and many people give up because of those setbacks.  But those who stay on course and remain faithful will experience God's richer blessings.
God blesses all of His children.  But those who stay the course are rewarded for their faithfulness.
So stay on track, hold course, stay steady, and remain faithful.  Be a part of the remnant.
---
Visit the Answers with Bayless Conley website for more ways to connect with God.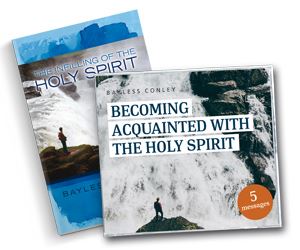 FEATURED RESOURCE

Know God in a deeper way!

The Holy Spirit's presence brings hope, joy, and comfort; and He longs to walk in deep fellowship with you every day.

We want to help you experience a more intimate friendship with God, by sending you the Knowing the Holy Spirit package.

It includes Bayless Conley's The Infilling of the Holy Spirit  booklet and his powerful 5-message series called Becoming Acquainted with the Holy Spirit.
It includes:

1. The Presence, Power, and Person of the Holy Spirit DVD
2. Expecting the Holy Spirit's Help DVD
3. Evidence of a Spirit-Filled Life CD
4. Speaking in Tongues CD
5. The Holy Spirit's Work in Our Hearts CD

Bayless Conley unpacks the benefits and evidences of being filled with the Spirit of God.

Find out what it means to live a Spirit-filled life!