15 Ways to Encourage Your Man
By Heather Riggleman
Let us hold fast the confession of our hope without wavering, for he who promised is faithful. And let us consider how to stir up one another to love and good works, not neglecting to meet together, as is the habit of some, but encouraging one another, and all the more as you see the Day drawing near. - Hebrews 10:23-25.
No one can encourage me like Chris can. His words, his belief in me, his actions, his touch. He has the power to diffuse stress and make everything okay. He is my home and my rock because of how he practices encouragement in our marriage. He knows what I need to hear and when I need to hear it. Sometimes I roll my eyes and say thank you for the lip service. My sweet husband replies, "You know it, babe," before giving me a smooch on the lips.
Encouragement is a practice - a lost practice but it is one that builds up a marriage. It creates sacred space, love, warmth and so many other things. It's poetic and empowering. It's the balm to a weary and wounded soul. It's the life force from your lips that your spouse needs not just to survive but thrive on those rough days. It is part of a healthy marriage. Good encouragement takes trial and frequency but most of all it takes practice to figure out what speaks the loudest to your mate.
While you may still be stuck on the phrase "lip service" I can assure you it's not. It means: "to fill with courage." Encouraging your spouse literally places courage in them just like "entrust" means to place trust in someone. You have the blessed ability to fill your spouse with courage. In a world bent on tearing down the male sex, your husband needs to hear it more than ever.
In his book, The Man Whisperer: Speaking Your Man's Language to Bring Out His Best, author Rick Johnson says women often don't realize the power they have when it comes to their husbands.
"I don't think a lot of women recognize it," Johnson says, "but they have this power just by their words sometimes, or sometimes even a look, that they can literally destroy their husbands or they can lift them up to do things that they would never do on their own without her encouragement and support."
He encourages women to learn how their words and actions can influence their spouse to become all that God wants them to be. It's something I practice on a daily basis. If you want to improve your marriage or set a better example of a Godly wife, here are 15 ways to begin encouraging your husband!
1. Verbiage – Whenever possible, compliment your husband, especially in front of your kids. This applies even when his family or friends are around. Give a sincere compliment, it could be anything you appreciate about him.
2. Be a Flirt – One of the things your husband fell in love with about you was how you flirted with him while dating. Flirt with him now. It can be something as simple as giving him the "I want you" look with your eyes. Flirting reminds your husband you chose him which makes him feel secure and loved.
3. Listen – Take time to listen to him. Set aside time each day to really listen to your husband and ask about his day. Men don't have girl chats and I know my husband doesn't talk about his frustrations or feelings with guy friends so when I ask him about his day, it gives him a chance to unload. It reinforces the fact he knows you are there for him.
4. Don't React – No matter how much he drives you crazy, says, or does something that offends you, don't react negatively. Instead, act with a positive attitude. I try to remember my husband is a good-willed person and loves me. He's also human and makes mistakes. This gives me a chance to take a deep breath before reacting.
5. Text Him – Surprise him with a flirty text message or tell him why you are so grateful to be his wife.
6. Touch Him – Physical touch can translate into love for a lot of men. So as you talk with him or pass by him…find a way to touch him, like rubbing his shoulders when he passes by or hugging his rib cage, etc.
7. Talk about His Interests – While I'm thankful my husband isn't into sports, he does like to talk about fishing, severe weather, cooking or camping. As often as I can, I bring up his interests. It makes him feel good to know that I'm interested and want to talk about it.
8. Be There – Whenever my husband is working on a project in the garage, I grab a book or nail file and go sit in the garage. I don't have to say a word the entire afternoon and yet he is thrilled. Whenever possible, be there. Whether he's watching a game or working on a project. It reminds him you love just being with him.
9. Encourage His Hobbies – I'm not a fan of sitting by a lake and fishing all night long but my husband loves to fish. Whenever possible encourage your man to pursue his hobby. If you know nothing is on the calendar for tonight, set his gear out by the front door. He will be surprised that you're encouraging him to take the evening for himself.
10. Date Night – Plan a date night. Don't wait for him to plan one, he usually doesn't have clue what night would be good or who to call for a sitter. Make the plans and remind him when date night will be.
11. Dress the Way He Likes – I know girls, I know– but you really need to give your yoga pants a break. I haven't been a fan of how my body looked after four pregnancies and birthing three children; but when we have low self-esteem about our bodies, our husbands notice. We are their prized possessions which means we need to be confident of how we look. This means dress in a way that is attractive and be confident that you look fabulous. Trust me, your husband doesn't notice your stretch marks or the extra pounds, he notices your confidence and all the features he finds Oh-SO-Attractive.
12. Don't Nag – No matter the situation, don't nag at your husband. It immediately makes him feel disrespected and unwanted. If there is an issue he needs to address, bring it to him in a positive manner. Use "I feel" statements instead of "It drives me crazy you haven't…." or "Why can't you…."
13. Shave Him – Unless your husband is uber particular about shaving, offer to give him a fresh shave. It creates intimacy and this action of love reminds him you love being with him.
14. Steal a Kiss – Wherever you're waiting, whether it's in line, at a stoplight, sitting at the dinner table, lean over and steal a kiss.
15. Appreciate Him – Tell him what you like about his character. Whether it's how he handles the kids when they're rowdy, or if has a strong work ethic; point it out and share what you appreciate about it with him.
---
Heather Riggleman calls Nebraska home (hey, it's not for everyone) with her three kids and husband of 20 years. She writes to bring bold truths to marriage, career, mental health, faith, relationships, celebration and heartache. Heather is an author and a former national award-winning journalist. Her work has also been featured on Proverbs 31 Ministries, MOPS, Today's Christian Woman and Focus On the Family. You can find her at heatherriggleman.com or connect with her on Instagram.
Listen to our chart-topping, FREE family podcast - Famous at Home!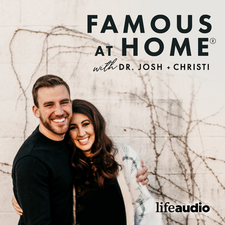 We live in a society that conditions us with a deep desire to be famous, well-spoken of, and admired. Yet, it's our family that often get our leftovers. Your biggest fans already live under your roof. You'll never be more famous anywhere than you are at home.
At Famous at Home, Dr. Josh and Christi Straub help you put a plan in place to make the most of the time with your family and learn to harness the power of emotion for deep relational connection with your biggest fans.
Each week, Josh and Christi host the Famous at Home Podcast (amassing more than 2.5 million downloads) to help you focus on what matters most in your family.
Listen below to one of Josh and Christi's most popular episodes on simplifying family life: