­­Choosing to Grow Up in Marriage
By: Kia Stephens
When I was a child, I talked like a child, I thought like a child, I reasoned like a child. When I became a man, I put the ways of childhood behind me. - 1 Corinthians 13:11 (NIV)
As a young girl, I remember fantasizing about what life would be like as an adult. My friends and I had a formula for determining the house we would live in, the car we would drive and who we would marry. It was an unrealistic practice at best and yet we continued to sink our hopes into a childish game.
When I became an adult, I carried some of my immature understandings into adult relationships. I had some long-standing beliefs about dating and marriage that needed to be transformed by God. Essentially, I needed to grow up.
Prior to 1 Corinthians 13:11 (NIV) Paul gives the ultimate development plan for maturity when he describes love. His description goes far beyond a childlike understanding. It debunks the idea of fairytale love, where a prince finds a princess and the two live happily ever after.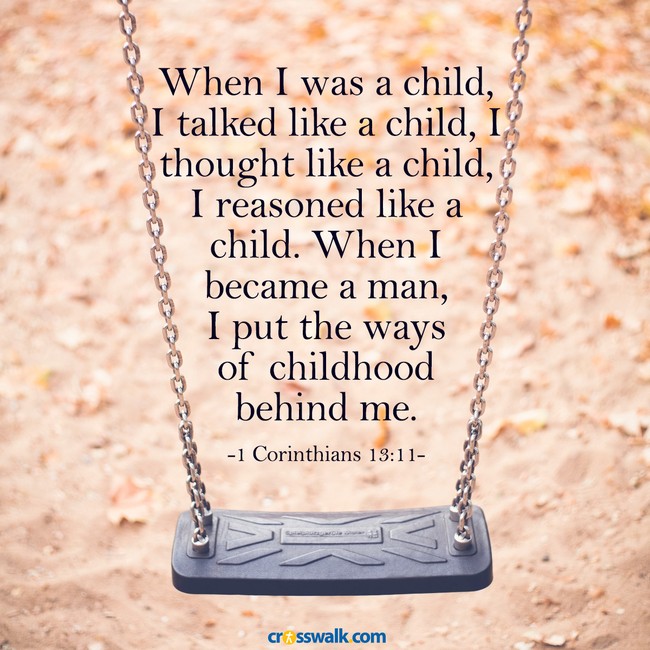 Rather, Paul introduces mature love. He tells us that love is an intentional choice that we can choose to make every moment of every day. This love takes the guesswork out of happily ever after and provides every person with a specific how-to.
In 1 Corinthians 13:4-7 it says, "Love is patient, love is kind. It does not envy, it does not boast, it is not proud. It does not dishonor others, it is not self-seeking, it is not easily angered, it keeps no record of wrongs. Love does not delight in evil but rejoices with the truth. It always protects, always trusts, always hopes, always perseveres."
This explanation of love is pretty straightforward, but sometimes, in the day-to-day, we forget to implement it.
1. Instead of patience we may grow easily impatient with our spouse and want them to change immediately.
2. Our communication may be anything but kind.
3. Pride may keep us from admitting our faults and apologizing.
4. Selfishness may dictate our actions.
5. We may even find ourselves growing increasingly angry with each offense and simultaneously keeping a long-running account of all wrongdoings.
6. In our carelessness, we may fail to protect, trust, hope and persevere.
Sometimes, we all fall short of exhibiting love and maturity in marriage. Hurt feelings accumulate over time and we may feel our behavior is justified. Although our feelings are indications that something is wrong, when they govern our behavior, we are prone to act more like children than adults.
The apostle Paul invites us to make a conscious decision to grow up in the way we love others. Loving our spouse in this way would revolutionize our marriages. I am convinced it would transform the most challenging circumstances because the onus would be on us to change and not our spouse.
In doing so we would love our spouse in the way Christ willingly chose to love us. While we were steeped in immaturity, Christ placed are well-being before His. He demonstrated love and maturity when He humbled Himself and died on a cross for all mankind. Every day, we have a choice to follow his example, love our spouse and grow up.
---
Kia Stephens is a wife and homeschooling mom of two who is passionate about encouraging the hearts of women. For this reason, she created The Father Swap Blog to help women exchange their father wounds for the love of God the Father. Kia is also the founder of Entrusted Women, which she created to equip Christian women communicators of color. Kia's writing has been featured on Ann Voskamp's blog, Christianity Today, iBelieve.com, Beloved Women, Crosswalk and Incourage. When she is not writing or serving women, she enjoys spending quality time with her family and friends. You can connect with Kia at www.kiastephens.com.
Listen to our chart-topping, FREE family podcast - Famous at Home!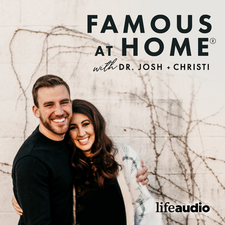 We live in a society that conditions us with a deep desire to be famous, well-spoken of, and admired. Yet, it's our family that often get our leftovers. Your biggest fans already live under your roof. You'll never be more famous anywhere than you are at home.
At Famous at Home, Dr. Josh and Christi Straub help you put a plan in place to make the most of the time with your family and learn to harness the power of emotion for deep relational connection with your biggest fans.
Each week, Josh and Christi host the Famous at Home Podcast (amassing more than 2.5 million downloads) to help you focus on what matters most in your family.
Listen below to one of Josh and Christi's most popular episodes on simplifying family life: