Choosing to Walk in Love
By: Anne Peterson
And walk in love, as Christ loved us and gave himself up for us, a fragrant offering and sacrifice to God. - Ephesians 5:2
All of us have choices. Our choices determine our actions.
God tells us we can choose to walk in love. And when we make that choice, our other choices follow suit. There have been times in my marriage when I didn't walk in love. I reacted instead of responding. Reacting doesn't take much thought.
One harsh word can elicit another. But when I've made the decision to walk in love, my actions will reflect it. Jesus walked in love. Everything he did was out of love. He answered people with grace, no matter what was going on. And when he needed time away from people, he drew away from the people, and went to talk to his Father. That's exactly what we need to do when our emotions are too close to the surface.
When we are impatient, our words are shorter, more intense. But when we choose to walk in love, we are in tune with God. And he helps our words to be gracious. Then those we are interacting with feel valued.
I confess. At times I've been short with my husband, Mike. Sometimes rude. And that is not a fragrance at all, it's a stench. So what do we do when we know our words will not be kind?
We stop. Breathe in and out. And ask God to give us his words. God tells us in Proverbs 3: 6, "In all your ways acknowledge him, and he will direct our paths."
When God directs our paths, our words will lift someone up, instead of tearing them down. And if you find yourself feeling irritable toward your spouse, it could mean your emotional closet is full. Maybe you are storing things that need to be sorted out and forgiven. It's happened to me.
One time, Mike asked me, "Do you remember that time I said ______? And I had to tell him, "No, I don't remember."
His response made me really stop and think.
Mike said, "Oh, you DID forgive me."
When we hold onto hurts, God can help us release them. And that is so freeing. God teaches us to love as he does. His love overlooks faults.
What would happen if each morning we made the decision to walk in love? It would change our days completely. Not only would our spouse feel loved, but we would also know that we were pleasing our Father.
But what about when your spouse isn't being kind? What if his words are harsh? We need to remember what God tells us concerning our enemies, because that's what it may feel like at the moment. Like our spouse is our enemy. But even then, we're instructed to love our enemies. Nowhere does God tells us we can let someone have it. Not one place.
I love the story of Joseph, found in Genesis 37-45 who was mistreated to the max. If anyone had the right to react because of how he was treated, it was Joseph. But he didn't. Though falsely accused, imprisoned, and at times forgotten, his attitude remained good. He still obeyed authority. In fact, Joseph's attitude was so exemplary he was even promoted in prison. God honored Joseph because he kept entrusting himself to God.
This was especially evident when Joseph faced his own brothers, the ones who had thrown him in a pit when they were boys, leaving him for dead. When Joseph had the chance to take revenge on those who mistreated him, he chose not to. Instead, he extended mercy, and then he gave them grace. Joseph walked in love.
We need to reflect on those who walked with God, so we can make the right choices. And though Satan, will whisper things to us, making us want to retaliate, we can listen instead to the voice of the Holy Spirit. He will guide and direct us. And we can make the choice to walk in love, just like Jesus did.
---
Anne Peterson is a regular contributor to Crosswalk. Anne is a poet, speaker, published author of 14 books, including her memoir, Broken: A story of abuse, survival, and hope. Anne has been married to her husband, Michael, for 43 years. Sign up for Anne's newsletter at www.annepeterson.com and receive a free eBook. Or connect with her on Facebook. Then you'll hear about her new writings.
Listen to our chart-topping, FREE family podcast - Famous at Home!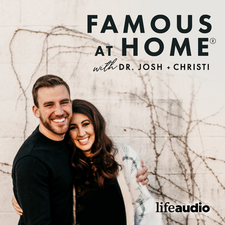 We live in a society that conditions us with a deep desire to be famous, well-spoken of, and admired. Yet, it's our family that often get our leftovers. Your biggest fans already live under your roof. You'll never be more famous anywhere than you are at home.
At Famous at Home, Dr. Josh and Christi Straub help you put a plan in place to make the most of the time with your family and learn to harness the power of emotion for deep relational connection with your biggest fans.
Each week, Josh and Christi host the Famous at Home Podcast (amassing more than 2.5 million downloads) to help you focus on what matters most in your family.
Listen below to one of Josh and Christi's most popular episodes on simplifying family life: