Do Not Be Afraid
By: Amanda Idleman
But when I am afraid, I will put my trust in you. - Psalm 56:3
Life can be scary, sometimes even downright terrifying. Most marriages have to weather job loss, disappointments, financial stress, parenting issues, losing loved ones, differences of opinions and so much more. When difficult circumstances arise the voice of fear is usually the first voice that pops into our heads. We start to wonder how our relationship could possibly make it through this.
It's important to remember that our marriages are not just the union of two souls, but a third entity makes up a very essential part of a healthy relationship; the Holy Spirit. He's there to carry us through the hard stuff. He's the one we should bring our fears to! We trust God when we face uncertainty; we don't lose hope or point blame at our mate.
We can also be a catalyst for peace in our spouse's life. Our words can point them back to trusting Jesus when the hard stuff comes our way. When you hear fear come from the mouth of your spouse you have the choice to either stoke the fire of fear or speak words of peace reminding them that God is in control!
For me, fear most easily creeps in when it comes to the health and well-being of our children. If they are sick or injured my mind races to all the worst-case-scenarios. It's hard for me to trust that God will take care of them. If my daughter wakes up with a normal wet cough, I jump straight thinking we need to take her to the ER to make sure she's breathing properly. There's not a lot of middle or healthy ground in the way I react to illness.
Over time, I have been able to pinpoint these circumstances as triggers of unhealthy fear and anxiety in my life. With some effort I've begun to share my honest fear-based gut reactions with my husband. He has accepted my openness and becomes a catalyst of peace for me in these circumstances. He reminds me that God is in control and that we can trust Him even in the face of illness.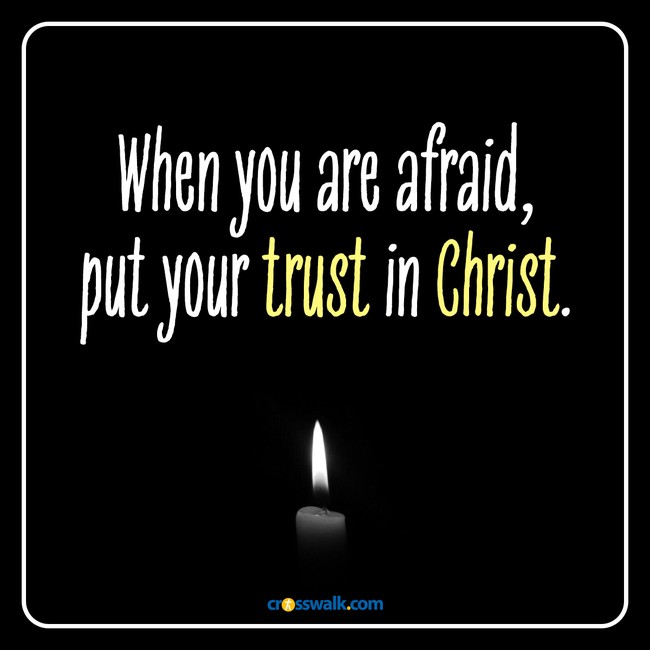 With the support of my spouse and the active power of the Holy Spirit I have been able to make huge progress in not letting fear overtake me when uncertainty enters our life. I realized this the hard way this year when my husband had to call 911 last spring because our otherwise healthy son's throat was closing up due to a severe and rare form of croup.
Before I jumped into the ambulance with my wheezing child, I called out for the peace of God to help me through a truly terrifying experience. God gave me the strength I needed to remain calm for my son and to not let this incident trigger anxious thinking after this event. Every now and then I get worried that something like this will happen again and I bring it to both Jesus and my husband. They both help me to see that God protected us all through that ordeal and he will do it again! I do not have to live in fear.
God puts us together with our spouses so we can encourage one another when the enemy of our souls attacks our hearts and minds. If your spouse is struggling to trust God in an area and letting fear control their thoughts, pray Psalm 56:7 over them. Share kind reminders that God is faithful and trustworthy. Play songs that speak of God's love in your home. We need to be there for each other and always remind one another that we are not alone when we go through the scary stuff.
---
Amanda Idleman is a wife, homeschooling Momma to three amazing kids and is passionate about encouraging others to live joyfully. Amanda also loves to write as a freelance writer and on her blog (when she finds a spare moment for it). You can find out more about Amanda at her blog rvahouseofjoy.wordpress.com or follow her on Instagram at rvahouseofjoy.
You want a happy family who's growing closer to God and each other every day. But how do you break down the barriers to a loving marriage? How can you connect with your kids and help them in their struggles? How does your faith make a real difference in your family's life?
Rob and Joanna Teigen are here to support you with encouraging wisdom and honest interviews with overcomers who battled the same challenges you face. The Growing Home Together Podcast will give you hope and help to care for the soul of your family today.
You can listen to an episode now by clicking the play button below!