Making Peace with Your Marriage's Difficult Start - Crosswalk Couples Devotional - January 4
Making Peace with the Difficult Start to Your Marriage
By: Anne Dahlhauser
"Now a man of the tribe of Levi married a Levite woman, and she became pregnant and gave birth to a son. When she saw that he was a fine child, she hid him for three months... When the child grew older, she took him to Pharaoh's daughter and he became her son. She named him Moses, saying, 'I drew him out of the water.'" - Exodus 1-2, 10
"So how did you guys meet?"
"How long did you date?"
"What was your wedding like?"
All good questions. All terrible questions. All good reasons for me to shovel extra food in my mouth and avoid a response.
Why?
Truth is, Jay and I never had the typical beginning. We were both raised in a strict religious community that controlled those first steps of our relationship. Ours was not a healthy beginning of getting to know one another, falling in love, and choosing to commit to each other. Rather, it was stressful attempts to please certain people and to follow the community's rules and traditions while somehow preparing for a life together.
For years after leaving that group, I struggled with having not had a healthier beginning to our marriage. I grieved having been robbed of so many formational experiences of starting a life with Jay. Lately, as our older children are in high school, I am reminded often of the dysfunction in those years of my life and in the next seasons of engagement and marriage; while there were parts of it that I cherish, much of it I would not want my children to have to live through.
As I look back, I take comfort in the Bible characters who had a rather unhealthy or dysfunctional beginning but eventually experienced much goodness because of God's faithfulness. In particular, I love the story of Moses. In these verses in Exodus, we see how the birth of Moses was anything but safe and warm and typical.
To begin, the midwives, Shiphrah and Puah, feared God and chose to let him live, in direct disobedience the king's orders (Exodus 1:15-19). Then, within three months, Moses' mother realized she could not continue hiding her son and for reasons difficult for us to understand, made him a basket and laid him among the reeds on the bank of the Nile river.
How she must have grieved this loss, the slipping away of what should've been in a healthy, ideal world. How she must have longed for the murderous heart of the king to change, for safety to be restored for her son, for life to be functional and right and all she'd hoped for in mothering a new baby.
But our beginnings do not define our journey.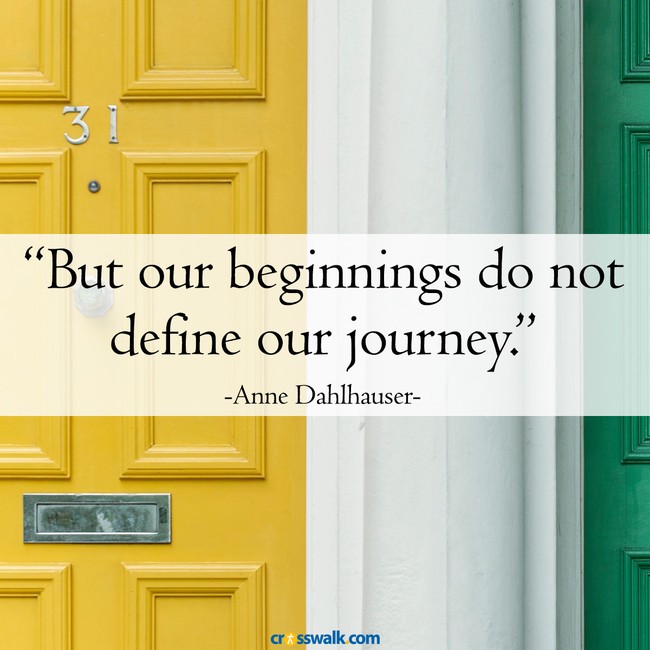 Princesses can be in the right place at the right time.
Babies can be drawn up from the waters and go on to lead people to God's destiny.
Moses can be found among the reeds of messy, difficult beginnings.
Beautiful marriages can be molded from dysfunctional circumstances.
Stable couples can develop from situations of great instability.
And true love can be pulled from unlikely places, even riverbanks and religious groups.
So don't reject your unlikely beginnings. Grieve them well, acknowledge the loss, and then trust that God will draw up divine meaning from those first chapters of your marriage story.
Through it, not despite it, He will bring life and purpose.
---
Anne Dahlhauser lives in rural Iowa on a quaint farm with her husband, five kids, and various animals. She holds an MA in Teaching Languages (TESOL and Spanish) and is a lover of words, culture, and communication. Most days you can find her teaching Spanish in her classroom, vacuuming up dog hair at home, or shuttling her kids between countless school activities - or trying to hide from it all with a good book in her tiny bedroom window seat.
You want a happy family who's growing closer to God and each other every day. But how do you break down the barriers to a loving marriage? How can you connect with your kids and help them in their struggles? How does your faith make a real difference in your family's life?
Rob and Joanna Teigen are here to support you with encouraging wisdom and honest interviews with overcomers who battled the same challenges you face. The Growing Home Together Podcast will give you hope and help to care for the soul of your family today.
You can listen to an episode now by clicking the play button below!