Don't Attack, Pray
By: Anne Peterson
Beloved, do not be surprised at the fiery ordeal among you, which comes upon you for your testing, as though some strange thing were happening to you; but to the degree that you share the sufferings of Christ, keep on rejoicing, so that also at the revelation of His glory you may rejoice with exultation. - 1 Peter 4:12-13
I'm going to confess something to you. When things get hard, sometimes instead of joining forces with my spouse, I find myself attacking him. No, not physically. My weapon of choice is my mouth.
I'm not proud of this, just being real with you. We've been married for years now, and thankfully, Mike will point out when he feels attacked. And in those times, I'm not interested in communicating, just venting, I go to my closet of resentments and start firing them at him. Thankfully, he has learned this about me. And he'll say something like, "You've mentioned a list of things. Which thing are you really upset about?"
Even though God tells us in his Word not to be surprised when trials come, I still get caught off guard.
I remember when finances were the trials that kept wearing me down. I prayed, but nothing seemed to change. I remember even asking God for a different trial and one of us got very sick. I learned to just accept what God is using and to ask him to empower us to get through it and learn whatever we can.
Paul tells us in Philippians 1:6 that God is at work in us. God began that work the moment we accepted God's sacrifice. And God will continue working till we take our last breath. When God's finished we will look like Jesus. In the meantime, trials are hard.
When I feel like I want to fight with my tongue, it's better to go off in another room, and ask God to help me, right then. And he will help me. Believe me, he has.
God tells us in Colossians 3:12, to clothe ourselves with "compassion, kindness and humility." When we blast someone we are definitely not wearing any of those. Is it hard when trials come? We're in a furnace. We just want out. But God is outside the furnace door and he is watching us every moment. We are not in this alone.
Mike and I are on the same side. I need to remember that.
Prayer is one of the best things we can do. To bring our trials before the Lord and ask for his strength. He is almighty God. He never lacks power.
God tells us in Matthew 6:33, to seek God first and all the other things will be added unto us. Instead, we run around impatient for God's answers, feeling urgency that the answer must come NOW!
God is sovereign. He's not surprised by what you're going through. And if you're going through a trial, so is your partner.
Whatever our needs, God can meet them. Does he always work by our clocks? No. But when God chooses to delay, he has a reason for it. Remember, he's more concerned about our character, than the trial we're in.
I love the story of when Lazarus died in John 11. When Jesus got to Lazarus' house, both Mary and Martha told him if he had been there, their brother, would not have died. Jesus already knew what he was going to do. He chose when they would go to Lazarus' house. His purpose was to display the works of God. But notice how Jesus prayed at the tomb of Lazarus.
He didn't see Lazarus come forth and then thank God for hearing his prayer. Nope.
Jesus thanked God for hearing his prayer before his friend took one wobbly step. We need to thank God for hearing and answering our prayers, when we see nothing. That is faith. And God tells us in Hebrews 11:6, without faith it is impossible to please God. So praying like that pleases our Father.
The next time you are stressed. Don't take it out on your partner. Pray with them. It can make all the difference in the world.
---
Anne Peterson and her husband, Michael have been married for 43 years. Anne is a poet, speaker, published author of 15 books, including her latest book, Always There:Finding God's Comfort Through Loss and another memoir, Broken: A story of abuse, survival, and hope . Sign up for anne's newsletter at www.annepeterson.com or connect with her on Facebook.
Listen to our chart-topping, FREE family podcast - Famous at Home!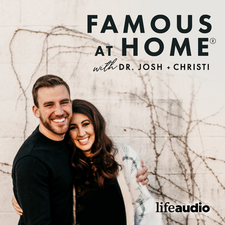 We live in a society that conditions us with a deep desire to be famous, well-spoken of, and admired. Yet, it's our family that often get our leftovers. Your biggest fans already live under your roof. You'll never be more famous anywhere than you are at home.
At Famous at Home, Dr. Josh and Christi Straub help you put a plan in place to make the most of the time with your family and learn to harness the power of emotion for deep relational connection with your biggest fans.
Each week, Josh and Christi host the Famous at Home Podcast (amassing more than 2.5 million downloads) to help you focus on what matters most in your family.
Listen below to one of Josh and Christi's most popular episodes on simplifying family life: