Want My Opinion?
By: Anne Peterson
Fools have no interest in understanding, they only want to air their own opinions. - Proverbs 18:2
I've been reading through Proverbs again. And I'm telling you, Solomon really has nuggets of wisdom for all of us. I hardly start reading and I need to stop and write down some of those verses, so I do. Things I wasn't aware of, things I need to work on.
God said in Philippians 1:6 that "he who has begun good work in us, will continue that work until the day of Christ Jesus." The work started the moment we trusted in what Jesus did on the cross. We are works in progress.
I'm glad God doesn't show us all he's going to do in us all at once. It would be overwhelming. Instead, he shows us a little at a time.
Proverbs says fools have no interest in understanding, they only want to air their own opinions. That hurt. I considered myself an understanding person, but the second part of that verse rings so true with me. It's important to me that others know what I think. Boy, I can see the pride just oozing in that sentence.
I quickly realize this is something I do often. And sadly, I do it with my husband a lot.
I'm wondering if it has been one of the reasons we've had some disagreements. Okay, I know it is.
Another verse in Proverbs 12:15 says, "Fools think they need no advice, but the wise listen to others."
If I listened more and spoke less two things would happen. First, I would be airing less of my opinions, which I already acknowledge would be good. Secondly, I would become wise because I would spend more time hearing what others have to say. Kind of like what it says in James 1:19. To be quick to hear and slow to speak.
Reading God's Word is so helpful when we want to relate well to others. God gives us so many instructions on how to do it.
Sometimes when I speak, I have this urgency to make sure my listener knows what I'm trying to say. Maybe this is because in my family of origin, we were not really heard as children. But just because we know why we act a certain way doesn't give us the right to continue it. Our reasons should not become our excuses. I'm an adult now, responsible for my words and actions.
I'm so thankful that we have God's Word to help us in our lives.
If I follow what God instructs, I will reap the benefits. And so, I am committed to doing just that.
I have on the listening end of those who share all of their opinions. I must say at those times I have felt like what I thought mattered little. I do not want others to feel that way, nor do I want my husband to feel like that.
God is revealing how much pride I still have. I know God is at work in me and will be, till I see Jesus. But I can respond to the truth he shows me in his Word. I can be intentional about changing.
Romans 14:19 tells us to pursue what makes for peace and for mutual upbuilding. Refusing to air all my opinions and becoming better at listening to my spouse would be upbuilding. When a person feels heard they feel they have value.
I confess there have been times I've felt what I had to say was more important than what he had to say.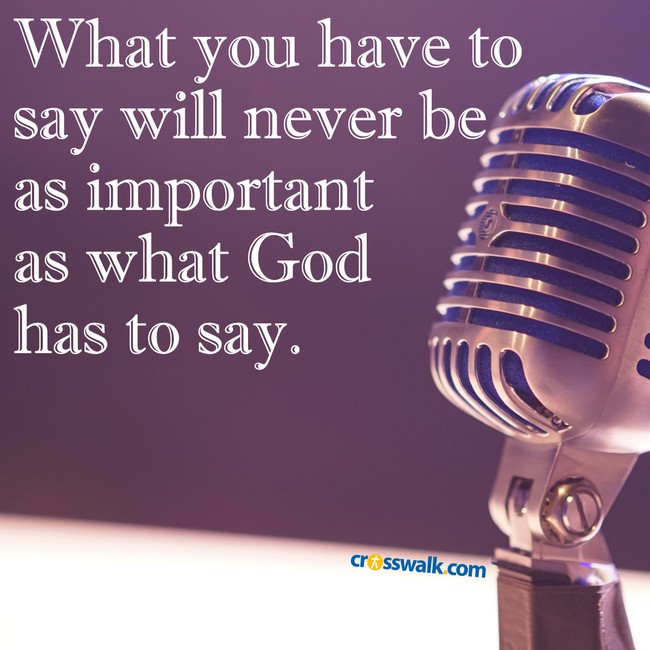 Lord, I pray that you help me with that. Thank you, Father for your Word and how it can help us in our relationships. Thank you Lord. Help us to be good listeners. I pray this in Jesus' precious name. Amen.
---
Anne Peterson and her husband, Michael have been married for 43 years. Anne is a poet, speaker, published author of 16 books, including her latest book, Always There:Finding God's Comfort Through Loss. Anne has also written and published another memoir, Broken: A story of abuse, survival, and hope. Sign up for anne's newsletter at www.annepeterson.com and receive a free eBook by clicking the tab. Or connect with her on Facebook.
You want a happy family who's growing closer to God and each other every day. But how do you break down the barriers to a loving marriage? How can you connect with your kids and help them in their struggles? How does your faith make a real difference in your family's life?
Rob and Joanna Teigen are here to support you with encouraging wisdom and honest interviews with overcomers who battled the same challenges you face. The Growing Home Together Podcast will give you hope and help to care for the soul of your family today.
You can listen to an episode now by clicking the play button below!