Truth over Lies - The Crosswalk Devotional - July 12
Truth over Lies
By Betsy St. Amant
"Jesus said to him, "I am the way, and the truth, and the life. No one comes to the Father except through me." - John 14:6 (ESV)
Spoiler alert—not every thought we think is true.
This seems obvious, but if you're like me, you need constant reminders of that fact. Just because something pops in my head doesn't mean it's true. Just because I think it doesn't mean it's accurate. I tend to fall into this a lot when it comes to anxiety. I think a thought, maybe something about my health, or I assume something that happens is a "sign" or a warning, and before I know it, my train of thought is careening out of control down the track.
On top of that, not every thought is even our own! Satan and his minions love to speak in personal pronouns, attempting to convince us that his accusations are from ourselves. (and therefore must be real) We're more likely to identify a lie if we're hearing "You are such and such." But when it sounds like "I am such and such", it seems a lot more likely, doesn't it?
Of course, we're capable of providing plenty of negative material from our sinful hearts. It's not always from the enemy camp. When we're not in fellowship with the Holy Spirit because of unconfessed sin or are caught up in the lure of the world, we are much more prone to drifting into a negative, condemning head space. But what about those times we're progressing positively along in our spiritual walk and still hear the lies? Remember, at the end of the day, Satan is our accuser. (Revelation 12) He loves to throw lies at us, leaving us to wallow in the confusion and self-condemnation that inevitably comes in his wake.
Most of the time, his lies are as subtle as a whisper. But man, are they sticky!
As a fiction author, I often make time to read reviews and see what readers are saying about my latest novel. I could read twenty good reviews and one negative one, and guess which one I'm going to dwell on the most? The negative is what sticks.
When we listen to lies and believe them, we start to operate out of them and view everything around us through that lens. Then we spiral into creating self-fulfilling prophecies. For example, if I focus solely on that one bad review rather than on the good ones, I will start to believe the lie that I'm not a good writer. Then I'm more likely to be tempted to give up on the ministry of writing God has created me for. If I stop exercising the gift of writing, and stop learning and growing in my craft, then I eventually will become a poor writer, See how quickly lies can escalate and propel us into bad decisions?
You're probably not an author reading your own reviews, but you have your Thing, whatever that may be. Your insecurity might nest in your career or as your role as a parent. Maybe you hear lies about your singing voice in the choir at church or about your ability at your job. Your lies might come in the form of guilt over not doing more or not being a good wife or a good caretaker. Whatever it is, step back and asked yourself if those accusations are from the Lord. I can almost guarantee you they are not, because when the Holy Spirit convicts, He nudges us gently with truth and in love. Conviction is not the same as condemnation. Are you feeling convicted, or guilty?
The Bible tells us the truth will set us free. John 8:31-32 (ESV) So Jesus said to the Jews who had believed him, "If you abide in my word, you are truly my disciples, and you will know the truth, and the truth will set you free." It also says that Jesus Himself is the truth (John 14:6). When the lies come, ask yourself—what is truth? The only way to know is to come back to God's Word. What does the Bible say about your situation? What does Scripture reveal about your thoughts? When we confront lies with the gospel, they tend to fade away. They can't hold up to the piercing light of Truth.
The world is eager today to assure us with vain, empty platitudes of "you're enough." But the truth is, we're not enough. Without Christ, we are nothing and have nothing to offer. But in Him, we live and move and have our being! (Acts 17:28) Only the gospel can truly realign our hearts and our thoughts. Not the well wishes from the world, not the false security of empty praise, and surely not the false doctrine that we are worthy of our own accord.
Intersecting Faith and Life:
Do you have trouble believing the truth over the lies of the enemy?
What Scripture can you memorize to remind yourself of truth when the lies get loud?
Consider finding an accountability partner to confide in when you struggle to identify truth and then build each other up. "Iron sharpens iron, and one man sharpens another." - Proverbs 27:17 (ESV)
For further reading:
Revelation 12:9-12 (ESV)
Photo credit: ©GettyImages/Javier_Art_Photography
---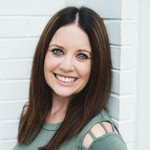 Betsy St. Amant Haddox is the author of over twenty romance novels and novellas. She resides in north Louisiana with her hubby, two daughters, an impressive stash of coffee mugs, and one furry Schnauzer-toddler. Betsy has a B.A. in Communications and a deep-rooted passion for seeing women restored to truth. When she's not composing her next book or trying to prove unicorns are real, Betsy can be found somewhere in the vicinity of an iced coffee. She is a regular contributor to iBelieve.com and offers author coaching and editorial services via Storyside LLC.
Check out fantastic resources on Faith, Family, and Fun at Crosswalk.com!
Want to grow your prayer life? The So Much More Podcast shows you how to create space to be with God. This podcast, hosted by Jodie Niznik, introduces you to two types of scripture experiences: Lectio Divina and Imaginative Prayer. Join our growing prayer community today!