What to Do When Worry Comes - The Crosswalk Devotional - May 20
What to Do When Worry Comes
By Betsy St. Amant
Colossians 1:16-17 (ESV) For by him all things were created, in heaven and on earth, visible and invisible, whether thrones or dominions or rulers or authorities—all things were created through him and for him. And he is before all things, and in him all things hold together.
My teen daughter went to a concert in Dallas a few nights ago with her best friend and her best friend's mom. This was a Big Deal, as you probably remember your first "real" concert and how cool it was—and how cool you felt! I was excited for her—but not so much for me. As a mother, I struggle with anxiety, especially when I'm away from my kids. I think we all do in some form because mothers are wired that way—to nurture, to protect.
Sometimes, though, that natural, God-given wiring can glitch a little into full-blown anxiety. When my daughter left on this trip, I expected the worry to come. I anticipated it, even. I knew that having worrisome thoughts did not mean it was a premonition of disaster. It was simply anxiety, it was normal, and it would pass. I was all fired up to walk this out well and overcome my typical patterns of worry. The plan was that after the concert, the three of them would drive back to the friend's house in town and crash for the night, then I'd pick up my teen the next morning after they'd slept in and recovered.
After the concert was over, they texted me as expected to let me know they were in the car and heading home. It was around 10:30 p.m., and it would be a good three-hour drive. I knew the mom in charge was trustworthy and competent (and a good friend of mine!), and I had no reason to worry. In fact, you might even say I basked in the fact that I wasn't worrying at all as I tracked my daughter's progress down I-20 on a phone app. I marveled at how non-panicky I was as I watched them inch their way down the gray highway line on my map. I was doing so great!
At 10:45, they told me they were heading to a well-known truck stop/souvenir shop to gas up and get snacks, and they would let me know when they arrived safe and sound back at the friend's house. After monitoring their progress on my app for about an hour, I finally fell asleep around 11:30. At 12:30, I abruptly woke up. I immediately checked my app, but it wasn't updating. No matter how many times I refreshed the page, it simply would not give me my daughter's location after 11:30 p.m.
That's when the worry struck. I knew, deep down in the logical part of my heart and brain, that nothing was wrong, that she was probably just in a bad service area, or that her phone had run out of charge after spending hours taking video and photos of the concert. I texted the mom, who was driving and likely not going to see the text anyway and waited. Nothing.
That's when the not-so-logical part of my heart and brain immediately assumed that surely, they'd all three been kidnapped at the gas station and their phones smashed. That was the only remaining option. (Illogical fears make so much more sense in the middle of the night!) I tried to go back to sleep, but my thoughts refused to stop churning and generating various new disasters that could explain the silence. (Sometimes, it's really difficult to be a fiction author with a good imagination!)
Finally, I remembered I also had the best friend's phone number, so I shot her a quick text. Within three minutes, she wrote back. All was well. They were sugared up and halfway home. Oops.
It's easy to trust God when we feel in control, isn't it? When the apps are working and we can watch what's happening from afar when we have information exactly when we want it, and when all is going according to plan. It's a lot harder to trust when we're stripped of our resources and suddenly very aware of how much we're not in control.
I was no longer proud of myself. And then I realized (thank you, Holy Spirit!) that my pride was based on illusion, anyway. All those hours prior, I wasn't overcoming anxiety—I was simply believing I was in control. Everything was going my way. That's a huge difference! It wasn't that I was trusting God—I was trusting myself and technology and communication. Oops again.
Colossians 1 reminds us that in Christ, all things hold together. They're not held together in smartphones. Or in tracking apps. Or in padded bank accounts or thriving romantic relationships or in corporate ladder climbing. In today's world of upgraded technology, instant communication, and easy access, it's tempting to trust in the wrong things. Where is your trust today?
If you struggle with anxiety and worry, you're not alone. And for believers, there's no condemnation in Christ, so don't beat yourself up over those middle-of-the-night fears. Instead, learn from them. Create a resource of Scripture that you can go to when the worry strikes (because it will). Reassure yourself that God is in control, and that's exactly how it should be. After all, at the end of the day, I don't think you and I truly want that responsibility! He's much better at it than us. And He doesn't even need an app.
Intersecting Faith and Life:
Do you struggle with control? What Scriptures can you keep handy to help you remember that God is in control—and it's much better that way? If your phone, social media, or the news is a tool that increases your anxiety, consider stepping away from it for a while and immersing yourself in the Word instead. You'll be amazed at how much peace and clarity that simple step can bring!
Further Reading:
Matthew 6:34 (ESV) "Therefore do not be anxious about tomorrow, for tomorrow will be anxious for itself. Sufficient for the day is its own trouble."
1 Peter 5:6-7 (ESV) Humble yourselves, therefore, under the mighty hand of God so that at the proper time he may exalt you, casting all your anxieties on him, because he cares for you.
Isaiah 41:10 (ESV) Fear not, for I am with you; be not dismayed, for I am your God; I will strengthen you, I will help you, I will uphold you with my righteous right hand.
Photo credit: ©GettyImages/tommaso79
---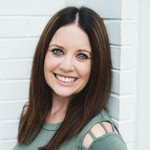 Betsy St. Amant Haddox is the author of over twenty romance novels and novellas. She resides in north Louisiana with her hubby, two daughters, an impressive stash of coffee mugs, and one furry Schnauzer-toddler. Betsy has a B.A. in Communications and a deep-rooted passion for seeing women restored to truth. When she's not composing her next book or trying to prove unicorns are real, Betsy can be found somewhere in the vicinity of an iced coffee. She is a regular contributor to iBelieve.com and offers author coaching and editorial services via Storyside LLC.
Check out fantastic resources on Faith, Family, and Fun at Crosswalk.com!
Want to grow your prayer life? The So Much More Podcast shows you how to create space to be with God. This podcast, hosted by Jodie Niznik, introduces you to two types of scripture experiences: Lectio Divina and Imaginative Prayer. Join our growing prayer community today!