Choose to Live Your Dreams
By Rick Warren
"We are each responsible for our own conduct" (Galatians 6:5 NLT, second edition).
People deal with their dreams in one of three ways. They accuse, they excuse, or they choose.
Accusers spend their entire lives blaming others for why they haven't achieved their dreams. Excusers make excuses for why they are not living their dreams.
Choosers do what it takes to live their dreams.
The Bible says that you were created in the image of God. The ability to choose is the quintessential characteristic that separates us from animals. It's one of God's greatest gifts to humanity. But since free choice means we're equally able to make bad choices, it's also your greatest curse.
Choosers take the responsibility for their choices and the direction of their lives. They don't blame others or make excuses. The Bible says in Galatians 6:5, "We are each responsible for our own conduct" (NLT, second edition).
Instead of complaining that you haven't achieved your dreams, take the responsibility for what hasn't been done. Your good and bad choices have a far greater impact on your ability to achieve your dreams than any other factor.
I've met people who were given nothing in life but achieved far beyond their dreams. I've also met people who were given everything they needed and wanted on a silver platter and yet wasted their lives.
You can't control your circumstances. But you can control how you respond to those circumstances.
Proverbs 22:13 says, "The lazy man is full of excuses" (TLB). Don't be that person.Stop making excuses for your unrealized dreams.
Make the choice today to do something about the dreams God has given you.
Playtoday's audio teaching from Pastor Rick >>
Talk It Over
Are you more tempted to make excuses or blame others for the unrealized dreams in your life? Why?
How do you know if a dream is from God?
What one step can you take today to move closer to a long-lasting dream in your life?
For more Daily Hope with Rick Warren, please visit rickwarren.org
---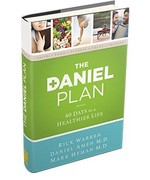 During an afternoon of baptizing over 800 people, Pastor Rick Warren realized it was time for change. He told his congregation he needed to lose weight and asked if anyone wanted to join him. He thought maybe 200 people would sign up, instead he witnessed a movement unfold as 15,000 people lost over 260,000 pounds in the first year. With assistance from medical and fitness experts, Pastor Rick and thousands of people began a journey to transform their lives.
The Daniel Plan is an innovative approach to achieving a healthy lifestyle where people get better together by optimizing their health in the key areas of faith, food, fitness, focus and friends.

This devotional © 2016 by Rick Warren. All rights reserved. Used by permission.
You can also listen to Rick Warren on OnePlace.com.