Time to Tell Yourself the Truth
By Rick Warren
"The Lord gave us mind and conscience; we cannot hide from ourselves" (Proverbs 20:27 TEV).
The best way to get off a guilt trip is to first admit your guilt. Don't bury it, don't deny it, and don't ignore it. Just own up to it!
Even when we know this truth, we still try to run from our guilt. But when you run from guilt, it's going to catch up with you. The problem with always moving is that you take you with you. The problem is in your mind! No matter how busy you are or where you run, you're going to be just as stressed if your stress is coming from regrets, shame, or guilt. When you finally slow down, all those feelings come crashing back in again. God doesn't want you to live that way.
The Bible says you can't run from yourself: "The Lord gave us mind and conscience; we cannot hide from ourselves" (Proverbs 20:27 TEV). You may be able to hide your guilt from everybody else, but you can't hide it from yourself.
We as human beings have an amazing ability to lie to ourselves. You say it's not bad when it really is bad and it's getting better when it isn't getting better. You tell yourself you're really further along and better than you really are.
To stop defeating yourself, you have to stop deceiving yourself. You have to tell yourself the truth.
What is it that defeats us? All kinds of things. Worry defeats us. Envy defeats us. Bitterness and jealousy and guilt defeat us. Fear and anxiety and insecurity defeat us.
I suggest you do a little spiritual spring cleaning. A lot of people take time in the spring to go through the house and give it an extra scrubbing or organize things that are normally neglected. At least once a year, you should also do an extended personal inventory of your spiritual condition.
How do you do that?
Play today's audio teaching from Pastor Rick >>
Talk It Over
First, set aside a couple hours and go somewhere by yourself with paper and pencil. Sit down and say, "God, I want you to bring to mind all my sin. What have I messed up? What mistakes have I made? What do I feel guilty about, either consciously or unconsciously?"
If you're genuinely repentant with God and honest with yourself, God's Spirit will start bringing these things to mind. Then, start writing them down.
Why do you have to write it down? Because it helps you be more specific. You committed those things one by one; you're going to need to confess them one by one and show God that you care enough to point them out and be specific.
For more Daily Hope with Rick Warren, please visit pastorrick.com!
---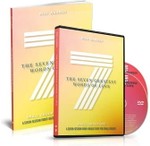 The Seven Greatest Words of Love Study Kit
Experience hope like never before!
Jesus' final words on the cross were some of the most important ever uttered in human history. He spoke of forgiveness, blessings, assurance, and love.
We want to help you embrace the significance of these words with Pastor Rick Warren's new study kit, 7 Greatest Words of Love.

This devotional © 2017 by Rick Warren. All rights reserved. Used by permission.
You can also listen to Rick Warren on OnePlace.com.