God's Love Frees You to Love Fearlessly - Daily Hope with Rick Warren - May 8, 2019
God's Love Frees You to Love Fearlessly
By Rick Warren
"Love has no fear, because perfect love expels all fear. If we are afraid, it . . . shows that we have not fully experienced his perfect love"(1 John 4:18 NLT).
When people experience conflict in relationships, it's often a sign that somebody's trying to control somebody else. What's beneath that control? It's fear. Insecurity causes us to try to control others or resist the control of others. When you're so insecure that all you think about is what others think of you, it destroys your relationships and disables your life.
It's an amazing dilemma we have as human beings: We long to be close, but we also fear being close. We long to have intimacy with others, but we're also scared to death of it.
Insecurity prevents intimacy and destroys your relationships. You can't get close to somebody if there's fear in the relationship. If insecurity destroys relationships, then what builds them? Love! Love builds relationships.
The Bible says in 1 John 4:18, "Love has no fear, because perfect love expels all fear. If we are afraid, it . . . shows that we have not fully experienced his perfect love" (NLT). How does that work? How does love expel all fear?
Love takes the focus off of you and puts the focus on others. People ask me a lot of times, "Do you ever get nervous when you're talking to a lot of people at Saddleback?" The answer is, "Of course!" But you know what makes the difference? I get the focus off of me and focus on the people in front of me instead. If I stood there thinking about what they thought of my hairstyle, I would have something to be afraid of, right? But the minute I start thinking about how much I love my church family and how we serve God together, all of a sudden, the fear is gone.
It's the same in any relationship. Focusing on the other person gives you the power to throw fear out of your life.
So how do you find that power to focus on other people? You realize how much God loves you. The moment you begin to understand how much God loves you, you don't have to prove yourself any more. You don't have to spend your life trying to impress other people, because you already know that God loves you.
Do you know how freeing and enjoyable it is to live life that way? Your identity and self-worth are not caught up in what others might think of you. When you're secure in your relationship with Christ, you're no longer pressured by everybody else's expectations. God's love frees you to love others fearlessly.
PLAY today's audio teaching from Pastor Rick >>
For more Daily Hope with Rick Warren, please visit pastorrick.com!
---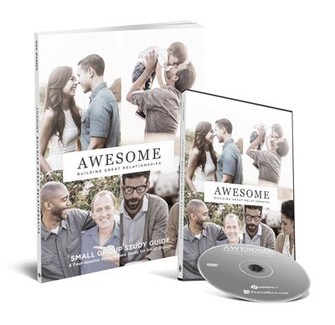 Awesome Relationships Study Kit
God wants you to have awesome relationships!
When people see a healthy, love-filled, life-giving relationship, they take notice. Because they're so different from the relationships that are all around us.
But meaningful relationships are not automatic or easy—which is why we want to send you Pastor Rick Warren's Awesome Relationships study kit as thanks for your gift below.
In this study kit you'll receive Pastor Rick's Awesome Relationships teaching series on DVD plus a study guide. Together, they create an interactive resource that will help you take your relationships beyond fair, average, and even great—all the way to awesome!
You'll get the tools to:
• Experience a more rewarding marriage
• Grow closer with your family
• Build friendships that stand the test of time
• Become best friends with God
So request your copy of the Awesome Relationships study kit when you give a gift below to help lead others closer to Jesus through Daily Hope.
Thank you for your support!
*The USA IRS code permits you to deduct the amount of your financial gift to Daily Hope that exceeds the fair market value of materials you received from Daily Hope.

This devotional © 2018 by Rick Warren. All rights reserved. Used by permission.
You can listen to Rick Warren on OnePlace.com.