We Love Because God Loves Us
By Rick Warren
"We love because he first loved us" (1 John 4:19 NIV).

We were created in God's image to do two things on Earth: learn to love God and learn to love other people. Life is all about love.
But love started with God. He loved us first, and that gives us the ability to love others (1 John 4:19). The only reason you can love God or love anybody else is because God first loved you. And he showed that love by sending Jesus Christ to Earth to die for you. He showed that love by creating you. He showed that love by everything you have in life. It's all a gift of God's love! 
In order to love others and to become great lovers, we first need to understand and feel how much God loves us. We don't want to just talk about love, read about love, or discuss love. We need to experience the love of God.
We need to reach a day when we finally, fully understand how God loves us completely and unconditionally. We need to become secure in the truth that we cannot make God stop loving us.
Once we're secure inside God's unconditional love, we'll start cutting people a lot of slack. We won't be as angry as we were before.
Play today's audio teaching from Pastor Rick >>
Talk It Over
Think about the following:
Who needs more patience from you?
Who needs more time from you?
Who do you need to forgive?
Who needs your mercy and grace?
What will you do about these things this week?
For more Daily Hope with Rick Warren, please visit pastorrick.com!
---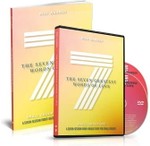 The Seven Greatest Words of Love Study Kit
Experience hope like never before!
Jesus' final words on the cross were some of the most important ever uttered in human history. He spoke of forgiveness, blessings, assurance, and love.
We want to help you embrace the significance of these words with Pastor Rick Warren's new study kit, 7 Greatest Words of Love.

This devotional © 2017 by Rick Warren. All rights reserved. Used by permission.
You can also listen to Rick Warren on OnePlace.com.