Working Together, We Can Accomplish More
By Rick Warren
"For we are God's handiwork, created in Christ Jesus to do good works, which God prepared in advance for us to do" (Ephesians 2:10 NIV).
God put us on Earth to do a certain work that only we can do. Ephesians says that God made us to do good works and that he planned in advance what we would spend our lives doing. However, he didn't plan for us to do that work alone. We need people to work with us.
You know the feeling you get when you do too much work on your own. You get exhausted and burned out. Why? Because you're trying to do your work alone, while God never meant for it to be that way.
God tells us in Ecclesiastes 4:9 that "two people are better than one, because they get more done by working together" (NCV). When you work as a team, you get so much more done. Plus, having good teammates alongside you is a whole lot more fun and less tiring!
Picture this: Each of us is like a snowflake. On our own, we can't make a big difference. However, when one fragile snowflake sticks with a lot of other snowflakes, they can stop traffic. Like snowflakes, we can make a big difference if we work together, each one of us doing only our small part.
Did you know that when we work together here on Earth, we're actually practicing for eternity? In Heaven, we will all have to work, but each of us will have just a small piece of work, so we'll never get overloaded or tired. Though no one will carry a heavy burden as each one of us does our small part, all the work will still get done.
As you walk through life, remember that you're not supposed to do everything on your own. You need other people to walk alongside you, but you also need other people to work alongside you. As you share the burden of your work with fellow Christians, you'll find that you actually accomplish more for the glory of God.
Playtoday's audio teaching from Pastor Rick >>
Talk It Over
Have you been trying to accomplish too much work on your own? What has been the effect?
How does/should the Church exemplify working together to accomplish more for the glory of God?
How can you get people to help you in the work God wants you to do? Who can you help?
For more Daily Hope with Rick Warren, please visit rickwarren.org
---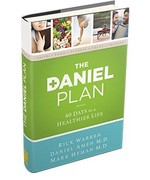 During an afternoon of baptizing over 800 people, Pastor Rick Warren realized it was time for change. He told his congregation he needed to lose weight and asked if anyone wanted to join him. He thought maybe 200 people would sign up, instead he witnessed a movement unfold as 15,000 people lost over 260,000 pounds in the first year. With assistance from medical and fitness experts, Pastor Rick and thousands of people began a journey to transform their lives.
The Daniel Plan is an innovative approach to achieving a healthy lifestyle where people get better together by optimizing their health in the key areas of faith, food, fitness, focus and friends.

This devotional © 2016 by Rick Warren. All rights reserved. Used by permission.
You can also listen to Rick Warren on OnePlace.com.