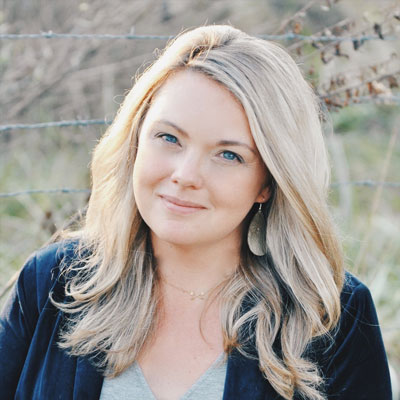 July 30, 2020
Familiar Faithfulness
NICKI KOZIARZ
Lee en español
"Let us hold fast the confession of our hope without wavering, for he who promised is faithful." Hebrews 10:23 (ESV)
If you've felt like this year has been uncomfortable and unfamiliar, you are not alone.
If you've wondered what God is doing in this season, you are not alone.
And if you've struggled to find anything that feels normal, you are not alone.
Lately, life has felt hard and ever-changing. There is a fear inside many of us as we wonder if life will ever feel normal again, and crave that which feels familiar.
I'll be honest. The circumstances, pain, loss and disorder our world has experienced in recent months have left me feeling like it's all exceeding the plan of God's goodness.
But I know this isn't true. And I'm sure you do, too. We often find ourselves (falsely) believing that what we see is what we should feel. So when we see darkness, we feel darkness. We see gloom, and we feel gloom. When we see hopelessness, we feel hopeless.
The book of Hebrews was written to be a source of encouragement for the Jews in Jerusalem who experienced persecution for their belief in God. Their faith had been flipped upside down, and nothing felt normal to them either.
They were craving God's familiar faithfulness, and the writer of this verse was trying to remind them of this sacred place that never leaves us.
This is one of the many reasons I love the Word of God, because for every hard thing we will walk through on this earth, there's someone who walked through it before us. As we study the Bible, we see the wisdom, encouragement and Truth which applies to us today.
And this is why we can declare Hebrews 10:23 for our lives right now: "Let us hold fast the confession of our hope without wavering, for he who promised is faithful." Tucked in this verse is the promise of God's familiar faithfulness — both then and today.
Seasons may come and go, but His familiar faithfulness remains. Life will twist and turn, but we can always see His familiar faithfulness if we decide to look for it. We will question and wonder, but our doubts don't change His familiar faithfulness — they simply try to cover it up.
God cannot lie, He never changes His mind, He never forgets His Word, and He has never failed anyone with the fulfillment of His promises. Jesus' death and resurrection never stop existing. It's up to us to look for the familiar faithfulness of God in seasons that feel uncomfortable, unfamiliar and ever-changing.
Today, my news feeds will be filled with heartache, hard situations and heavy struggles in our world. It might make me question His faithfulness, but I will still find it through the pages of my Bible.
My friends will text, call and tell me they feel weary. I will feel it, too. But I can bring them into the presence of Jesus in prayer. There in that place is His familiar faithfulness.
There is a fresh wind of grace flowing into our lives today through the Holy Spirit. It's not stale, old or even normal. But it is familiar. And as we worship, praise and declare His faithfulness over our lives, that wind will feel stronger and stronger.
Every day, let's be expectant and hopeful there's something new we will experience with God. Because we are the ones changing, shifting, growing, maturing and becoming more like Him each day.
I've got to be willing to admit my own shortcomings with these faith struggles. As I do, I can rise up and become a little stronger, knowing how much I need God.
Thankfully, the writer of Hebrews was willing to be vulnerable with us about how much we need to be reminded of God's familiar faithfulness. The willingness to pen words that speak faith to our spirits today is something we can hold on to.
May we do the same for the people around us today. Jesus is worth all our trust and devotion to stir the familiar faithfulness of Him every chance we get.
Father, thank You for never changing. When life is painful and unsteady and I crave Your familiar faithfulness, may I turn to Your Word to remind myself of those who have walked with You in faith before me. And as I'm encouraged, please give me the confidence to remind others of Your faithfulness. In Jesus' Name, Amen.
TRUTH FOR TODAY:
Lamentations 3:22-23, "The steadfast love of the LORD never ceases, his mercies never come to an end; they are new every morning; great is thy faithfulness." (RSV)
2 Corinthians 9:13, "Because of the service by which you have proved yourselves, others will praise God for the obedience that accompanies your confession of the gospel of Christ, and for your generosity in sharing with them and with everyone else." (NIV)
RELATED RESOURCES:
Stay in the familiar presence of God through Bible study and the truth we need when measuring up leaves us falling behind. Click here to grab the Why Her? Bible study bundle with Nicki Koziarz's latest study, Rachel and Leah: What Two Sisters Teach Us About Combating Comparison.
CONNECT:
Nicki loves to share life and lessons she's learning through her podcast, Lessons From The Farm. Click here to listen.
REFLECT AND RESPOND:
Why do you think it's so hard to see God's familiar faithfulness when life feels hard?
In the comments, let's stir up faith in each other by sharing one way we've recently experienced the faithfulness of God.
© 2020 by Nicki Koziarz. All rights reserved.
Proverbs 31 Ministries
P.O. Box 3189
Matthews, NC 28106
www.Proverbs31.org