A TRANSFORMATION IS COMING!

So also is the resurrection of the dead. It is sown a perishable body, it is raised an imperishable body; it is sown in dishonor, it is raised in glory; it is sown in weakness, it is raised in power; it is sown a natural body, it is raised a spiritual body. If there is a natural body, there is also a spiritual body.
1 Corinthians 15:42-44

Have you ever looked in the mirror and cringed? I mean the image you see is not what you want to see. Perhaps there are wrinkles … or flab … or bald spots … or blemished skin. Perhaps your body is wearing out right before your eyes.

I know that is true for me. My joints are not what they used to be. My body is stiff and sore much of the time. As I type this, things are getting blurrier by the day. I will eventually need to break down and get reading glasses. Trust me, getting older isn't for cowards! (And I'm only 52.)

Many of you reading this can relate. Some of you are saying, "Just wait until you get my age. If you think it's hard at 52, try 82. Just about everything quits working by then." As comedian Martin Short said, "I'm in such bad shape physically I have to take a urine softener."

Is there any good news for an aging body? YES! A new body is in store for every Christian. Because Jesus rose from the dead, you can be assured that God will raise you up one day too, and He will give you a resurrected body that will blow you away.

IT'S LIKE A SEED

In 1 Corinthians 15, Paul said that the resurrection of the body is much like a seed planted in the ground. A seed doesn't look like much when it is planted, but when it comes out of the ground it sure does. An acorn is not something to shout about, but a mighty oak tree is. So "when you're down and feeling blue, just look at an acorn and see what a nut can do."

God says that our bodies are sown in dishonor and weakness. Our physical bodies are perishable and perishing. It's just like the little boy who was peeling his sunburned skin and lamented to his mother, "I'm only four years old, and I'm already coming apart." How true! The moment we start to live, we start to die. We all have a perishable body.

IT'S A TRANSFORMATION

But the imperishable is coming. Glory and power are coming to the child of God … in his/her body! A caterpillar may look pretty ugly as it inches along the ground, but one day, that same ugly caterpillar is going to emerge from its cocoon with wings and beauty and glory that befits a Monarch butterfly.

There is a transformation coming to you, if you know Jesus. You see when Jesus saves a person, he saves the whole person: spirit, soul, and body. The initial, instantaneous transformation takes place in the spirit as we are justified and made right with God the moment we receive Christ as Savior and Lord. The ongoing transformation takes place in the soul as we are sanctified and made more like Christ as we seek Him and obey Him day by day. The last and final transformation takes place in our bodies as we are given a spiritual body that is just like our resurrected Lord's. Our new, imperishable bodies will not be governed by limitations, sickness, fatigue, pain, or death. Those old things will have passed away.

So, when you look in the mirror and don't like what you see … when you get up in the morning and feel a pain in your back … when you squint to read the street signs … when you struggle with constant fatigue … just remember that a transformation is coming.

Take time today to praise God that He has a new body for you. It is put on layaway for now, but it is coming one day soon. It is going to be awesome, and it is something to shout about!

Love,
Pastor Jeff Schreve,
From His Heart Ministries
Jeff Schreve founded From His Heart Ministries, www.fromhisheart.org, in 2005 with the vision to reach as many people as possible with the good news of God's love. Jeff believes that no matter how badly you may have messed up in life, God still loves you and has a great plan just for you. He broadcast on radio, TV and in the internet around the world from his pulpit ministry as Pastor of First Baptist in Texarkana, Texas. This ministry is completely listener/viewer supported. It continues only through the faithful and generous gifts of people like you. Pastor Jeff takes no income from this ministry. All gifts go to further the broadcast.
SPECIAL OFFER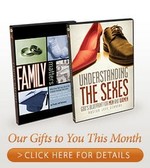 Understanding the Sexes: God's Blueprint for Men and Women (CD Series)
Have you come to the realization that men and women are different…SO different? Now it is not true that men are from Mars and women are from Venus… but it certainly feels that way at times. God made us with very different roles and responsibilities. Do you know yours as a man ... as a woman? In this series Dr. Jeff Schreve uncovers and shares God's design for men and women.

For a Donation of $35 or More...
You will receive the CDA "Understanding the Sexes," AND you'll also receive Dr. Schreve's encouraging 6-message CD Series "Family Matters: What God Says about the Troubles Families Face"