DON'T DESPAIR
I would have despaired unless I had believed that I would see the goodness of the Lord in the land of the living.  Psalm 27:13
My favorite Old Testament person is David.  He was such a special guy.  He was the only man in the Bible to have been given the wonderful moniker, "A man after My [God's] heart" (Acts 13:22).  I love David's faith and passion for the Lord as evidenced when he faced off with the blaspheming giant and defeated him with a sling shot and a stick.  I love his tenderness and grace as he dealt so lovingly with Jonathan's crippled son, Mephibosheth.  And I love his honesty as he shares the struggles of his life in vivid detail throughout the book of Psalms.
Even in the midst of great discouragement … in the midst of enemies all around him … in the midst of King Saul trying his best to kill him for the better part of a decade, David clung to the promises of God.  He knew he had been anointed by God to be the next king of Israel.  Although that promise sometimes looked more like a pipe dream, David held to it despite all the obstacles before him.
As far as I am concerned, Psalm 27:13-14 are two of the most encouraging verses in the Bible as David says, "I would have despaired unless I had believed that I would see the goodness of the Lord in the land of the living.  Wait for the Lord; be strong, and let your heart take courage; Yes, wait for the Lord." He believed he would see the goodness of God in his lifetime.  He believed he would see the promises of God fulfilled in his days.  And you know what?  He did!
BELIEVE AND WAIT
What are you and I to do when we face discouraging circumstances?  What are we to do when everything inside of us says, "Things are terrible and not going to get better … so the logical thing to do is DESPAIR!"?  Take hold of God's promises, repeat them back to Him, and wait expectantly on Him to come through.  Take courage in the fact that God sees where you are.  He knows what you are going through.  He cares for your soul.  He has a wonderful plan for all those who will trust in Him and go His way.
David said in Psalm 23:4, "Even though I walk through the valley of the shadow of death, I fear no evil; for You are with me."  Notice that we walk through the dark valley.  We don't build a house there.  God doesn't plan for any of His children to live out their days in the valley of the shadow of death.  He wants to empower us every step of the way as we walk through the trials and problems of the valley to get to the mountain top.
Hear this: You are coming out of your dark valley one day soon.  Believe it, receive it, and begin now to make your celebration plans.  God has His goodness waiting for you … so don't despair!    
Love,
Pastor Jeff Schreve,
From His Heart Ministries            
Jeff Schreve founded From His Heart Ministries, www.fromhisheart.org, in 2005 with the vision to reach as many people as possible with the good news of God's love. Jeff believes that no matter how badly you may have messed up in life, God still loves you and has a great plan just for you. He broadcast on radio, TV and in the internet around the world from his pulpit ministry as Pastor of First Baptist in Texarkana, Texas. This ministry is completely listener/viewer supported. It continues only through the faithful and generous gifts of people like you. Pastor Jeff takes no income from this ministry. All gifts go to further the broadcast.
SPECIAL OFFER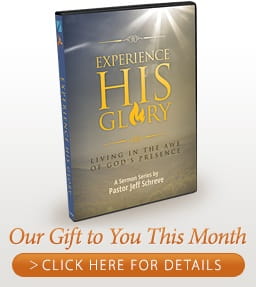 Experience His Glory: Living in the Awe of God's Presence
When Moses was on Mount Sinai receiving the
10 commandments
, he made this request, "Please show me YOUR glory."  Have you ever experienced the Glory of God in your life?
Have you ever asked Him to show it to you?  God WANTS to reveal Himself to His children.  He wants to show us His glory.  In this revealing series from Pastor Jeff Schreve called, EXPERIENCE HIS GLORY: LIVING IN THE AWE OF GOD'S PRESENCE, we will see how we can experience the glory of God in our day to day lives and the difference it will make in how we live.
---
---
Archives