ARE YOU LISTENING, GOD?
And when they had prayed,
the place where they had gathered together was shaken,
and they were all filled with the Holy Spirit,
and began to speak the word of God with boldness.
Acts 4:31
Have you ever prayed about something and it seemed like God was not listening?  Have you ever gotten discouraged in prayer and started thinking it was a waste of time?  Trust me, it is not.  Prayer is the key that moves the heart and hand of God.  The Bible says, "You have not because you ask not" (James 4:2). 
HOW TO GET GOD TO ANSWER
There are several prerequisites to answered prayer:
1. Your heart must be right.  God will not answer your prayer if your heart and life are full of unconfessed sin.  The Bible says, "If I regard wickedness in my heart, the Lord will not hear" (Ps. 66:18).  God does not reward rebels… and unconfessed sin is rebellion against God and His will in your life.  One of the first things we should do when we pray is ask God to show us any sin in our lives that needs to be dealt with.  "Search me, O God, and know my heart… and see if there be any evil way in me" (Ps. 139:23-24) is a good prayer to pray before you bring your needs to God.
2. Your faith must be engaged.  "Without faith it is impossible to please Him, for the one who comes to God must believe that He is, and that He is a rewarder of those who seek Him" (Heb. 11:6).  God tells us in James that if we pray in doubt, we do without.  God longs to answer you when your heart is right with Him.  Do you believe that?
3. Your requests must line up.  Prayer is not badgering God into doing something He does not want to do.  It is not overcoming His reluctance… it is getting in on His willingness.  When the early church prayed in Acts 4, the place was shaken.  God answered in mighty power.  Do you know why?  Because they prayed according to His will.  They prayed for what God wanted to do.  John says, "And this is the confidence which we have before Him, that, if we ask anything according to His will, He hears us" (1 John 5:14).  And when God hears us, He answers us.  He shakes the place with His answer.       
Be honest, are your prayers for His glory, or for your glory?  Do you only pray for your safety and ease and comfort… or do you pray for boldness in the face of adversity and opposition so that you can be to be a strong witness for Jesus?
My friend, God really does long to answer us.  He longs to shake our lives with mighty responses from heaven.  He delights in blessing us and giving good things to us.  He longs to heal and work signs and wonders in our midst (Acts 4:30).  But let us never forget the bigger picture – reaching people for the Kingdom of God.  If our prayers are not aligned and focused on the good of the Kingdom, they are out of sync with His will. 
A GOOD PRAYER TO PRAY
Regardless of the adversity and problems you may be facing today, here is a good prayer to pray.  "Lord, I want my life to count for Christ.  I want to make a difference for the Kingdom of God.  Jesus, this day I am signing all of my life over to your lordship.  My marriage… my children… my job… my possessions… my reputation… my future… my everything.  It is all yours to do with whatever you please.  Use me today, guide me today, bless me today, and put Your hand upon me so that I can be a bold witness and a great blessing to others. In Jesus' name, amen!" 
That prayer, prayed from a pure heart, will move the heart and hand of God.  Make it a part of you everyday… and see Him shake your life with His mighty answer.
Love, 
Pastor Jeff Schreve,
From His Heart Ministries
---
Dr. Jeff Schreve believes that no matter how badly you may have messed up in life, God still loves you and has a wonderful plan just for you. From His Heart provides real truth, love and hope on over 700 radio stations each day, in 182 countries each week on TV, and is always available online.  Pastor Jeff takes no income from this ministry. All donations go to furthering the broadcast outreach. As a listener/viewer supported ministry, we thank you for joining with us to help speak the truth in love to a lost and hurting world. Go to www.fromhisheart.org for more information.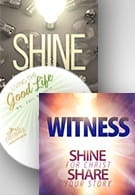 Witness: Shine for Christ – Share Your Story
Jesus said, "But you shall receive power when the Holy Spirit has come upon you; and you shall be My witnesses ...."  A Christian's purpose is to shine for Christ and share what great things He has done for you.  In this powerful 7-message series, Pastor Jeff Schreve shares practical, motivating truths from Scripture that will help you become the witness for Jesus you were created to be.