HOW THE DOWN CAN GET OUT

"Enter His gates with thanksgiving, and His courts with praise.  Give thanks to Him; bless His name.  For the LORD is good; His loving kindness is everlasting, and His faithfulness
to all generations."  Psalm 100:4-5 
Down and out.  Feeling the blues.  Lonely.  Depressed.  Discouraged.  Disillusioned.  A case of the blahs. 
 
What do you do if these words seem to characterize your life right now?  How can you get out of the dark pit you are in when you feel down and defeated? 
 
God has the answer in His word, and it is a sure fire way to change your outlook on life.  What is this silver bullet of an answer?  Well, it is very simple, but very profound.  The answer is ... thanksgiving and praise.  There is great power in a thankful, praising heart.    
 
DISCOURAGED PEOPLE
 
I have found that when people get down and discouraged, thanksgiving and praise tend to be the last things on their list.  To the natural mind, it seems ludicrous to thank and praise God when everything is going wrong.  But the truth is, God inhabits the praises of His people (Ps. 22:3), and the giving of thanks, regardless of the adverse circumstances, is a great declaration of faith.  And faith pleases God! 
 
You see, thanksgiving and praise say to God, "Father, I know You are the King and in complete control of all things.  I know You are good and merciful.  I know that You love me.  So as an act of faith, I thank You and praise You, even in this great trial that I am experiencing,  for I believe You are going to work all of this together for my good, just like You promised." 
 
TRY IT AND SEE
 
I encourage you to take the challenge and put God's Word into practice in your life.  Every morning,noon, and night, "enter His gates with thanksgiving and His courts with praise."  As you do, you will experience a change within, a significant attitude adjustment regarding your circumstances.  For God will help you get your eyes off your pitiful situation and onto your powerful Savior who can move mountains and part seas.  There is nothing too difficult for Him.  So praise Him, thank Him, and bless His name.  You'll be so glad that you did!
P.S. For more on the negative emotion of depression, I hope you'll get a copy of my new book, Runaway Emotions. There is a whole chapter about depression and I believe it can be a real blessing to you if you are dealing with depression or know someone who is.   
Jeff Schreve founded From His Heart Ministries, www.fromhisheart.org, in 2005 with the vision to reach as many people as possible with the good news of God's love. Jeff believes that no matter how badly you may have messed up in life, God still loves you and has a great plan just for you. He broadcast on radio, TV and in the internet around the world from his pulpit ministry as Pastor of First Baptist in Texarkana, Texas. This ministry is completely listener/viewer supported. It continues only through the faithful and generous gifts of people like you. Pastor Jeff takes no income from this ministry. All gifts go to further the broadcast.
SPECIAL OFFER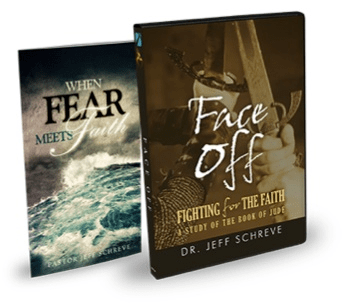 For a donation of any amount to the ministry, you can receive the booklet WHEN FEAR MEETS FAITH (7004BKL) as well as the 4-message CD series FACE OFF: FIGHTING FOR THE FAITH (960CDA)
DESCRIPTION: Even the greatest men in the Bible had to deal with fear. If you are, there is good news. God wants to see you overcome your fear. In this booklet from Pastor Jeff Schreve, you'll gain practical insights to help you trust God and experience His peace and deliverance. You'll learn to conquer your fear as you fix your eyes on Jesus and walk by faith and not by sight.  And in the encouraging series Face Off, you will see that Paul tells us that "In the last days, difficult times will come."  One of the biggest difficulties Christians will face in the last days is apostasy; a falling away from the true gospel of Jesus Christ.  Jude warns his readers that false teachers with their false teachings will try to secretly inject their poison into the church in order to distort the saving message of Christ and derail the work of God.  Christians are called to stand up for the truth and fight for the faith