WHERE DO YOU GO WHEN YOU'RE HURTING?

"The LORD is good, a stronghold in the day of trouble, and He knows those who take refuge in Him." Nahum 1:7
Some years ago, Amy Grant recorded a very popular song that made people think. The lyrics connected with brokenhearted people, making them think of what they were doing with their heartache and pain. The song begins with these words:

I call you on the phone
But you're not at home.
Where do you go when you're hurting?
I hear you're down again,
Lost the will to win.
Why do you run when you're hurting?
Oh, where do you hide your heart?
Where do you hide your heart?

So, what is your answer to these thought-provoking questions?

WE ALL FACE HURTS

No matter what one may believe about God and the big questions of our day, we would all have to agree that life is filled with troubles and trials. We all face hurts - Jews and Greeks, Christians and non-Christians, men and women, boys and girls. Job said it best, "A person who is born of a woman is short-lived and full of trouble" (Job 14:1 GW).

So, what do you do with your trouble? Where (and to whom) do you run when you're hurting? Do you go to a friend, a family member, or a neighbor? Do you simply suffer in silence, slipping into a dark and lonely hole? Or do you go to God with your troubles and problems?

A GOD OF LOVE AND GRACE

The truth is that lots of people don't go to God. Why? Because they believe the lies of the devil as he whispers, "Why pray? God doesn't love you – if He did, why would He let this happen to you? God is not going to help you. You disgust God. He is through with you. You have sinned far too greatly this time. Why don't you follow the advice of Job's wife and just curse God and die."

Have you ever had those lies filter through your mind, especially when you are hurting the most?

What's the real truth? God does love you. In fact, He loves you with an everlasting love, regardless of your rap sheet. No matter what you've done or how you may be hurting, He invites you to come to Him … and He promises to receive you and give you rest (see Matt. 11:28).

Where do you hide your heart? Or better yet, where will you hide your heart beginning today?

God is waiting for you to come to Him. He knows all about what you are going through – the struggles, trials, loneliness, hurt, and pain. He knows … and He cares. He wants to give you beauty for your ashes (Is. 61:3). He wants to work it together for good. He wants to hold you in His arms, wipe away your tears, and give you strength to continue the journey. He indeed is good.

Love,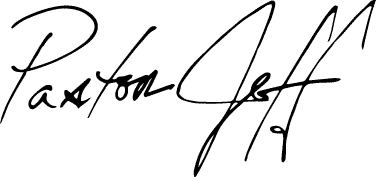 Jeff Schreve
www.fromhisheart.org
P.S. If you'd like for us to join you in prayer, visit us at www.fromhisheart.org/prayer.
Jeff Schreve is Senior Pastor of First Baptist Church in Texarkana, Texas. He and his wife Debbie have been married for over 20 years and are blessed with three wonderful girls. Jeff began From His Heart Ministries, a radio and television ministry, in January of 2005. This ministry is completely listener/viewer supported. It continues only through the faithful and generous gifts of people like you. Pastor Jeff takes no salary from this ministry. All gifts go to further the broadcast.
SPECIAL OFFER

Wouldn't it be awesome to be so on fire for the Lord that life literally took on new meaning? Wouldn't it be wonderful to wake up each day with joy and excitement bursting at the seams of your heart? Is that even possible today? YES!! The Lord wants us to have the real thing, not a cheap imitation. Learn how to have a faith that comes alive in this life-changing booklet from Pastor Jeff Schreve.
But for a donation of $30 or More:
You will not only receive the booklet "Real Revival," but you'll also receive Pastor Jeff's inspiring 6 – message CD series "The Heart of Worship: Worshiping God in Spirit and Truth".