WHAT TO DO WHEN YOU'RE ANXIOUS!

When my anxious thoughts multiply within me, Your consolations delight my soul.   Psalm 94:19
I remember a particularly difficult semester in college. My classes were hard, and the pressure was on to keep my grades in the A-B category. Thoughts of failure began to seep into my mind ... and those thoughts began to take root. I can recall sitting at the dinner table in the Dobie Cafeteria one evening, feeling so anxious, believing that disaster was about to overtake me. It was no fun, and it wasn't something I could easily shake off. The anxiety was sticking to me like glue. I desperately needed the peace of God.  
Can you relate? Have you ever had anxiety befall you? Has your mind ever flooded with anxious thoughts that begin to take root and breed? 
 
Anxiety has been defined as an unpleasant state of inner turmoil, often accompanied by nervous behavior. Some symptoms are restlessness, fatigue, problems in concentration, and muscular tension. Regardless of how it may manifest itself, one thing is common to all who struggle with it: There is no peace. 
 
GOD'S ANSWER TO ANXIETY
 
Obviously, God doesn't want us to live in a state of high anxiety. He has not given us a spirit of fear. In fact, Jesus told us that peace was a birthright for the child of God. He wants all people to experience peace with God (salvation) and the peace of God (sanctification). He doesn't want us to be anxiously looking about, but confidently looking up.
 
So what are we to do if we are being overtaken by anxious thoughts? We need to set our focus on God and His goodness. The comfort of His presence and His Word will turn the dread into delight. You see, anxiety is nothing more than an alarm clock, awakening us to the fact that we are anxious because we have taken our eyes off the Lord. Anxious people are filled with the worries of life. Peaceful people, on the other hand, are filled with the realities of God. 
 
Isaiah 26:3 is a key verse for fighting anxiety - "You will keep Him in perfect peace, whose mind is stayed on You, because He trusts in You."
 
Where is your mind today? Is it fixed on the greatness of God? Is it actively clinging to His precious and magnificent promises? Remember, no matter how big your problems may seem to you, they are nothing more than a pimple on a flea compared to God. If God can speak worlds into existence, He can certainly handle whatever troubles you are facing right now. He is good. He loves you. You can trust Him. 
 
DO YOU NEED THIS PRAYER?
 
Dear God, I have been so focused on my problems that I have lost sight of You. Please forgive me, Lord. I know you are a zillion times greater that this issue that is stealing my peace. I make the choice today to "turn my eyes upon Jesus and look full in His wonderful face." Lord, you promise peace for all those who keep their minds on You ... so I claim that peace, in Jesus' name.  Thank you, God, for being my refuge and strength, my unfailing Savior. Amen.
Love,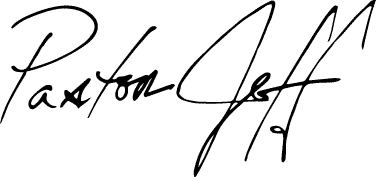 Jeff Schreve
www.fromhisheart.org
P.S.  Discover that you are not alone in prayer.  Allow many people to join you in prayer. Go to www.fromhisheart.org/prayer.  
Jeff Schreve is Senior Pastor of First Baptist Church in Texarkana, Texas. He and his wife Debbie have been married for over 20 years and are blessed with three wonderful girls. Jeff began From His Heart Ministries, a radio and television ministry, in January of 2005. This ministry is completely listener/viewer supported. It continues only through the faithful and generous gifts of people like you. Pastor Jeff takes no salary from this ministry. All gifts go to further the broadcast.

SPECIAL OFFER

Babylon fell without even a battle. And what happened to Babylon and her king, Belshazzar, can easily happen to a nation today.  America is making many of the same fatal errors and unless she wakes up and to cries out to God in humility and repentance, and makes immediate course corrections, God will pull the plug and she will suffer the same fate. This booklet will speak to your heart and open your eyes to blind spots that affect us all so you can adequately address them before the lights are turned out.

But for a donation of $30 or More: 

You will not only receive the booklet "Turn Out the Lights," but you'll also receive Pastor Jeff's inspiring  6- message CD series "Living on Purpose."