HOW TO KNOW WHICH WAY TO GO
And do not be conformed to this world, but be transformed by the renewing of your mind, that you may prove what the will of God is, that which is good and acceptable and perfect. Romans 12:2
Years ago, I heard this profound statement, "Life's greatest discovery is knowing the will of God, and life's greatest satisfaction is doing the will of God." Do you believe that? I certainly do.
Paul openly tells us that God's will is "good and acceptable and perfect." So, if you want to get in on that which is perfect for you, it stands to reason that you need to discover God's will ... and start doing it.
CAN I REALLY KNOW?
Most, if not all, people struggle when it comes to knowing the will of God. I mean, there is the general will of God that is clearly revealed in Scripture. It is God's will for us to repent and believe on Jesus (2 Peter 3:9). It is God's will for us to obey the Lord and live a holy life (Matthew 28:19-20, 1 Peter 1:15-16). It is God's will for us to grow in the Lord (2 Peter 3:18). Those are obvious aspects to His general will that apply to all people equally.
The difficulty in knowing what the Lord wants for us to do falls into the category of His specific will. The Bible does not tell us things like the college we are to attend, the major we are to study, the city where we are to live, the person we are to marry, or the career we are to choose. The specifics of what to do, where to go, and what to choose can really be a challenge.
Contrary to how some people think, God is not hiding His specific will from us. He is not playing the shell game with His will, purposely trying to fool us as we try to discern His will. God wants us to know His will, so we can do His will and please Him in the process.
Therefore, the question comes: How can you and I discover the specific will of God for our lives? Here are some biblical principles to help.
1. Guidance comes from the Guide, so focus on Him. Jesus told His early disciples, "Follow Me." And they did. They didn't have to figure out the way, they just had to follow Him. God doesn't give us a road map on His will. He simply gives us Himself, and that is so much better. Consider directions, for example. I'm not good with directions. If you tell me how to get somewhere that has lots of turns, chances are I'll get lost. But if you personally lead me there, I can follow.     
2. Guidance comes from His Word, so spend time in the book. God speaks primarily through His Word. And His will is inseparably linked to His Word. If you want to know God's specific will and whether or not to do this, that, or the other: spend time prayerfully reading His Word. You will be amazed at how He will speak to your heart and guide you through it.
3. Guidance comes from your desires, so be honest with the passions God has placed within you. Psalm 37:4 says, "Delight yourself in the Lord, and He will give you the desires of your heart." God makes people passionate about different things. He wires us differently, and He wants us to pay attention to our wiring. You see, if you do for a living that which you are passionate about, your work will be a joy and not a job. Think of it this way: If every career paid the same, what would you do? The answer to that question reveals your passion.   
4. Guidance comes from His peace, so be sensitive to it. Colossians 3:15 says, "And let the peace of Christ rule in your hearts ..." The word rule means to arbitrate, to govern, to act as an umpire. God's peace is to be our umpire, calling strikes and balls, fair and foul hits. If we are getting ready to make a bad decision, God will show us the error of that decision through His lack of peace. But, if we are getting ready to do what He wants us to do, even if the circumstances are frightening, we will have an abiding sense of His peace.
Rest assured, God's will is not nearly as hard to discover as you might believe. He wants you to find it. He wants you to enter in to His good, acceptable and perfect will. He is a good God who has a good plan for you. You can trust Him.
Love,
Pastor Jeff Schreve,
From His Heart Ministries                            
P.S. Find out more about how to receive Christ as your Lord and Savior by clicking the Why Jesus icon on our website.
Jeff Schreve founded From His Heart Ministries, www.fromhisheart.org, in 2005 with the vision to reach as many people as possible with the good news of God's love. Jeff believes that no matter how badly you may have messed up in life, God still loves you and has a great plan just for you. He broadcast on radio, TV and in the internet around the world from his pulpit ministry as Pastor of First Baptist in Texarkana, Texas. This ministry is completely listener/viewer supported. It continues only through the faithful and generous gifts of people like you. Pastor Jeff takes no income from this ministry. All gifts go to further the broadcast.
SPECIAL OFFER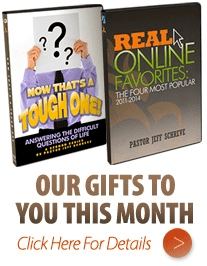 Pastor Jeff Schreve has shared many messages that have touched and encouraged people throughout the course of his ministry. In the
REAL ONLINE FAVORITES
collection, you will receive the most viewed online messages that have spoken to people over the past several years. Our hope and prayer is that these messages would speak new and afresh to you today.
BUT FOR A DONATION OF $30 OR MORE
  You will not only receive the CD Album "Real Online Favorites," But you'll also receive Pastor Jeff's helpful 7-message CD series "Now That's a Tough One: Answering the Difficult Questions of Life."