ANOTHER LIFE CHANGED BY JESUS CHRIST
"We all show the Lord's glory, and we are being changed to be like him. This change in us brings more and more glory, which comes from the Lord, who is the Spirit." 2 Corinthians 3:18 ERV
When I was in college, a friend of mine had a tee shirt that read, "Another life changed by Jesus Christ." It was his way of telling everyone he met that he was a follower of Jesus… and that Jesus had wonderfully changed his life.
That is really what Christianity is all about. It is about life-change, complete and total. It is going from spiritual death to spiritual life. It is moving from a self-centered existence to a God-centered existence. It is leaving behind your sins, guilt, and shame and receiving God's love, grace, forgiveness, and power through His Spirit. It is taking "hold of that which is life indeed" (1 Tim. 6:10).
There is nothing that pumps me up more than hearing about "another life changed by Jesus Christ." A few months ago, I received a Facebook post from a sweet couple who were very active in our church before being transferred away to Ohio. Their lives were totally changed by Jesus Christ! Donielle writes:
Pastor Jeff! Scott & I celebrated 3 years today since you married us (just 3 days after you led us in prayer giving our hearts to Jesus!) We are so blessed to belong to God, thanks for your obedience. God is so good all the time! We miss y'all!
How cool is that!?
DO YOU HAVE A STORY OF LIFE-CHANGE?
Do you remember the recent ALS Ice Bucket Challenge? Of course you do, who could forget it? Everybody and his dog were participating. Well, I have a challenge for Christians: SHARE YOUR STORY OF LIFE-CHANGE ON FACEBOOK AND SOCIAL MEDIA. Let all your friends and followers know that you belong to Jesus… and you are not ashamed of Him.
We are called to be His witnesses (Acts 1:8). This challenge is a great way for Christians to make a statement for Christ and let our friends and family know that although we are still a work in progress (no one has arrived yet), we are recipients of His amazing grace… and they can be too!
If you take the challenge (and I hope you will), please let me know at pastorjeff@fromhisheart.org.
Love,
Pastor Jeff Schreve,
From His Heart Ministries
P.S. To discover more about how Jesus can change your life Click here.
Jeff Schreve founded From His Heart Ministries, www.fromhisheart.org, in 2005 with the vision to reach as many people as possible with the good news of God's love. Jeff believes that no matter how badly you may have messed up in life, God still loves you and has a great plan just for you. He broadcast on radio, TV and in the internet around the world from his pulpit ministry as Pastor of First Baptist in Texarkana, Texas. This ministry is completely listener/viewer supported. It continues only through the faithful and generous gifts of people like you. Pastor Jeff takes no income from this ministry. All gifts go to further the broadcast.
SPECIAL OFFER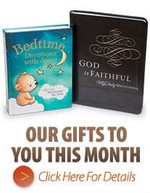 God is faithful, who has called you into fellowship with his Son, Jesus Christ our Lord – 1 Corinthians 1:9. Pastor Jeff Schreve is one of the featured contributors to a new and inspiring 52-week daily devotional book. God is Faithful offers practical and eternal proof about His unfailing love and provision for His children. God's promises are sure and this exciting devotional will calm your heart and bring real rest during the storms of life. This new leather-bound resource features life-giving scriptures, devotions, questions to ponder and journal opportunities.