"I would have despaired unless I had believed that I would see the goodness of the LORD in the land of the living. Wait for the LORD; be strong, and let your heart take courage; yes, wait for the LORD." - Proverbs 27:13-14
When Abraham was in his seventies, God promised him and his barren wife a son. It seemed preposterous, but Abraham believed God. He and Sarah were ready for God to bring them a son. But year after year, decade after decade, there was no pregnancy ... yet.
Finally, Sarah couldn't take it anymore. She told Abraham to have a child through her Egyptian maid, Hagar. Maybe that is what God meant when He said they would have a son. Maybe the son would be born in their household. She tried to help God out with the fulfillment of His promise. That faithless solution ended in disaster; and it is still a problem today for the Jews as they strive with the sons of Ishmael known as the Arabs.
No, God made a promise, and He was going to keep His promise. When Abraham was ninety-nine and Sarah was eighty-nine, the promise came to fruition. Abraham and Sarah conceived a son! How cool is that!? Isaac was the son of miracle birth, the son born by the power of the promise of God.
Although it would have been very easy in those nearly thirty years of waiting to lose hope, Abraham did not. He kept clinging to the promise that God had given him. When each pregnancy test showed a negative result, and Sarah began to cry once again, Abraham reminded her not to worry. The promise was coming ... it just hadn't come yet.
THERE IS POWER IN YET
Would you like to know something that is very small but very powerful? Something that can turn your doubts into faith? Something that can take a terrible storm and add a shimmering ray of sunshine and hope?
It is the little word yet. Just think how your outlook would change if you added the word yet to every bit of discouraging news.
"I haven't seen a turnaround in my health problems …yet!"
"I haven't found the right person to share my life with … yet!"
"I haven't seen God come through … yet!"
"I haven't seen an answer to my prayers … yet!"
"I haven't grown very much in my faith ...yet!"
"I haven't led anyone to Christ ... yet"
"I haven't experienced a breakthrough in my struggle with this sin ...yet!"
Yet changes everything! Yet is a word that keeps you looking up and waiting expectantly for God to move in your life and in your problems. Yet is an encouraging word of faith that drives away the gloom of doubt and disbelief.
King David clearly said he would have drowned in despair had it not been for the fact that He believed God was going to come through. To be sure, He hadn't come through yet, but yet was on the way!
In your problems and struggles, remember the word yet. Wait on the Lord, be strong, and take courage. God is faithful to His promises. He doesn't act on our timetable, but He does act at the proper time! And you can take that to the bank!
Love,
Pastor Jeff Schreve,
From His Heart Ministries
Jeff Schreve founded From His Heart Ministries, www.fromhisheart.org, in 2005 with the vision to reach as many people as possible with the good news of God's love. Jeff believes that no matter how badly you may have messed up in life, God still loves you and has a great plan just for you. He broadcast on radio, TV and in the internet around the world from his pulpit ministry as Pastor of First Baptist in Texarkana, Texas. This ministry is completely listener/viewer supported. It continues only through the faithful and generous gifts of people like you. Pastor Jeff takes no income from this ministry. All gifts go to further the broadcast.
SPECIAL OFFER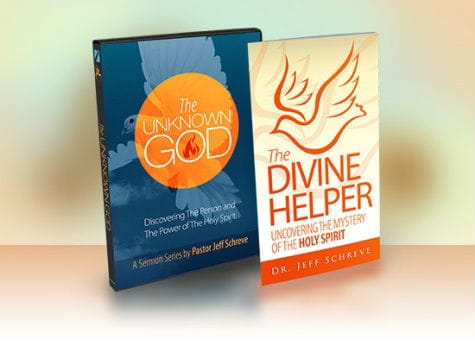 The Divine Helper: Uncovering the Mystery and Ministry of the Holy Spirit Booklet
Jesus promised His disciples that He would send them a Helper when He left them and that this Helper would guide them into all truth. Who is this "Helper" Jesus was speaking about? In his brand new booklet, Dr. Jeff Schreve introduces us to and teaches us about the divine helper Jesus promised: the Holy Spirit.
For a Donation of $35 or More
You will receive the Booklet "
The Divine Helper,"
AND you'll also receive Dr. Schreve's new 9-message CD Series "
The Unknown God: Discovering the Person and Power of the Holy Spirit"