February 3, 2020
Fill In The Blanks
Gwen Smith
Today's Truth
Ascribe to the Lord the glory due his name. (Psalm 96:8a)
Friend to Friend
Long, long ago in a land far away, there lived a young girl in a house full of children, all of whom had to entertain themselves. During summers, this young girl and her siblings were booted after breakfast to play in the yard, at the community pool, with friends or on a ball field. If the weather was nice, she, her brothers and sisters were permitted to go inside their house for lunch and dinner... and little else. (Or so it seemed.)
When car rides were long, the squad of sibs played games like "I Spy," "Punch Buggy," "License Plate Scavenger Hunt" and "Hangman." Occasionally, however, their mom would buy them a frivolously fanciful fill-in-the-blank book that she'd store in the pocket behind the driver's seat. This was the most fun of all the do-it-yourself car entertainment options and was cherished by all.
The book was called Mad Libs - The World's Greatest Word Game.
Yes, before cars were full of TV screens and mobile devices abundant with app options, there were vehicles and homes filled with laughter and silly from a game that taught basic English grammar by asking for parts of speech: nouns, verbs, adverbs and adjectives.
Remarkably simple, right?
I'm sure you've deduced this was, in fact, not a fairytale at all. Instead it was my very real childhood experience and I really did love those Mad Libs.
Reading Psalm 96, I was struck by the plentiful ways we're called to worship and praise.
1Sing to the Lord a new song;
sing to the Lord, all the earth.
2 Sing to the Lord, praise his name;
proclaim his salvation day after day.
3 Declare his glory among the nations,
his marvelous deeds among all peoples.
4 For great is the Lord and most worthy of praise;
he is to be feared above all gods.
5 For all the gods of the nations are idols,
but the Lord made the heavens.
6 Splendor and majesty are before him;
strength and glory are in his sanctuary.
7 Ascribe to the Lord, all you families of nations,
ascribe to the Lord glory and strength.
8 Ascribe to the Lord the glory due his name;
bring an offering and come into his courts.
9 Worship the Lord in the splendor of his holiness;
tremble before him, all the earth.
10 Say among the nations, "The Lord reigns."
(Psalm 96:1-10a)
The text is an invitation to fill-in-the-blanks of your life as a means of declaring the glory of God.
What would it look like for you to declare God's glory today?
What could it sound like to declare His marvelous deeds among the people?
Fill in the blanks, friend!
Let's Pray

Dear Lord,

Holy, ______________________ (adjective) _____________________ (Name of God), You are ____________________ (attribute of God), ___________________ (attribute of God) and _________________________ (attribute of God). Thank You for blessing me with _______________________ (noun) and ___________________________ (noun) and _______________________. Thank You for moving powerfully in my life when you ___________________________ (verb, past tense) and when You _________________________ (verb, past tense). I'm grateful You are my ___________________ (adjective) __________________________ (Name of God).

In Jesus' Name,

Amen

Now It's Your Turn
Read Psalm 96. What stands out to you the most? Write out any verse you want to memorize and text it to two friends!
More from the Girlfriends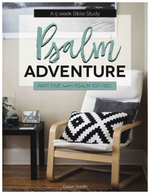 Studying the Bible is important to help you know and trust God more. It equips you with His power, presence, perspective and peace. It informs your emotions, increases courage, decreases doubt, and bolsters believing. If you want to read the Bible, but struggle to know where to start, this is for you!
Don't let thoughts like, "I don't know what to read," "I don't understand what I'm reading," or "I just don't have the time" keep you from going after what you truly know your heart and soul needs.
JOIN Girlfriends in God cofounder Gwen Smith for an inductive online Bible study that can be done in the comfort of your home and in a time-frame that fits with your personal schedule. Her next Psalm Adventure is a 5-week study that begins on March 1, 2020.
Register now for the FREE online study.