April 14, 2021
Time After Time
Melissa Spoelstra
Today's Truth
Lord, you have been our dwelling place throughout all generations. Before the mountains were born or you brought forth the whole world, from everlasting to everlasting you are God (Psalm 90:1-2 NIV).
Friend to Friend
My mind stared at the blank index card. A Bible study leader handed one to every person to write down a prayer request. Sounds easy, but on that particular day, my mind and heart felt so jumbled. I thought about my kids and some of their concerns but knew I needed to write down the two words that come up almost every week for me: time management. I struggle with managing my time wisely and also feeling guilty when I don't. Too often my mind seems occupied with the next thing on my schedule.
You may be in a season when you have a lot of time on your hands. Maybe you're a stay-at-home mom and your kids are in school during the daytime. Perhaps you are retired and find you have margin in your calendar. Or you may feel as though you are running the race of life. You have work, family, volunteering, ministry, and appointments. You feel the impact of others' needs affecting yours. Others of you fall somewhere in between calm and frenzied with your schedule.
No matter what your calendar looks like, I wonder if the phones and laptops that are supposed to be time-savers can become time-suckers for you like they sometimes are for me. With social media, online games, and emails, we have an endless supply of time-wasters at our fingertips. With the ability to scroll through others' lives, I find new sources of guilt. I see others using their time for date nights to value their marriages. I should be doing that. People are taking their children on individual trips and making special memories. Add that to my list. Someone just posted their pre-dawn run and a picture of the beautiful sky. Ugh. I should definitely be exercising more. There never seems to be enough hours in the day to do it all.
Yet in the midst of our struggle with time, we serve a God who stands outside of it. He created time and knows all about our online calendars and personal planners. His name is El Olam, the Everlasting God. He is the God of the Ages, and His name is often translated "Eternal" or "Everlasting" in our English Bibles.
The first mention of El Olam in the Bible is found in an encounter with Abraham. (Genesis 21) At this time, Abraham and his wife Sarah were blessed with a son named Isaac, but they had not received the land that God had promised. Instead, they were living in the land of King Abimelech in the country of the Philistines.
Abraham worshiped El Olam, God of the Ages, knowing that some things he could see in his present age and others he wouldn't see until later (Genesis 21:33) We live in this same place of already and not yet. We have seen God fulfill many of His promises to us, but in other areas we are still waiting. Like Abraham, we can learn to trust El Olam, the God of the Ages. He transcends time yet chooses to grow our faith over time as we learn to trust Him more and more.
The Psalmist also praised the Lord who reigns from "everlasting to everlasting" as we saw in today's truth (Psalm 90:1-2)! Like both Abraham and the writer of Psalms 90, we can surrender our timelines when we remember that God is outside of time. He is the God of every age, and we can ask the Lord to help us see our lives the way He does. We can ask questions like, "Will it matter in a month, a year, or ten years?" As we see God's eternal plan and how He has been at work throughout the ages, we can gain perspective to help us worry less about our calendars and rest in His sovereign timeline.
Let's Pray
El Olam, You are the Everlasting God. I can't even wrap my mind around what it means that You stand outside of time. So much of my life revolves around schedules. Help me to see You clearly and to focus today on eternal things rather than temporal ones. I worship You as a God who is bigger than my mind can even comprehend!

In Jesus' Name, Amen.

Now It's Your Turn
As you reflect on your own personal spiritual history, how have you seen God reveal Himself over time?
How do the truths revealed about God's character as El Olam impact your thinking when it comes to your relationship with the clock and calendar?
More from the Girlfriends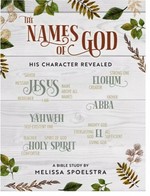 Check out Melissa's Bible study titled The Names of God for an in-depth study of El Olam and many other names of God.
© 2021 by Melissa Spoelstra. All rights reserved.