August 25, 2020
Learning to Persevere Part 1
Mary Southerland
Today's Truth
Consider it pure joy, my brothers and sisters, whenever you face trials of many kinds, because you know that the testing of your faith produces perseverance. Let perseverance finish its work so that you may be mature and complete, not lacking anything (James 1:3-5, NIV).
Friend to Friend
All of us have moments when we are overwhelmed by trouble. I remember many of these moments, but one stands out in particular. I was working for a ministry where I was finishing up my time there. I was sad about it. My husband Dan was going through major heart problems and was facing big time surgery. Our daughter was off the reservation, lost somewhere in her world of teenage rebellion. And our normally steady son was having his own crisis, breaking up with a long-term girlfriend and ready to quit playing college football. In short – I was over it! I was regularly turning to God and saying "Really? Really God?"
I know you have been there too. Some of you may be there right now. We don't like times of trouble. We don't necessarily even want to learn to persevere - even though we know it is mandatory for maturity in Christ.
So how do we learn to persevere through the tough times? Here are two truths I have learned that help me persevere.
1. Realize that trouble is normal. Let me say that again: trouble is normal. Jesus said it this way in John 16:33: "In this world, you will have trouble." So far as I can tell, He got that way right! In Matthew 5:45 Jesus tells us that the rains of trouble fall on all of us. Jesus Himself lived with constant trouble. And the writer of James, in the verse we started with today, tells us what do "when" troubles come - not "if" troubles come.
All God's children got trouble! That is part of life. So, when trouble comes your way, don't be surprised. Choose to persevere. Troubles vanish when we get to Heaven. Until then, we are always about to be in storm, are in the storm, or just coming out of the storm. There is always a storm on the horizon. There is always an opportunity to learn perseverance and become more like Christ.
God is more committed to my character than to my comfort. That is why He allows trouble in our lives - so we will learn to persevere and mature in the process.
2. Remember Jesus is with you in the storm. He is with us in our times of trouble. He joins us in the struggle. God promises us "I will never leave you nor forsake you - do not be afraid; do not be discouraged." (Deuteronomy 31:8 NIV).
I love Joseph, the biblical hero of the last fourth of the book of Genesis. I relate to him - because Joseph seems to move from one storm to the next in rapid succession. But I also relate to him because the scripture repeatedly tells us "the Lord was with him." Check out Genesis chapters 39-40 and you will see what I mean.
Joseph is betrayed by his brothers, kidnapped and taken to a foreign land, sold into slavery, falsely accused, and imprisoned - all before the age of 25. And yet he perseveres because He knows that God is always with him.
We tend to think God is with us in the good times and abandons us in the bad times. When things go well we say, "There's God!" When things go poorly we say, "Where's God?" He is with us always - especially in the bad times. This is why Psalm 46:1 reminds us: "God is our refuge and strength, an ever-present help in trouble."
Next time you are in trouble - remind yourself that trouble is normal, and that God is with you. And remember it may look like you are surrounded, but the reality is, you are surrounded by God. He shows up in times of trouble!
Let's Pray
Father, please help me remember that trouble is a normal part of life. And may I also remember that trouble does not mean You have abandoned me - but rather that You are right there in the storm with me. Help me learn to persevere, so that I can be more like Your Son Jesus.

In the name of the God of the storm, I make this prayer,
Amen

Now It's Your Turn
Read Psalm 46. Then lay your hands in your lap, turned toward heaven, palms up, and offer God your current trouble. Ask Him to use your storm to help you learn how to persevere and how to become more like Jesus.
More from the Girlfriends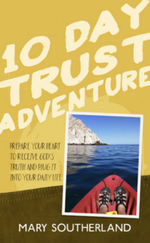 What does it mean to trust God? What would your life look like if you were walking by faith and trusting God with your whole heart? The 10-Day Trust Adventure addresses every decision you make in every area of your life - including your past and future, your family and friendships, your finances and work - and how to make those decisions as you step out in faith and really trust God.
Be sure to check out the FREE MP3s on Mary's website and connect with Mary through email or on Facebook. If you would like to receive more devotions like this one, sign up for Mary's Blog.
Need prayer? Our prayer team is committed to praying for you. Email your requests to our prayer team director, Ginger Meador, at gjmeador@comcast.net.