December 17, 2018
I'm Tired
Mary Southerland
Truth for Today
Let us not become weary in doing good, for at the proper time we will reap a harvest if we do not give up (Galatians 6:9, NIC).
Friend to Friend
I'm tired.
Tired of waking up each morning to face more trials – more noise – more chaos.
I'm tired of trying to "fix" people and circumstances.
I'm tired of dealing with angry people everywhere I turn. 
I'm tired of senseless violence and the horrendous loss of life at the hands of broken people.
I'm tired of the incessant dealing with physical pain and constantly battling the darkness of depression.
I'm tired of Satan attacking my husband, my children, and my grandchildren!
What I want to do is quit. I want to give up. I want to take my computer and my cell phone and toss them in a garbage dump, cutting off my connections to so many people in the world I have carefully built. The world has gone crazy and I don't want to deal with it anymore. I just want some peace!
And then I remember.
Christmas is just around the corner … and that's what Christmas is all about - peace. We have somehow managed to lose sight of that stunning truth. We have allowed our priorities to be blown to smithereens! Frantic shopping trips, insane decorating, incessant gift wrapping, never-ending baking, attending parties we don't really want to attend, spending money we don't really have … and I want to quit!
I want to get back to the message of Christmas - the simple but eternal truth that Jesus came to earth as a baby – fully God and wholly-man. He experienced everything I have experienced and so much more. That's why He came. To heal the broken lambs like me. To bind up the wounds inflicted by a world gone crazy. To initiate and define the very meaning of love, spelling it out in a language we can understand.
Take hold of this truth! God asked His only Son, Jesus, to exchange Heaven for Earth, to surrender His mind-blowing throne for a dirty manger, to relinquish perfection for gross imperfection, to love the unlovable. And Jesus said "Yes."
God knows. Heaven is not in a panic nor is it surprised by the state of this world or the condition of my heart. Jesus Christ knows how tired I am. He knows I am ready to quit. And His love for me has not changed one bit!
God's love for me does not depend on what I do or don't do. If I never did another thing in Kingdom work, His love for me would not change. No one can take my place in My Father's heart. And when I remember that … everything changes.
It was Christmas Eve and the family was preparing to attend the special service of their local church. Everyone was going except Dad, who was an honest man, a man who could not seem to wrap his logical mind around the story of God come to earth as a baby in a manger. He didn't want to be a hypocrite, pretending to worship a Savior he wasn't sure even existed, so he stayed home, built a fire to dispel the bitter cold of that winter night, and began to read the paper, waiting for his family's return.
Hearing a knock at the window, he turned to see a tiny bird trying to reach the warmth of the fire. The man opened the window, but the bird refused to come in. Grabbing his coat, the man went out to the barn and opened the barn doors wide – but still, the bird refused to come in. The man thought, "If only I could be a bird, for just one minute, I could lead the bird to safety." At that moment, he heard the church bells ring and finally understood why Jesus came to earth as a man - to become one of us so He could lead us to eternal safety.
The very heart of Christmas is Emanuel, God with us – with me – and with you. It celebrates the sufficiency of Christ that replaces our insufficiency. Christmas is not a date on a calendar. Christmas is a way of living that celebrates the presence of God in the simple, ordinary happenings of daily life.
So, this year, let's refuse to quit! Let's put on our warrior boots and stand firm in our faith. Let's celebrate Christmas with passion and purpose!
How?
Through the smile we give the harried stranger or the patience we choose in the crowd of impatient shoppers - the love that prompts the secret gift or the heart that constantly celebrates His birth through every sparkling light, every beautifully wrapped gift, each special meal, every card, phone call, and visit. God is with us – if we choose to make room for Him.
Let's Pray

Father, You know my weary heart. Forgive me for whining and complaining to You about so many things! Right now, I choose to make room in my life for You to work. Fill me with Your power and strength. Help me stand in faith and share You with fresh authority. And may this Christmas be exactly what You want it to be in my life.

In Jesus' Name,

Amen.
Now It's Your Turn
Stop! Take a breath! And determine right now to truly celebrate Christmas this year in a way that replenishes you and honors God. What one step do you need to take in order to make that happen? Do it!
More from the Girlfriends
Do you need help controlling your anger? Check out my new Bible Study, You Make Me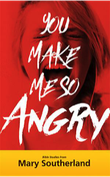 Angry. Perfect for personal study as well as small groups. Be sure to check out the FREE MP3s on Mary's website and connect with Mary through E-mail, Twitter, Instagram, Shopify, or on Facebook
Seeking God?
GirlfriendsInGod.com
Click here to learn more about hosting a Girlfriends in God conference in your area or having one of the GiGs speak at your next women's event.