December 18, 2019
Even In The Empty
Gwen Smith
Today's Truth
For a thousand years in your sight are like a day that has just gone by, or like a watch in the night. (Psalm 90:4)
Friend to Friend
There was a time I would hide in the bathroom for an ounce of quiet and reprieve. An intense time when diapers drooped, binkies bobbled and toddlers toddled all over the busy, boisterous Smith house.
Those days are gone.
My husband and I recently got all three of our young-adult children settled into college and are now figuring out how to settle into a new season with just each other. We left huge portions of our hearts in each dorm room and apartment.
Empty nest. I get why they call it that, but I don't think it's an empty season at all. On the contrary, it's quite full.
Full of exciting dreams and complicated feelings.
Full of unknowns, uncertainties and unrest.
Full of stretching, stirring and stillness.
Full of loving and letting go in the most exhilarating and exhaustingly wonderful ways.
So, we release, rally and rest - knowing God goes before us, even in the empty. Often especially in the empty.
We step into the crisp newness of today confident that the Lord who satisfies us in the morning with His unfailing love (Psalm 90:14) pours comfort into souls swollen with sadness.
We're thankful that our generous, faithful Father gives gobs of fresh mercy each morning and supernatural strength for each weakness.
We celebrate, convinced that our Everlasting Lord, El Olam, has a plan - a master plan of hope and of a future. And it's not just for our children, but for us.
For me. For my husband. For you.
Psalm 90 reminds me to be mindful of God's limitless nature and grateful for each sunrise. "For a thousand years in your sight are like a day that has just gone by, or like a watch in the night." (Psalm 90:4)
Days and years... mornings and evenings... breaths, deaths and generations.
Each a treasure chest of minutes and moments that whisper the fleeting nature of humanity and the infinite hope of Jesus.
Let's Pray

Everlasting Lord, Please teach me to number my days and walk in Your wisdom. Establish the work of my hands today, Lord, as I celebrate the gift of now and the hope of tomorrow.

In Jesus' Name,

Amen

Now It's Your Turn
Read Psalm 90.
Grab a journal or visit the wall of my blog and write 10 things you are grateful for. Celebrate today as a gift. Forgive what needs to be forgiven. Love well.
More from the Girlfriends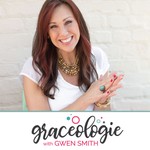 Ready to add more depth and delight to your days? Hang out with Gwen and friends! Listen to the GRACEOLOGIE with Gwen Smith podcast as you commute to work, go on walks, exercise, run errands, eat guacamole or travel. Podcasts are also perfect to listen to as you do household chores! (Laundry anyone?)
Each GRACEOLOGIE with Gwen Smith podcast episode is filled with fun, faith-focused, grace-filled conversations that will help you know and trust God more.
These discussions encourage you in meaningful ways to live out and lean on the GRACE of Jesus in the midst of cluttered, messy days. CLICK HERE to listen on iTunes, or visit GwenSmith.net/Graceologie for more information.