Hope for the Broken Heart - Girlfriends in God - February 18, 2022

February 18, 2022
Hope for the Broken Heart
Joanna Teigen
Today's Truth
The Lord is close to the brokenhearted and saves those who are crushed in spirit (Psalm 34:18 NIV).
Friend to Friend
Last summer, our backyard deck reached its end. Peeling stain exposed bare wood. Once-stable steps began to wobble. Rotted boards chipped and crumbled. All we could do was hire a contractor to tear it all down with plans to build again.
Schedule conflicts led to a summer of messes and mud instead of a fresh space for colorful flowers and family gatherings outdoors. Summer gave way to autumn rains that filled the area with mucky water up to our shins. Winter snows now cover the rough soil still waiting for a sturdy deck and tidy landscaping. We're feeling anxious for spring so we can build, plant, and restore what's been broken.
While this mess has brought its share of frustrations, it's nothing compared to the feeling of a broken heart. Each one of us will go through seasons where our lives and spirits feel hopelessly damaged beyond repair.
Persistent pain chips away at our trust in God's love.
Conflict and rejection leave us lonely and insecure.
Setbacks and losses depress our emotions, leaving us exhausted and fragile.
We give ground to sin and suffer destructive consequences.
Doubts and confusion keep us from standing firm in faith.
Our identity as God's daughters fades from view as we crumble under the pressure to please people and fit in.
We want to restore what's broken in our relationship with God and others, but we don't know where to begin.
If you're feeling torn down and soul-tired today, take heart. God doesn't leave us alone in the struggle. Instead, He shows us the path to renewal so we can be strong, whole, and sure of Him again.
First, God reminds us of His purpose for the pain. He repairs our sight so we can see problems from His perspective. In Hebrews 12, He encourages us to "endure hardship as discipline; God is treating you as his children… [Discipline] produces a harvest of righteousness and peace for those who have been trained by it" (vv. 7,11). We can see each difficulty as a gateway to peace and maturity instead of pointlessness, emptiness and suffering. If we trust that our loving God is working for us in our pain, we regain the strength to endure.
Next, God raises up people to build us up when we're tired and discouraged. He equips teachers and mature believers "who work hard among you, who care for you in the Lord and who admonish you" (1 Thessalonians 5:12). Through spiritual leadership, we're taught and re-taught the truths of God's power and love. They keep our feet planted on the Word so we can stand firm when life feels out of control.
God also knits us into His family of believers who can lift us up when we're breaking down in despair. They're able to pray over us. To put courage in us to do what's right. To provide for practical needs. To speak life-giving words that build trust in Jesus. We "carry each other's burdens" and "do good" so we don't walk the journey of faith and life alone (Galatians 6:2,10). Together, we can heal and be made new.
Most of all, God gives us His presence when we're falling apart. We can hold on to His promise with both hands:
The Lord is close to the brokenhearted and saves those who are crushed in spirit (Psalm 34:18).
You are not alone in what you're suffering today. God hears your prayers for mercy and turns his ear to your cry (Psalm 116:1-2). He's reaching out His hand to pull you out of the "slimy pit" and place your feet on solid ground (Psalm 40:2). You can be strong and courageous because the Lord is with you wherever you go (Joshua 1:9).
Put your hope in the One who "increases the power of the weak" and who "will renew their strength" (Isaiah 40:29,31). The Builder is coming!
Let's Pray
Dear Lord, You know my heart is hurting. Life as I knew it seems broken beyond repair. Help me to trust You use every struggle for my good to build my strength and know Your peace. Raise up godly people to help carry my heavy burdens. Expand my faith to believe Your promises to stay with me, answer my prayers, and make all things new. Your love is life. In Jesus' Name, Amen.
Now It's Your Turn
What relationship or situation in your life seems damaged beyond repair right now?
How might God be using this problem to show you more of His love and faithfulness?
How would you face your struggle differently if you believed God was with you and working to help you?
More from the Girlfriends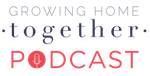 You want to grow strong, healthy relationships with your loved ones. You're eager to know God and His Word more and more. You want to be equipped to serve God as His daughter.
That's why Joanna Teigen and her husband, Rob, host the Growing Home Together podcast. Each episode supports you with encouraging and honest interviews with overcomers who battled the same challenges you face. Find practical help to draw closer to God, grow a stronger family, and make a difference in the lives around you today.
© 2022 by Joanna Teigen. All rights reserved.