Crying in the Corner - Girlfriends in God - January 15, 2021

January 15, 2021
Crying in the Corner
Sharon Jaynes
Today's Truth
"Trust in the LORD with all your heart and lean not on your own understanding" (Proverbs 3:5 NIV).
Friend to Friend
Steven was three years old when he contracted a severe case of the flu. His slumped body snuggled listlessly in my lap like a worn-out rag doll. When I carried him into the medical clinic, the doctor took one look at my boy and sent us straight to the hospital. Steven was dehydrated and needed fluids immediately.
My heart ripped wide when the nurses taped a support board to Steven's little arm and inserted the needle for the IV. Not his thumb-sucking arm, my heart winced.
"Mommy, Mommy," Steven cried. "Make them stop! They are hurting me!"
"No, honey," I tried to assure him with tears streaming down my cheeks. "They're making you all better."
"Mommy, help me!"
Steven cried. I cried. The nurses cried.
I could only imagine what was going through Steven's mind. Why are these people hurting me? Why doesn't Mommy make them stop? She must not love me. She's not protecting me. If she loved me, she wouldn't let them do this.
Standing in the corner watching my little tow-headed boy cry, I wondered if God feels something similar when I am in a painful situation. I cry out, "God, help me! Make this stop! Why are you letting this happen? Why are you allowing this person to hurt me? Don't you love me? Don't you care about me? I know you could get me out of this situation if you wanted to. Why don't you make it go away?"
Then I envisioned God speaking to my pain-filled little girl heart. You might think I've deserted you, but I will never leave or forsake you. You might think I don't love you, but I love you to the height of heaven and the depth of the sea. You might think I don't care about what's happening to you, but I am orchestrating your days and care about every hair on your head. My ways are higher than your ways and my thoughts are higher than your thoughts. Yes, I do care about you and what is happening to you. In the end, this will make you better. I am not doing something to you; I'm doing something in you.
Pastor Steven Furtick once said, "We worship a God who can best be explained as a mystery, and yet we live in a culture that worships certainty." However, the very definition of faith is an intertwining of mystery and certainty.
The writer of Hebrews penned, "Faith is the assurance of things hoped for, the conviction of things not seen" (Hebrews 11:1 ESV). The word translated "conviction" is the Greek word elegchos, which means a proof or test. It can also be translated as "evidence," and yet, faith is belief in something we cannot prove.
There's nothing wrong with trying to understand why bad things happen, but we have to recognize that our understanding is limited. The Bible clearly states, "Trust in the LORD with all your heart and lean not on your own understanding" (Proverbs 3:5).
In other words, don't try to figure out everything on your own. When we hold loosely our need to know the why, we can trust fully in the who. Since God's ways are higher than our ways, we shouldn't expect him to write our stories the same way we would. Often, the twists and turns of the plot won't make sense until we're on the other side of this life. And here's a promise from the Lord himself: "Those who hope in me will not be disappointed" (Isaiah 49:23).
The devil will try to fill in the gaps of what you don't understand, and poke holes in what you do. Refuse his input into your situation. Let faith fill the gaps of what you don't understand and the full assurance of God's goodness seal up what you do.
I don't understand why certain parts of my story have played out as they have, and I'm guessing you probably don't either. But one day we will. In the meanwhile, I trust that God loves me and knows what's best for me. That doesn't mean I'm going to like every situation that comes my way, but after I fuss about it for a while, I will settle down and remember that God is not absent in what is happening. I can choose to believe that God will somehow use my pain for a purpose. I may not see the good on this side of heaven, but I can trust it's waiting for me there even now.
Let's Pray
Heavenly Father, I don't understand everything that happens in my life, but I do understand that You always know what's best. I trust You, even when I don't understand.

In Jesus' Name, Amen.

Now It's Your Turn
If someone asked you, "What does it mean to trust God?" what would you say?
More From the Girlfriends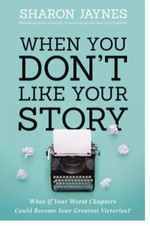 Sharon's new book, When You Don't Like Your Story answers your deepest questions about why bad things happen. Click here to read a sample chapter, watch a quick video, or pick up some beautiful graphics for your social media.
© 2021 by Sharon Jaynes. All rights reserved.