July 2, 2020
Go Ahead and Feel Those Feelings
Gwen Smith
Today's Truth
For I am poor and needy, and my heart is wounded within me. (Psalm 109:22)
Friend to Friend
Some dog owners teach their pups to attack, pursue or chase someone by using the command, "Sic 'em!" This short, sharp prompt gives dogs permission to aggressively pounce on an enemy or targeted individual.
I sensed this type of request from David to God as I read Psalm 109.
My God, whom I praise,
do not remain silent,
2 for people who are wicked and deceitful
have opened their mouths against me;
they have spoken against me with lying tongues.
3 With words of hatred they surround me;
they attack me without cause.
4 In return for my friendship they accuse me,
but I am a man of prayer.
5 They repay me evil for good,
and hatred for my friendship.
(Psalm 109:1-5)
Having been betrayed by people in his community, David was furious with the surrounding "wicked and deceitful men." (V2) Frankly, the details of what had gone down reads worse than the lyrics of a country song. He'd been "spoken against with lying tongues" (V2), and "attacked without cause" with "words of hatred." (v3) Frenemies threw around accusations and repaid good with evil and hatred. (v4-5)
The sting of betrayal was fierce and deeply personal. Always is, right?
In response, David prayed with a harshness that makes me wiggle uncomfortably.
Appoint someone evil to oppose my enemy;
let an accuser stand at his right hand.
7 When he is tried, let him be found guilty,
and may his prayers condemn him.
8 May his days be few;
may another take his place of leadership.
(Psalm 109: 6-8)
And that's just the beginning of his poignant prayer! The pains and strains of it all made him physically sick and depressed.
But you, Sovereign Lord,
help me for your name's sake;
out of the goodness of your love, deliver me.
22 For I am poor and needy,
and my heart is wounded within me.
23 I fade away like an evening shadow;
I am shaken off like a locust.
24 My knees give way from fasting;
my body is thin and gaunt.
25 I am an object of scorn to my accusers;
when they see me, they shake their heads.
He was plumb wrung out, y'all. Wrecked emotionally. Overwhelmed and angry.
Ummm... yeah! I get that!
I imagine we all do.
Essentially, David was shouting from the top of his soul-lungs, "Sic 'em, God!"
Help me, Lord my God;
save me according to your unfailing love.
27 Let them know that it is your hand,
that you, Lord, have done it.
28 While they curse, may you bless;
may those who attack me be put to shame,
but may your servant rejoice.
29 May my accusers be clothed with disgrace
and wrapped in shame as in a cloak.
30 With my mouth I will greatly extol the Lord;
in the great throng of worshipers I will praise him.
31 For he stands at the right hand of the needy,
to save their lives from those who would condemn them.
I read his prayer and recognize it's okay, good even, to rise up against evil.
It's okay to hate evil and injustice.
I also see that the place to let my anger rise up is in prayer. David hashes it out with God. I should too.
I've been on the receiving end of betrayal and false, unfair accusations. I occasionally get mean emails. I've lost sleep, racked my brain to understand, and have cried out for God to be my Defender.
Psalm 109 reminds me that it's okay to address wickedness and feel my feelings honestly, as long as I do so in an intimate dialogue with my ever-present Lord who's sovereign, good and loving (v21).
Let's Pray
Sovereign Lord, Even when we act horribly, You act with justice, love, righteousness, mercy and compassion. I bring You the burdens of my heart today, Jesus. You know my pains and strains. You know the people who cause my blood to boil and who have wronged me. Contend with them, Lord. Move as only You can, as my Defender and Deliverer for Your glory. Heal and help my heart to walk in Your strength, dignity and joy today.

In Jesus' Name,

Amen.

Now It's Your Turn
Read Psalm 109. Does this chapter bring anything to the surface of your heart that needs hashed out with the Lord? If so, spend some time in prayer or write a prayer response on the wall of my blog.
Take this FREE 5-Day Psalm Challenge! It will guide you on a compelling, personal journey with the Lord as you read, record, reflect on and respond to His Word.
More from the Girlfriends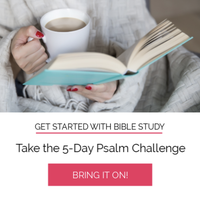 Get your FREE downloadable 5-Day Psalm Challenge now and enjoy studying the Bible in the comfort of your home, in a timeframe that fits with your personal schedule.
Studying the Bible is important to help you know and trust God more. It equips you with His power, presence, perspective and peace. It informs your emotions, increases courage, decreases doubt, and bolsters believing.
PS. Have you listened to the GRACEOLOGIE with Gwen Smith podcast yet? Hang out with Gwen and friends for fun, faith-focused, grace-filled conversations as you commute to work, go on walks, exercise, fold laundry, run errands or travel.