May 25, 2021
The God of Me
Melissa Spoelstra
Today's Truth
And there he built an altar and named it El-Elohe-Israel (Genesis 33:20 NLT).
Friend to Friend
My sister, mom, and cousins traveled from all over the country to gather in celebration of my aunt's seventieth birthday. We laughed, made memories, and talked about all sorts of subjects. Occasionally we spoke about God. Someone told a story of God's provision. Another shared openly how she was struggling with her faith. I enjoyed our conversations, especially when we talked about our Savior.
On the way home I realized that while we had spoken about God, I hadn't spent much time with God. There's a difference between talking about someone and personally spending time with them. God reveals Himself to us so that we can draw near to Him.
Jacob was a man in the Bible who knew about God but also wrestled with Him personally. He had a twin brother named Esau who was enraged when Jacob stole his birthright and blessing. Afraid for his life, Jacob ran away to find his mother's relatives and married two sisters named Leah and Rachel. Their father was Jacob's uncle Laban.
When God increased Jacob's wealth, Laban was greedy to get his hands on it. Eventually Jacob took his wives and left.
On the way to the land God had promised through his grandfather Abraham, Jacob knew he would have to pass through his brother Esau's land. He sent many gifts ahead of him to try to appease the brother whose birthright he had stolen. Then Jacob wrestled with God which left him with a name change. Jacob would now be known as Israel. (Genesis 32:22-28)
After his initial meeting with Esau went well, Israel built an altar and named it El-Elohe-Israel. El is the word for God, and Israel is the name that Jacob received after His wrestling match with God (Genesis 32).
This name tells us something about the special relationship between Jacob and his God. I've heard the phrase "God of Israel" many times, but when studying this passage, it struck me that it was Israel himself (Jacob) who said it. He basically said, "I will worship the God of me." It would be like me writing a worship song or prayer addressed to the "God of Melissa." Take that in for a moment.
I had the awesome privilege of learning about God from the time I was a little girl. I heard stories about Him at church. I attended camps where His Word was taught. Still, He often felt like this force that was far away from my life of picking out clothes, trying to get schoolwork done, and wondering if people liked me.
Though I've come to experience God in a personal way, sometimes distance can creep back into my relationship with God if I'm not careful.
What about you? Have you ever noticed a gap between what you read and know about God and the things on your to-do list—the stuff of everyday life? Where is God in the midst of dentist checkups, dishwasher loading, email answering, and in-law visits?
I still need constant realignment to remember that He longs to be the God of Melissa. Scripture tells us that He delights in the details of our lives (Psalm 37:23). I tend to think about Him more when I'm on the mountaintop of celebration or in the valley of difficulty, but He longs to be our God in the mundane as well.
We don't want to just talk about God. Whether we are on family trips or walking through every day life, we want to spend time wrestling and worshipping the Lord of our lives.
Let's Pray
Lord, You are the God of me. Help me to go beyond just talking about You today, but to spend time with You. Lord, I wrestle with Your truths, but I want to know You more. Reveal Yourself to me so that I might walk in intimacy with You.

In Jesus' Name, Amen.

Now It's Your Turn
Put your name in this blank: The God of __________. You can worship God and ask Him to be "El-Elohe-(your name)," the God of you today. How does knowing that the Lord wants to be the God of you encourage movement toward Him today?
More from the Girlfriends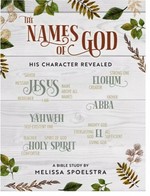 Check out Melissa's Bible study titled The Names of God for an in-depth study of El-Elohe-Israel and many other names of God. https://amzn.to/2DruRmI
© 2021 by Melissa Spoelstra. All rights reserved.