May 28, 2021
Stepping Into Thin Air
Mary Southerland
Today's Truth
Faith means being sure of the things we hope for. And faith means knowing that something is real even if we do not see it (Hebrews 11:1, ICB).
Friend to Friend
I have a love-hate relationship with the movie "The Last Crusader." The hero, Indiana Jones, is constantly hovering above some bottomless pit or dodging sinister enemies who are trying to kill him and prevent him from completing his mission. It is exhausting to watch! One part of the movie stands out above the rest as terrifying moments go.
As usual, Indiana is on the run and comes to a chasm he must cross in order to obtain the Holy Grail. No bridge. No net. Just air, and nothing but air.
The treasure map dictates a ridiculous solution that makes no sense at all but demands a huge step of faith. If Indiana will just step over the edge of that bottomless pit … a bridge, a rock wall will appear. Right! How about that bridge appears and then Indiana traipses across it?
Nope. That is not the plan.
Even though I have seen the movie several times, my stomach still lurches as Indiana closes his eyes, takes a deep breath, and steps out into the seemingly bottomless abyss. If the treasure map is wrong and the wall does not appear, Indiana Jones will plummet to his death. Fortunately, the clue is correct, the wall does appear, and Indiana Jones races across to safety, resuming his quest.
Gideon and Indiana Jones have a lot in common when it comes to faith.
Judges 6:14-16 "The Lord turned to him (Gideon) and said, 'Go in the strength you have and save Israel out of Midian's hand. Am I not sending you?' 'Pardon me, my lord,' Gideon replied, 'but how can I save Israel? My clan is the weakest in Manasseh, and I am the least in my family.' The Lord answered, 'I will be with you, and you will strike down all the Midianites, leaving no one alive.'"
Gideon was a simple farmer, a family man. He felt inadequate to carry out God's plan for his life. But God saw what Gideon could be, not just what he was.
I can imagine the look on Gideon's face and the panic in his heart when God told him the plan. Gideon's response was so human and so like our own when God calls us to do something that makes no human sense at all.
Are you talking to me?
You must have me confused with somebody else.
I know how Gideon felt. I tend to use my weaknesses as excuses for disobedience instead of accepting them for what they really are - opportunities for God to show up.
And just like God was with the flawed Gideon, He is with us.
God's commitment to Gideon reaffirmed His presence with Gideon and the ease with which Gideon would have victory over the Midianites. The literal translation is "as if they were but one man."
I love it! Here was Gideon, the last man anyone would choose to face the Midianites, and God is telling him the victory will be easy. In fact, it will seem like Gideon is facing one man instead of an army of fierce invaders. But that is exactly what happened.
God asked Gideon to step out in faith, knowing that his meager strength would not be enough. The reality is that our human strength is never enough for any task. That's what faith is all about.
Faith is a willingness to step into mid-air, no safety net in sight, trusting God to be there at the point of our greatest need.
Hebrews 11:1 (ICB) "Faith means being sure of the things we hope for. And faith means knowing that something is real even if we do not see it."
Faith is built upon trust. God wants us to trust Him - even when we don't understand or can explain the circumstances. But what life does to us depends on what life finds in us.
Faith is a deliberate choice to believe God, to walk through our fear, knowing we can trust Him every step of the way.
Let's Pray
Father, my heart longs to walk by faith, counting on Your strength instead of my own. Today, I choose to trust You instead of demanding an explanation for what is happening in my life. Right now, I choose to walk through my fear and step out in faith.

In Jesus' Name, Amen.

Now It's Your Turn
What is the greatest storm in your life today?
What step do you need to take to face that trial with faith instead of fear?
What is keeping you from trusting God and stepping out in faith?
More from the Girlfriends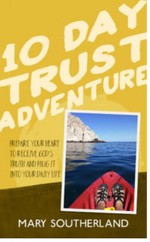 Need help? Mary's book, 10-Day Trust Adventure, offers practical steps that will help you learn how to make decisions as you step out in faith and trust God.
Need prayer? Email our Prayer Team Director, Ginger Meador at gjmeador@comcast.net. Our prayer team would love to pray for you!
© 2021 by Mary Southerland. All rights reserved.