November 20, 2020
Taking Off Our Masks
Barb Roose
Today's Truth
Therefore, confess your sins to each other and pray for each other so that you may be healed. The prayer of a righteous person is powerful and effective (James 5:16, NIV).
Friend to Friend
Just keep it together until after Bible study.
I begged my tears to stay put as I drove down the road toward my summer women's Bible study group. For many summers, our group met at a friend's house around her pond to study and pray together while our kids laughed and splashed in the pond.
On that particular day, I had my very first counseling appointment scheduled right after the Bible study. Everything about me teetered on a razor thin edge, but, I didn't want anyone to know that I needed help.
As far as rest of the world was concerned, I was a good mom who was extra attentive to her kids. No one saw the complex mental gymnastics that I did each day to control everything at home, keep it together at work and most of all, never let anyone see me sweat. I knew that if I allowed even one crack in the perfect mask that I'd created, my entire persona would come crumbling down.
When I arrived at Bible study, I got out of the car and slipped my sunglasses over my reddening eyes. Bless the sun! We opened our Bibles and talked politely about polite things until one friend burst into tears and cried out: "I can't take it anymore."
This was one of the most admired women in our church and she began spilling the difficult details of her life.
There was something about the eruption of her pain that pushed me over the edge. Before I could stop the tears, they flooded down from behind my sunglasses.
What happened next changed my life for the better.
On that day, I became real.
My perfectionism mask cracked and crumbled off as I talked about my out of control anxiety and parenting failures. I felt so raw and expose, terrified of what the other women would think. Yet, these godly women drew near and prayed over me as my friend and I wept out years of tears.
When we wear a mask covering up our imperfections, that mask suffocates us even as the weight of our sin crushes us. Taking off our mask with and sharing our struggles or sin is how God begins our healing process within.
This is why the pastor James teaches us to "Therefore confess your sins to each other and pray for each other so that you may be healed. …" (James 5:16)
There are three important lessons in this one verse:
Our sin makes us sick, emotionally, physically and spiritually (see James 5:15).
Carrying our sin in secret keeps us far away from healing.
James addresses this teaching to believers, so it's wise to prioritize confessing our sin and struggles to other trusted believers.
Our realness drew us closer together as a group. We stopped showing up with our Sunday smiles and our study times became richer. Our prayers for each other during and after the groups became more real because we took off our masks.
It's scary speaking up, but your spiritual, emotional and even physical healing is worth it! Satan wants you to keep your sin or struggles a secret so that he can suffocate you with shame. Over the years, I've found trusted voices in Christian counseling, my women's groups, an accountability partner, a family addiction recovery group and a few trusted Christian friends.
Have you taken off your mask and shared your struggles with a trusted Christian friend? What advice do you have for women who need to take that courageous step today?
Let's Pray
Dear God, I want to be real. I am tired of pretended that I have it all together or that certain problems aren't a part of my life. Give me the courage to talk with the trusted voices in my life and tell them the truth. I want to experience the life-giving hope, peace and freedom that comes from confession my sins to both You and others.

In Jesus' Name,

Amen.

Now It's Your Turn
What is it that you are hiding from others because you want them to see you all shiny and put together?
Is your desire to be perfect keeping you from experience the precious promise of freedom in Christ?
More from the Girlfriends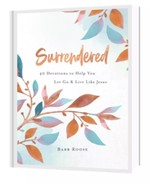 Today's content is from Barb's new devotional book, Surrendered: 40 Days to Help You Let Go and Live Like Jesus. This 40-day devotional invites you to let go of trying to control others or outcomes and learn how to live like Jesus. It's like a spiritual coffee break that infuses you with scripture, reflection questions and practical tools to apply to your life.
© 2020 by Barb Roose. All rights reserved.