November 25, 2019
There's Nothing Like a Little Llama Drama!
Gwen Smith
Today's Truth
Bless the Lord, O my soul, and forget not all his benefits,(Psalm 103:2, ESV)
Friend to Friend
Llamas are a thing lately. It's hard to go anywhere without seeing a llama on a book, card or wall art. And I'm good with that. This mama loves llamas! Llamas are like sunshine on a cloudy day.
With my llama-love in mind, you can imagine the effervescent excitement going down in my heart when Julie told me there was a llama on the grounds of the conference center where I was speaking.
"We can go see him right now if you want," she offered from behind the wheel.
Ummm... YES, PLEASE!
And off we went to see the llama!
It had rained for several days before my arrival, so the path to the pasture was pretty icky with mud. Undeterred, Julie jumped out of her mini-van, scooped up her young daughter in her arms, and ran straight through the thick, brown sludge toward the llama... and straight out of her shoes, which had been super cute. EEEW.
We laughed until we almost cried. She was up to her ankles in grossness... and trust me when I say this: there was no simple sanitary solution to her sludgy situation. The plot thickened in our llama drama as Julie carefully fished her shoes out from the muck and navigated her way back to the van.
We settled for waving to the llama from across the field and prayed that Oxy Clean would be powerful enough to resurrect her downtrodden flats by removing the stains and renewing their vibrancy.
Sometimes we get stuck in the mud and lose our shoes.
And sometimes stains and pains are so thick and deep that renewal and healing seem impossible.
In Psalm 103, David celebrates the incredible love of God that renews and heals. A pit-lifting love that forgives, redeems and wipes away the grime and grit of our failures, fears and flounderings.
But God doesn't just leave us at redemption.
He takes love and mercy to another level by throwing in a tiara.
Bless the Lord, O my soul,
    and all that is within me,
    bless his holy name!
2 Bless the Lord, O my soul,
    and forget not all his benefits,
3 who forgives all your iniquity,
    who heals all your diseases,
4 who redeems your life from the pit,
    who crowns you with steadfast love and mercy,
5 who satisfies you with good
    so that your youth is renewed like the eagle's.
(Psalm 103:1-5. ESV)
Can you believe it?
He cleans up sinful sludgy situations and gives us each a sparkly crown! (v4) One brilliant with love and compassion (NIV), full of lovingkindness and tender mercy (AMP). A crowning love that is faithful (CSB) and steadfast (ESV).
I still think fondly of my adventurous llama visit from time to time, grateful that Julie's shoes came out clean from the washer. And I think about the times I've gotten stuck in my own mud and have lost shoes in the mires of my making. And I think about the grace of Jesus, because though every one of us has been there, we don't remain there.
Bless the Lord, O my soul!
Remember. Remember. Remember.
Let's vow to forget not these things. We are forgiven (v3), healed (v3), redeemed (v4) and crowned (v4) with a love that makes our lives effervescently exciting and new.
Bless the Lord, O my soul! All my inmost being, bless His holy name!
Let's Pray

Loving Lord, Thank You for lifting me from pits that I didn't deserve rescue from. You love me in spite of my brokenness and You wipe away every stain. You satisfy my desires with good things and are worthy of all of my praise.

In Jesus' Name,

Amen.

Now It's Your Turn
Read Psalm 103. Grab your journal and write out five benefits of God you can remember and give thanks for today. Not a journal girl? Post yours on the wall of my blog or send them to me in a DM on Instagram!
Llove Llamas? Check out the most EPIC videos and pics from a recent visit my hubs and I had with a few alpacas in my Instagram Story today. (Because alpacas are just as darling as llamas!)
More from the Girlfriends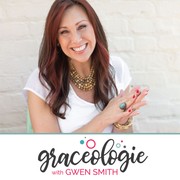 Do you want less drama and more peace in your days? Need some help remembering all of His benefits? Hang out with Gwen and friends! Listen to the GRACEOLOGIE with Gwen Smith podcast as you commute to work, go on walks, exercise, run errands, eat guacamole or travel. Podcasts are also perfect to listen to as you do household chores! (Laundry anyone?)
Each GRACEOLOGIE with Gwen Smith podcast episode is filled with fun, faith-focused, grace-filled conversations that will help you know and trust God more.
These discussions encourage you in meaningful ways to live out and lean on the GRACE of Jesus in the midst of cluttered, messy days. CLICK HERE to listen on iTunes, or visit GwenSmith.net/Graceologie for more information.
Seeking God?
GirlfriendsInGod.com