October 27, 2020
Prayer Works!
Mary Southerland
Today's Truth
And if you ask for anything in my name, I will do it for you so that the Father's glory will be shown through the Son (John 14:13, NCV).
Friend to Friend
My eyes opened to another day.
Another day filled with excruciating pain.
I have lived with back pain for many years. But two weeks earlier, I had taken the hardest fall of my life and the pain was unlike any I have experienced. I literally could not catch my breath at times. I knew something was very wrong.
Even though I alternated heat and ice pretty much 24-7 for two weeks, the pain was not letting up – not even a little bit. I explained the situation to my Father … as if He was unaware of my circumstances. I know.
My back doctor did a set of X-rays that revealed a fracture in my spine.
A fracture!
In my spine!
This could not be a good thing.
The doctor explained that this injury was solved one of two ways. With time … resting and taking it easy. I was not a fan of Door #1. Door #2 was a procedure where they go in and fill the fracture with surgical cement. Still not a fan. So, he sent me to an orthopedic surgeon.
After waiting ten days, I finally got in to see the surgeon who did another set of X-rays. He walked in the examination room where Dan and I were waiting with a puzzled look on his face. "You are a quick healer, aren't you?" he asked. I grinned and said, "Yes, I am!" He then explained that the fracture was almost completely healed – in ten days. He did not see any need to do anything further except take it easy for a week or two and then resume life. Yes!
On the way home, Dan looked at me and said, "Prayer works!" I knew many people had been praying for me and totally agreed that God had heard those prayers. Dan then said, "God woke me up about ten days ago and told me to lay my hands on you and pray. So, I did." It was the next day that the pain was gone.
Yes! Prayer works … when it comes from an obedient heart.
I want every blessing God has for me. I know you feel the same way. God is not a heavenly vending machine that dispenses blessings simply because we want them. Every promise of God is accompanied by at least one condition we must meet in order to experience the blessing of God. That condition is always rooted in obedience to Him.
1 John 3:21-23 "Dear friends, if our hearts do not condemn us, we have confidence before God and receive from Him anything we ask, because we keep His commands and do what pleases Him. And this is His command: to believe in the name of His Son, Jesus Christ, and to love one another as He commanded us" (NIV).
Everyone prays when in crisis.
When a pandemic strikes, when our nation is riddled with racial tension, a health challenge arrives, the finances are failing – it is amazing how even the ungodly will resort to prayer. It is built into our very being to cry out to God when we are desperate.
But is that all prayer is? Is talking with God reserved only for desperate people in desperate moments?
Prayer is communication with God, a heart-to-heart conversation with Him. Prayer is our source of power and strength. And we need to stay plugged into that source.
When we have a personal relationship with Jesus Christ and seek to obey His commands, we can come before God in confidence, knowing He wants to pour out His blessings on our life. He is waiting. We just need to ask.
Let's Pray
Father, thank You for loving me. Please help me walk in obedience to Your commands and live my life in a way that pleases You. I really do want to be a fully devoted follower of Jesus Christ and a prayer warrior. Right now, I surrender all that I am to You and ask for Your blessings in my life.

In Jesus' Name,
Amen.

Now It's Your Turn
Read Psalm 51:10. How is a clean heart related to the blessings of God?
Read Proverbs 21:2. "A person may think their own ways are right, but the LORD weighs the heart." How does this verse apply to the blessings of God in your life?
More from the Girlfriends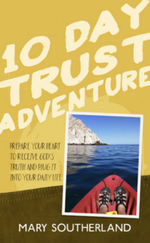 In order to become a prayer warrior, we must learn how to trust God. Why? Because God orders our steps. Steps of obedience. And when we trust and obey Him, answered prayers will surely follow. Need help trusting God? Check out Mary's book, 10-Day Trust Adventure.
Be sure to check out the FREE MP3s on Mary's website and connect with Mary through email or on Facebook. If you would like to receive more devotions like this one, sign up for Mary's Blog.
Need prayer? Our prayer team is committed to praying for you. Email your requests to our prayer team director, Ginger Meador, at gjmeador@comcast.net
© 2020 by Mary Southerland. All rights reserved.