October 5, 2016
The Disappointment of Shattered Dreams
Sharon Jaynes
Today's Truth
The Lord is righteous in all his ways and faithful in all he does (Psalm 145:17 NIV).
Friend to Friend
Everyone will experience discouragement at some point in life. It will look as different and unique as the fingerprints on your hand, but disappointments will come.
·      Dropping your son off at a rehab center instead of college.
·      Signing divorce papers instead of planning an anniversary party.
·      Looking for a job rather than getting a raise.
·      Cuddling up with a good book rather than cozying up with a good husband.
·      Planning a funeral instead of planning a future.
·      Counting out food stamps instead of writing a check.
·      Moving up in your career rather than rocking a baby in your arms.
Yes, everyone will experience broken dreams at some point in their lives.
I had a dream of having a house full of giggling little girls and boisterous rowdy boys. After Steven was born, I felt that we were well on our way to making that dream a reality.
I loved being a mom! With Bambi-length eyelashes, chubby cheeks, and a shock of black hair (which later turned white), Steven had my heart in his tiny little fist the first time I laid eyes on him.
Eighteen months later, I was ready to plan for baby number two. We had conceived Steven with no trouble whatsoever, so I thought giving him a sibling would be just as easy. We told Steven, "Mommy and Daddy are asking God to give you a little brother or sister!" The plan was that Steven would see how God answers prayer. At the end of our family prayer each night, Steven would add, "And God, please give mommy and daddy another Jaynes baby."
But the next month there was no news of another Jaynes baby. Or the next…or the next. Months turned into years, and Steven continued to pray, "And God, please give mommy and daddy another Jaynes baby. Amen."
Doctor visits, infertility treatment, and monthly heartbreak consumed my thinking. This is not how the story was supposed to go. The disappointment was crushing. The discouragement was visceral.
Steven was just about to turn five . . . and still praying the prayer for a brother or sister every night. It looked like we were not going to have more children, but I didn't know what to tell this little tow-headed boy so full of faith. How do you tell a kid that he doesn't need to pray a certain prayer anymore? Should I even do that? Was this seemingly unanswered prayer going to damage his faith?
"God, if this is Your will for our family," I sighed, "You've got to take care of this prayer situation with Steven."
We had a miniature table and chairs in the kitchen where Steven and I ate lunch together each day. One day while sharing peanut butter and jelly sandwiches, Steven looked up, and in his sweet little voice said, "Mommy, have you ever thought that maybe God only wants you to have one Jaynes baby?"
"Yes, I have thought that. And if that's what He wants, I'm so thankful He has given me all I have ever hoped for wrapped up in one package, YOU!"
Then he cocked his little head and stated a prayer plan. "Well, what I think we ought to do is keep praying until you're too old to have one. Then we'll know that's His answer!"
What a great idea. The truth is, I had been worried about Steven's faith, but all the while, it was my own that was suffering. I was so discouraged that I was having trouble believing that God loved me.    
Steven didn't know how old too old was, but with a child-like faith, he did know God could do anything. If His answer was no, he didn't have a problem with that. I told him no many times and he understood that no did not mean, "I don't love you." No just meant No, because I am your parent and I know what's best for you.
I don't know what you're going through today, but I do know this: God has a plan. Jeremiah 29:11 says For I know the plans I have for you," declares the Lord, "plans to prosper you and not to harm you, plans to give you hope and a future."
I love Eugene Petersons paraphrase of this same verse: "I know what I'm doing. I have it all planned out—plans to take care of you, not abandon you, plans to give you the future you hope for."
God was talking to the Israelites in this verse, but it applies to us as well. God knows what He's doing.
Shattered dreams open doors to better dreams…dreams we never even thought to imagine. They become fertilizer in which God's best for us can grow.
Let's Pray
Lord, life is littered with shattered dreams. Today, I am giving you the pieces of my shattered dreams. I pray that You will use them to create something more beautiful than I ever imagined. I pray that You will turn my hurt into hope, my pain into purpose, and my mess into a beautiful masterpiece.
In Jesus' Name,
Amen.
More from the Girlfriends
One thing that helps me when I get discouraged or confused is to repeat Scripture. So today, let's commit these two verses to memory. The next time you are discouraged…which might be today…repeat these words.
The Lord is righteous in all his ways and faithful in all he does. Psalm 145:17 NIV
For I know the plans I have for you," declares the Lord, "plans to prosper you and not to harm you, plans to give you hope and a future." Jeremiah 29:11
If you'll join me in memorizing these two verses, click over to my Facebook page and say, I'm committing Psalm 145:18 and Jeremiah 29:11 to memory.
More from the Girlfriends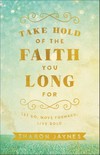 Today's devotion came from my latest book, Take Hold of the Faith You Long For: Let Go, Move Forward, Live Bold. It's all about how to get unstuck in your faith. Learn how to let go of all that holds you hostage to a "less than" life, and take hold of all that Jesus has done for you and placed in you…the faith you've always longed for. Check it out at www.takeholdthebook.com where you can download a free chapter and watch a video book trailer. The book also comes with a Bible study guide.
Seeking God?
Click here to find out more about
how to have a personal relationship with Jesus Christ.
Girlfriends in God
P.O. Box 1311
Huntersville, NC 28070
info@girlfriendsingod.com
www.girlfriendsingod.com
Click here to learn more about hosting a Girlfriends in God conference in your area or having one of the GiGs speak at your next women's event.